Whip up this Banana Pumpkin Breakfast Shake recipe for a great back to school breakfast!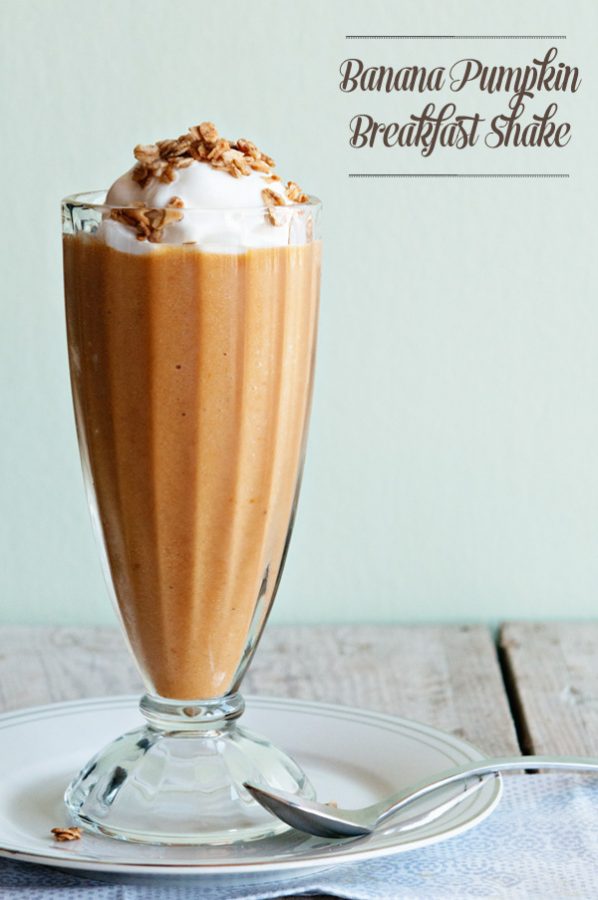 I know, I know… here it is still August and I'm already sharing something pumpkin with you. I promise this isn't the start of shoving pre-season pumpkin down your throat (there will be plenty of that to come). This Banana Pumpkin Breakfast Shake is, instead, a result of the fact that I still have a zillion and ten cans of pumpkin in my pantry leftover from last year.
So, can we talk breakfast for a moment? Out of my 4 kids, I have one who does not like to eat breakfast. Leah (4) will eat raw bell peppers, tomatoes, goat cheese, salsa verde… just about anything, but she is never hungry at breakfast and doesn't want breakfast. It's a challenge because I know, thanks to info from Midwest Dairy, that eating a nutrient-rich breakfast at home or at school boosts brain power and fuels learning.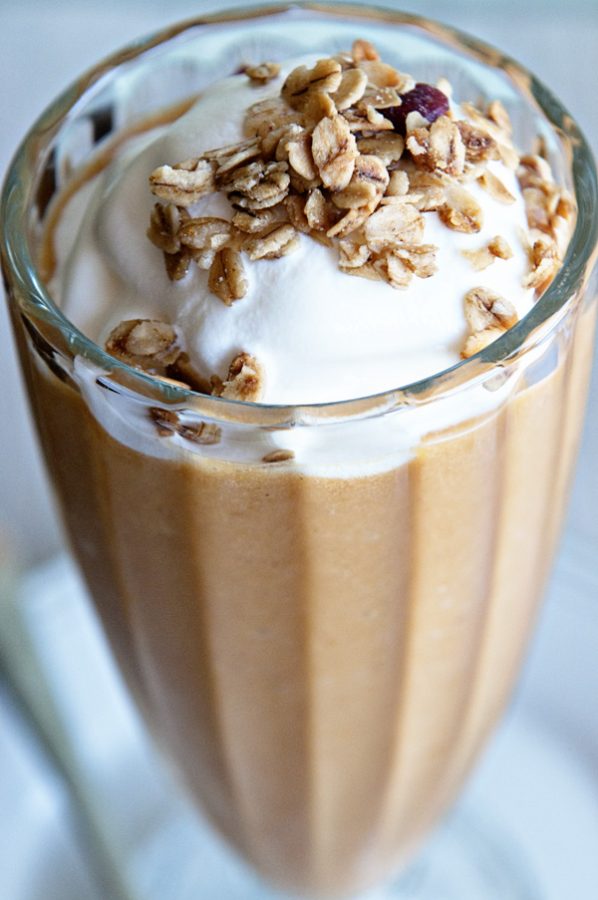 I'm always trying to create things that interest Leah for breakfast. Breakfast cookies and milk are a favorite. If it seems like dessert, she's all over eating it (not sure where she gets the love of dessert from… certainly not me!)
We've taken to creating calcium and vitamin rich breakfasts that mimic dessert for the kids. Instead of a smoothie, we are calling these breakfast milkshakes. Like a muffin versus cupcake, really it's all in how you present it!
I'd love your tips…How do you teach your kids the importance of eating breakfast to fuel their school day? 
For additional breakfast recipe ideas, make sure to visit the Dairy Makes Sense website!
Banana Pumpkin Breakfast Shake
A nutritious breakfast milkshake is the perfect way to start the day!
Ingredients
1

banana

1

cup

pumpkin puree

1/2

cup

applesauce

1/2

cup

milk

4

Tablespoons

honey

or 2 Tablespoons brown sugar

1

teaspoon

pumpkin pie spice

2-3

cups

ice

depending on how thick you want your shake

whipped cream granola for garnish
Instructions
Place all ingredients except whipped cream and granola in a blender and blend until smooth.

Pour into two tall milkshake glasses.

Top with whipped cream and granola.
Disclosure: I was compensated for my time and ingredients by Midwest Dairy for this blog post. All opinions expressed are my own.