A Cheeseburger Soup recipe with ground beef, cheese and tender diced potatoes in a creamy broth.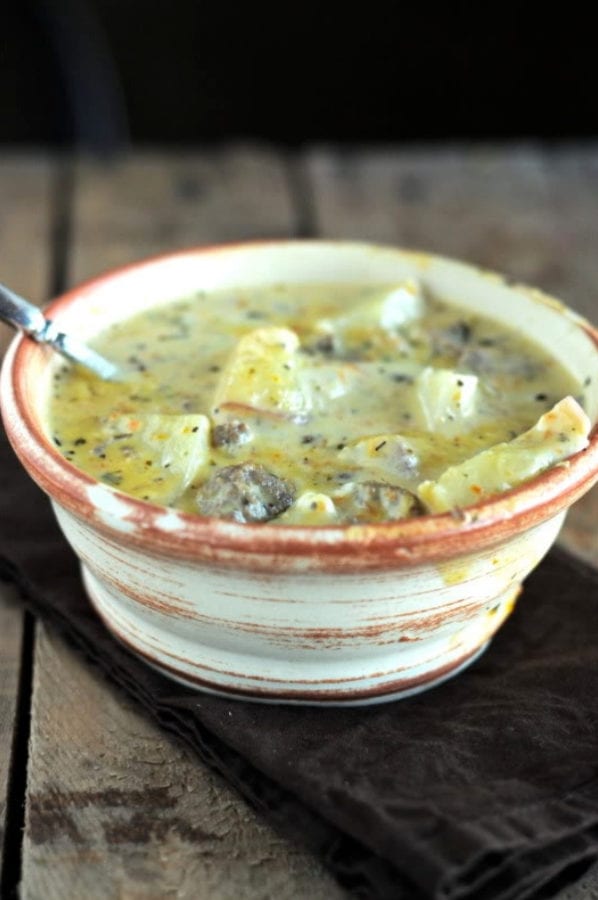 I am sitting here tonight, surrounded by kids who have basically been on three days of extreme sugar highs. As a result, I am quickly reminded of why I do not love Halloween. I was a fan of Halloween when I was a kid, I really was. I do love my own share of candy and seeing all the kiddos dressed up in cute costumes. However, the constant begging for candy, the hyper-ness and overall chaos of Halloween makes me long for the day to pass by quickly. Then we can move on to the other holidays I love.
Am I a fuddy duddy these days or what? There is one newer tradition that I do look forward to each year. We recently started what we call Boo in the Bubble. This is our annual Halloween soup supper and candy distribution bash.
For those of you wondering why it's called Boo in the Bubble, let me share. We live on a street that has a half circle cut out. It's not quite a cul-de-sac, but works just as well. Our house is positioned right at the center of the "bubble". This makes for a great place for gathering together as friends and neighbors.
At Boo in the Bubble a large group of neighbor friends and their kids all come down to our house.  Everyone brings a pot of their favorite soup to share with each other along with some healthy side dishes. Then, after dinner and the obligatory kids posing for pictures, we line up our buckets of candy in the driveway to hand out. One lucky group gets to stay behind by the warm fire pit and pass out candy to visiting trick-or treaters. The other group takes the kids trick-or-treating. It is a great evening of good food and fun!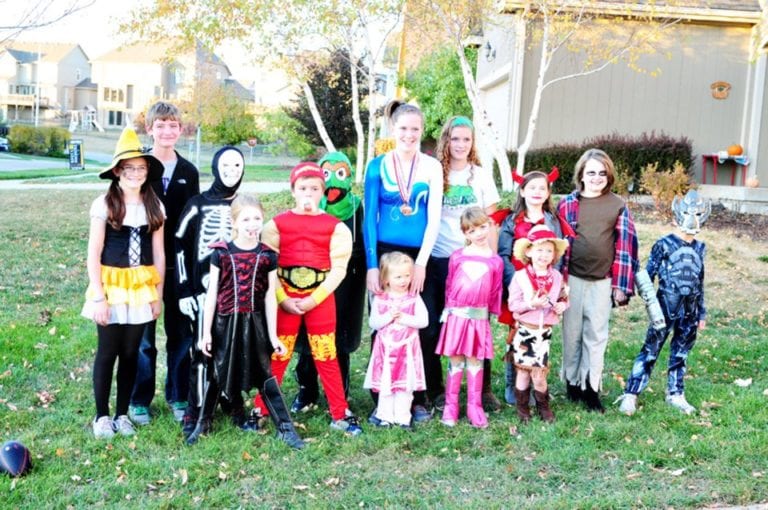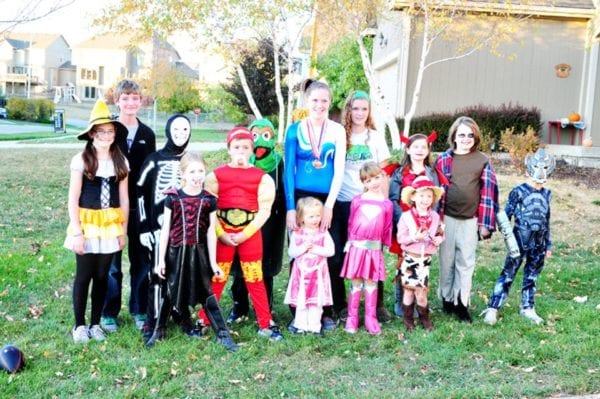 I always try to experiment with a new to me soup recipe for this occasion. Last year it was what became my favorite soup, Zippy Chicken and Mushroom Soup. This year, I tried the much raved about Cheeseburger Soup. Cheeseburger Soup is a popular recipe from the kitchen of my friend Jo Ann Emerson. Kelly's teacher RAVED about this soup at Parent Teachers Conferences. Finally, after much searching, I got a hold of the recipe.
Cheeseburger Soup has definitely tied with the Zippy Chicken and Mushroom Soup as favorites. It is a hearty cheesy soup, filled with diced potatoes, ground beef and cheese. For extra indulgence, top the soup with more shredded cheese and sour cream. This is obviously not a light recipe, but it's worth every cheese induced calorie!
I now have our annual Halloween bash to look forward to each year. Our party makes the craziness of Halloween a little more bearable, for sure. Plus, who doesn't love the anticipation of trying out a new soup recipe? I'm already planning out this year what I'll make for next years Boo in the Bubble. I've had my eyes on this Best Clam Chowder recipe for awhile now. It looks so good!
If I reframe the holiday to be one about friends and food, I can probably suffer through without having to dress up as Scrooge to fit my attitude. I'm pretty confident my kids would much prefer the me who embraces halloween, don't you?
I hope you enjoy this great recipe as much as my neighbors and I do. We absolutely love this soup. It's definitely comfort food, which is exactly what's needed on Halloween!
While you're here make sure to check out other favorite soup recipes below from bloggers around the web!
Cheeseburger Soup from the kitchen of Jo Ann Emerson
A hearty Cheeseburger Soup recipes shared by my friend Jo Ann Emerson
Ingredients
1/2

pound

ground beef

3/4

c

chopped onion

3/4

c

shredded carrots

3/4

c

diced celery

1

teaspoon

dried basil

1

teaspoon

dried parsley flakes

5

Tablespoons

butter

divided

2

cans chicken broth

4

cups

peeled

diced potatoes (I used unpeeled red potatoes)

1/4

cup

flour

2

cups

8oz Velveeta, cubed

1 1/2

cup

milk

3/4

teaspoon

salt and 1/2 teaspoon pepper

1/4

cup

sour cream
Instructions
In a 6-quart saucepan, brown beef; drain and set aside beef.

In the same saucepan, sate onion, carrots, celery, basil and parsley in 2 Tablespoons butter until vegetables are tender (about 10 minutes). Add broth, potatoes and beef; bring to a boil. Reduce heat; cover and simmer for 10-12 minutes or until potatoes are tender.


Meanwhile, in a small pan, melt remaining 3 Tablespoons of butter. Add flour; cook and stir for 3 minutes or until bubbly. Whisk into soup; bring to a boil. Cook and stir for 2 minutes. Reduce heat to low.


Add Velveeta, milk, salt and pepper. Cook and stir until cheese melts. Remove from heat; stir in sour cream. Makes 8 servings.

Notes
from the kitchen of Jo Ann Emerson
For more delicious soup recipes like Cheeseburger Soup, check out these blogs: