I'm crying uncle to my schedule…
And from what I can tell the rest of you are feeling the same strain. Since when did May feel more like the holidays with all the running around and stuffed calendars? From graduations to birthday parties to sports practices and games every night of the week, things have gotten a little out of control around here. 
The funny thing is, I pride myself on not over-scheduling my kids… but when you multiply a somewhat normal schedule by four kids things get a little out of control. No one ever warned me that four kids meant 4 times the homework, 4 times the spelling tests, 4 times the sports schedules, 4 times the chaos. Reasonably I should have known, but that's not the kind of stuff you think about when deciding how many kids to have.  Of course, I wouldn't change having four kids for anything. Instead, I do what I can do to make bits and pieces of our life a little less crazy…namely dinner.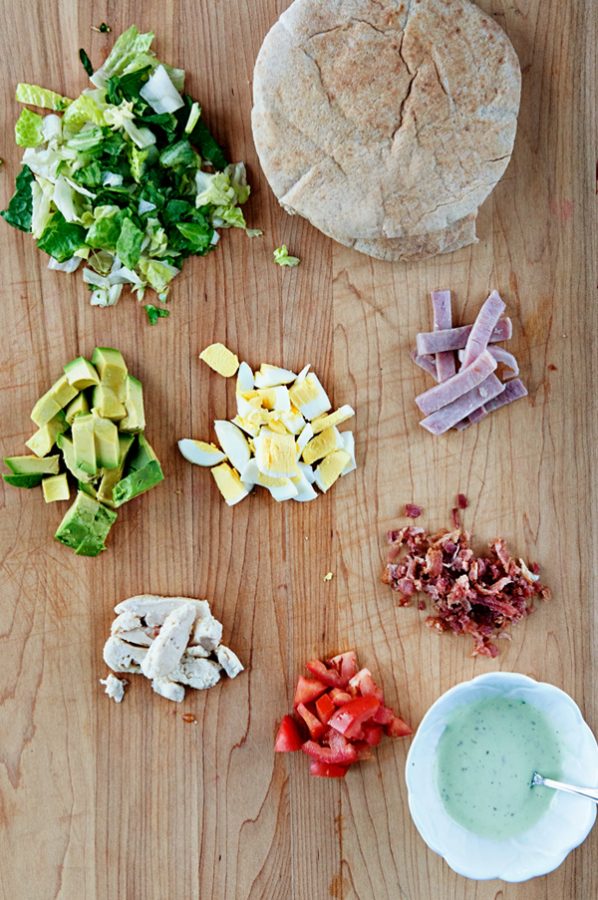 Quick nutritious meals that can be put together in just a few minutes save the day for us.
I love pita pockets for quick meals on the go – which is exactly what we are these days… on the go. Pitas are so versatile, but one of my favorite ways to stuff them is with Cobb Salad fillings. Delicious California Avocados, hard boiled eggs, bacon, chicken and ham for protein, and tomatoes and lettuce for additional nutrients. Drizzle a little Creamy Avocado Ranch salad dressing on top and you have a filling and tasty meal you can grab and go!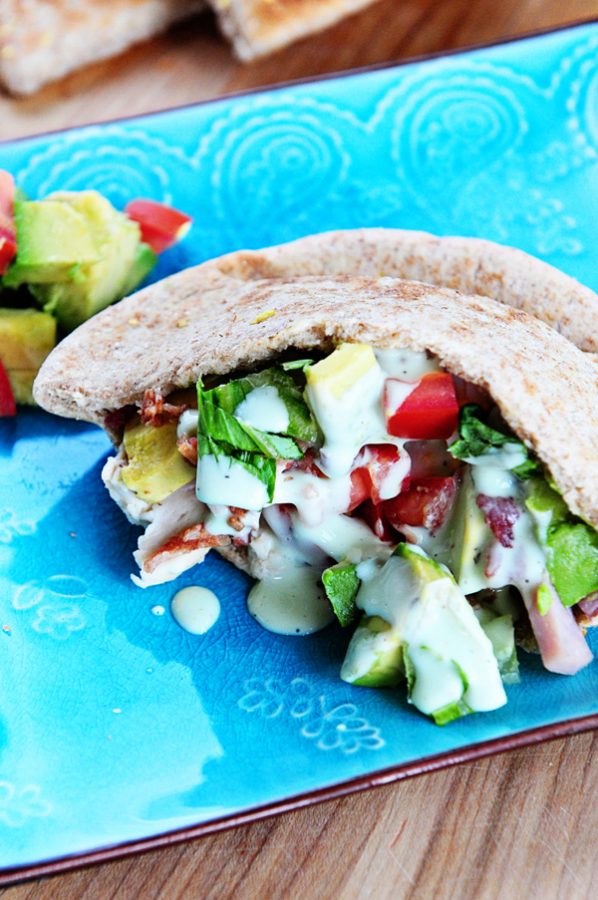 Also, if you want to do a cheater version of this recipe, dice up a fresh California Avocado, then head to your store salad bar for the other fixings. Hey… when in survival mode, you pretty much have to do whatever you have to do to just get by!
Cobb Salad Stuffed Pita Pockets
This "recipe" can be thrown together in a jiffy... perfect for a quick weeknight meal on the go!
Ingredients
1

fresh California Avocado

diced

1

Roma tomato

diced

1

hard boiled egg

diced

1

grilled chicken breast

diced

1

cup

cooked ham

diced

4

cups

Romaine lettuce

chopped

1/4

cup

cooked bacon

diced

4

Pita Pocket Halves (I prefer this homemade recipe or Oroweat 8 Grain Pocket Thins

Creamy Avocado Ranch Dressing Recipe here
Instructions
Open a pita pocket and layer lettuce first, then add additional ingredients until "stuffed". Drizzle with Creamy Avocado Ranch dressing.
Make sure to check out my fellow California Avocado Commission Ambassadors for more, great California Avocado recipes:
Disclosure: This recipe was created on behalf of my partnership with the California Avocado Commission. I'm honored to be a compensated 2013 brand ambassador for CAC. All opinions expressed are my own. For more great recipes visit the California Avocado Commission website and follow them on Facebook and Twitter.