Here are the prompts for 365 Days to Rock Your Happy Challenge!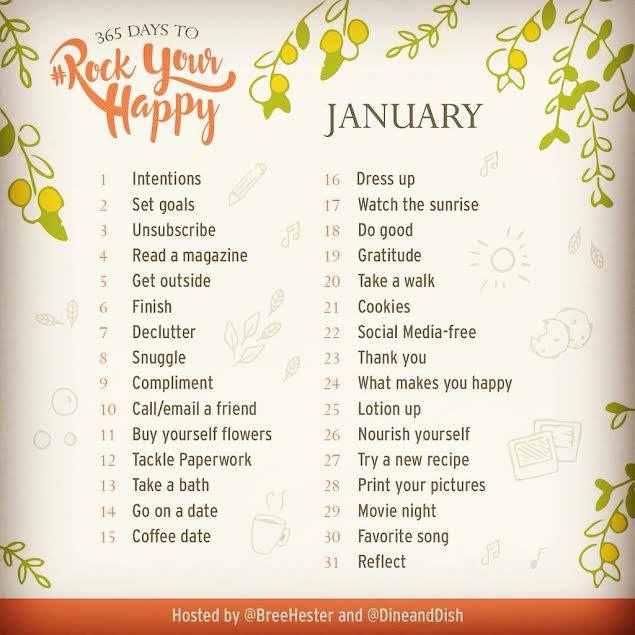 January 1 – Set an intention or pick a word for the year. What do you want 2017 to bring and be about? Take a few minutes to think about this, and write it down.
Happy Tip (HT): Read about Kristen's past focus words here. Take an extra step and get your word on an art print for a constant reminder of your intention throughout the year.
January 2 – Set goals for the month of January. Now that you know where you are going, how are you going to get there? The term "goal setting" alone can put me in a panic. Call it whatever you want, but the only way that you will achieve anything is with a plan.
HT: Read more about Bree's goal setting here. Also, if you haven't yet purchased a planner for 2017 yet, this planner is a great tool for laying the groundwork to achieve your monthly goals.
January 3 – Unsubscribe. Take control of your inbox. Unsubscribe from the store emails (which also helps with impulse spending), the newsletters that do not add anything to your life, or the notifications that do nothing but tell you to hop on social media.
HT: Use a service like Unroll.me or manually unsubscribe. (Go to the bottom of the email and look for the unsubscribe button or the email preferences.)
EXTRA CREDIT // Delete all of the emails that you haven't read. Let's be honest, if you haven't already read them, you probably never will. At the very least, archive them. Having a clean inbox is happiness.
January 4 – Read a magazine. Take some time to actually read the magazines that you subscribe to. Make a cup of tea, brew some coffee, and flip through your favorite mags.
HT: Bree's favorite magazine is National Geographic. Kristen's favorite is Bella Grace. Make sure to share your magazines with a friend or recycle them once they are read. Magazines stacking up will bring you more stress than happiness.
January 5 – Get outside. Fresh air will do you good. Take a walk. Put the windows down in your car. Put on a coat and drink your morning coffee outside. Breathe in some oxygen.
HT: We love this quote about fresh air. If you are someplace where the weather is chilly, support an independent artist (and fellow Rock Your Happy friend) and bundle up in one of these cozy creations.

January 6 – Finish something that is hanging over your head. Finally, check it off the list! We all have some task that we have put off for ages. Usually, it takes a couple of minutes and was not a big deal at all. And doing it – FEELS AMAZING.
HT: Find out how Mark Twain and "Eat That Frog" relates to today's challenge. Now, go eat your own frog.
January 7 – Declutter. Just one area and set your timer for 15 minutes. Keep up the momentum from yesterday. Tackle one spot in your home that needs tending to. A junk drawer, a closet, your fridge. Give it a good clean and purge.
HT: Is Decluttering the secret to happiness? We sure think so – here's a great read about why. For some daily structured help with decluttering, check out the FlyLady site.
January 8 – Snuggle! Grab a cozy blanket, turn on your favorite show or movie, get lost in a good book.
HT: Need a couple of recommendations? Kristen's currently obsessed with binge watching Gilmore Girls and couldn't put this book down. Bree's favorite book of 2016 was this and she's rewatched this movie too many times to count.
January 9 – Give a compliment. Giving a genuine compliment to someone can really turn their day around as well as make you happy. I wore red lipstick this week and got more compliments from strangers, it was nice to hear and helped get me out of my funk. Compliment friends, family and strangers today!
Happy Tip (HT): The Happiness Compliment Chain is a great way to send a virtual compliment to someone. As great as it is to compliment people virtually, make sure to spread compliments around in person too!
January 10 – Call or email a friend. Today's a great day to reach out to someone who has been on your mind.
HT: Work on doing this each time someone pops into your head and don't put it off. Connecting with friends and family, from the present and past, can be an incredible happiness booster and truly enrich your life.
January 11 – Buy yourself flowers! Don't wait for someone else to do it for you. Brighten up your home or desk at the office with a bouquet of your choosing!
HT: On a budget? Trader Joe's has some of the most beautiful flower bouquets at affordable prices – we're talking $6 or less. If you really want to splurge and treat yourself, order a bouquet from The Bouqs Co. to be delivered to your house.
Extra Credit – while you are picking up an inexpensive bouquet for yourself, grab one to surprise a friend with!
January 12 – (Tackle Paperwork) Get your life together. Your paperwork life that is. Do you have to search high and low for passports, immunization records, birth certificates? Make a folder and keep them organized and in one place. Moving often means that I need to be super organized when it comes to our life paperwork. Registering kids for a new school and sports is no joke! I bought a cute accordion folder, cleaned out our old one, and made sure everyone's paperwork was in order. (Also this gets hand carried, don't put it in a moving box!)
Extra Credit – Order an extra set of birth certificates (and make copies of vax records while you are at it). I am often surprised how often I need to turn in an original copy of a birth certificate and it isn't returned for a few weeks. I now have multiple copies for just in case. it takes less than 5 minutes and just a few dollars. So worth it! You never know when you are going to need them.
January 13 – Take a bath – Set the mood with candles, soft music, a glass of hot tea or wine, and a good book…think you don't have time? Think again. You've got to make time for this happy task!
HT: Kristen used to HATE taking baths, until she recently discovered Lush Bath Bombs. Now she's a bit of a bath addict.
Like Kristen, I'm also in love with Lush. Unfortunately, I don't have a tub, so I have to take a luxurious shower instead. I am in love with this shower gel.
January 14 – Go on a date – Date your love, your kids, or yourself today. Turn those phones off and connect over dinner and a movie or whatever makes you happy.
HT: If you can't splurge on a sitter, check out these tips for date nights at home. You can also subscribe to this creative date box to have even more fun on date night!
January 15 – Coffee date – How many times have you said to a friend "Hey – let's meet for coffee soon?" but it never happens. Well today's the day…call up that friend and finally meet for coffee.
HT: Once you meet for coffee, don't leave without setting up your next "coffee date". Keeping a standing date on the calendar is a great way to keep friendships going strong.
January 16 – Dress up. When you look good, you feel good. Try dressing up a little today. We could get away with wearing leggings and a hoodies every day because no one sees us, but when we get dressed and look nice we feel more professional and productive.
Happy Tip (HT) Bree's been loving Blu-Red from Lipsense to give her a fashion boost. She's obsessed with these lipsticks! (Bree doesn't sell these, she just loves them and uses them all the time.) Also, if you are stuck in a rut and want to try out some new clothes, Kristen recommends giving Trunk Club a try – your personal stylist will bring you instant fashion success!
January 17 – Watch the sunrise. (Or the sunset if you aren't a morning person.) Is there anything more stunning than a colorful sunrise or sunset? Bring your morning cup of coffee outside, be thankful for the day and watch nature in all of her glory.
(HT) Did you know you can google "What time does the sun set/rise today" and it will give you the exact time of day for those events in your neck of the woods? Cool!
January 18 – Do a good deed. Make someone brownies. Shovel your neighbor's walk. Bring a friend a bunch of flowers. Open the door for someone. Buy the person behind you in line a coffee. Doing nice things for others brings happiness to all involved.
(HT) The Random Acts of Kindness Blog is a really great resource for good deed activities for strangers, family members, elderly…anyone you can think of to do a good deed for, they have ideas!
January 19 – Gratitude. Take a few moments and write down a few things that you are grateful for.
(HT) – Try a gratitude journal. We've heard great things about the paper and app versions of this one.
January 20 – Take a walk. Maybe find a new place in your town to explore? A new walking trail? If it's too cold out, find an indoor place to explore.
(HT) – Our friend Bev shares monthly playlists on her blog…this specific playlist is a great vibe to go along with your walk!

January 21 – Bake some cookies. Or buy some really good ones. These look like they could do the trick. Or maybe these? Hmmm….
HT – Make some dough and freeze it in portions. When you need a cookie, take a few out and bake the frozen dough. Our friend Julie shares exactly how to freeze cookie dough. Do it and you can have warm cookies whenever you want.
January 22 – Social Media-free Sunday. Take the day off from social media. Give your brain some time to unwind and clear.

(HT) Need help avoiding the pull of your phone and computer? Try the free Stay Focused Chrome Extension to limit your online time and block you from using certain sites once your time limit is up. A free app similar for your phone is Our Pact. It sounds extreme,, but trust us…once you try it you'll definitely get your life back!
January 23 – Thank You. Write a thank you note (and actually mail it) to someone you want to express gratitude to. Handwritten thank you notes seem to be such a thing of the past, but let's bring them back. Express some handwritten thanks today!
Happy Tip (HT) Thank you notes are much more fun to write when the cards are pretty. Kristen can't resist the selection of stationary from this shop. Bree loves thank you notes from here.
January 24 – What makes you happy? When was the last time you thought about what really makes you happy? Today, sit down and write a list of at least 10 things that truly bring you happiness and post it someplace prominently for you to see. (Then share them with us…we'd love to know what some of your happy prompts would be!)
(HT) This list of 100 happy things is so inspiring! It might spark some ideas.
January 25 – Lotion up. Take some extra time when you're getting ready this morning or before bed to slather a nice, high quality lotion all over your body. This will not only help your skin with how dry the air is right now, but it will also give you a few minutes of self pampering time. You deserve it!
(HT) Bree gave me the gift of this incredible whipped lotion a couple years ago and now I keep it in stock because I never want to run out. It's amazing and well worth the splurge!
January 26 – Nourish Yourself.
(HT) – Make yourself a healthy meal. Meditate. Get a massage. Self-care is not selfish.
January 27 – Try a new recipe. Pour yourself a glass of wine or sparkling water, turn up the jazz, and play in the kitchen. Make cooking tonight a relaxing affair.
(HT) – We just happen to know of a couple of blogs with some must try recipes. Bree suggests this recipe from her site. This recipe from Kristen's site is always a hit!

January 28 – Print Your Pictures. We all have photos we love trapped on a hard drive somewhere. Pick out some of your favorites and get them printed! With so many instant print places around, this can be a quick, happy fix.
HT – Chatbooks is an easy and inexpensive way to get those photos from your hard drive into print. The books are high quality too!
January 29 – Movie night. Pick out a favorite old movie or stream a newer release and have a movie night. To make things even more fun, drag a mattress into your living room or make a cushy bed out of pillows and get comfy.

(HT) If you need some help picking out a movie, check out these lists: 100 Best Chick Flicks, 50 Greatest Date Movies, The 25 Best Sundance Movies of All Time, and The 10 Must-See Movies for Animal Lovers.
January 30 – Listen to your favorite song. On repeat.
Happy Tip (HT) Bree – I recently got an Amazon Echo and Alexa has been introducing me to some great new music. "Alexa, play me some cooking music." She has great taste. And she tells funny jokes. We use our Echo far more than I thought we would. She's pretty great.
January 31 – Reflect. What was the best thing that happened in January? What made you the most happy?
Bree – The best thing that happened in January was going to my GoPro retreat. I always come home inspired and refreshed. After a challenging fall, I have been having a hard time. I needed a break. I came home so energized.
Kristen – The best thing that happened for me in January was getting out of Kansas and visiting the Georgia sunshine with HGTV. I think I should plan trips every month of the winter. It does wonders for my happiness meter!
It's never too late to join in the 365 Days to Rock Your Happy movement. Send the sign up link to a friend and spread the happiness!
Disclosure: This blog post contains affiliate links. As an Amazon Associate, I earn from qualifying purchases.