This Crispy Chickpea Pantry Pasta recipe is a simple, vegetarian dish full of wonderful flavors and textures.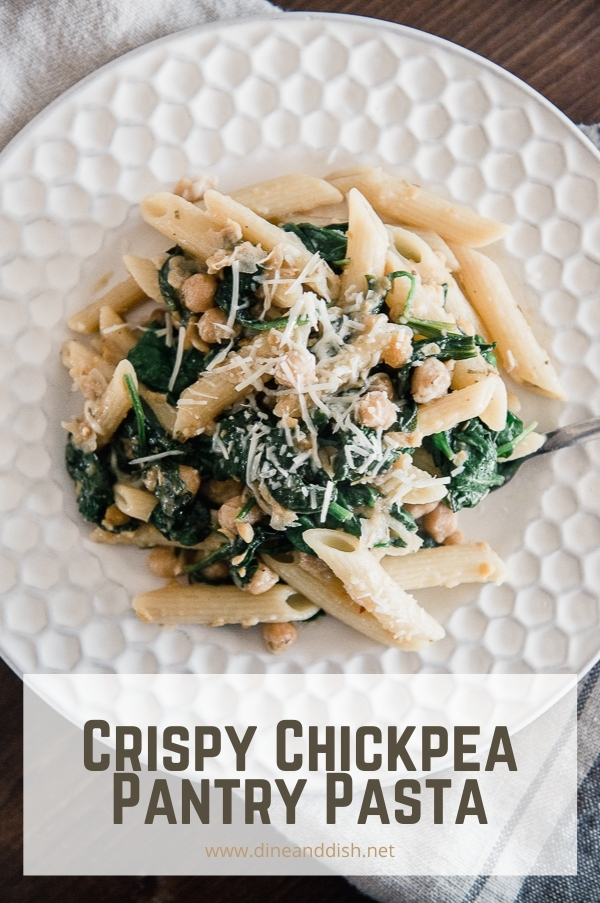 This week I've become hooked on the Bon Appetit TV channel. Leah and I are cat-sitting for some friends and this is the only channel we can figure out how to watch on their complex TV system, and I'm not mad about it.
Every time we leave the cat to return home, we have a list of new recipe ideas we want to try and dishes we want to eat! This Crispy Chickpea Pantry Pasta recipe adaptation is one such inspiration. I'd never thought about putting chickpeas with pasta, until now. The result was an amazing and easy pantry pasta dish!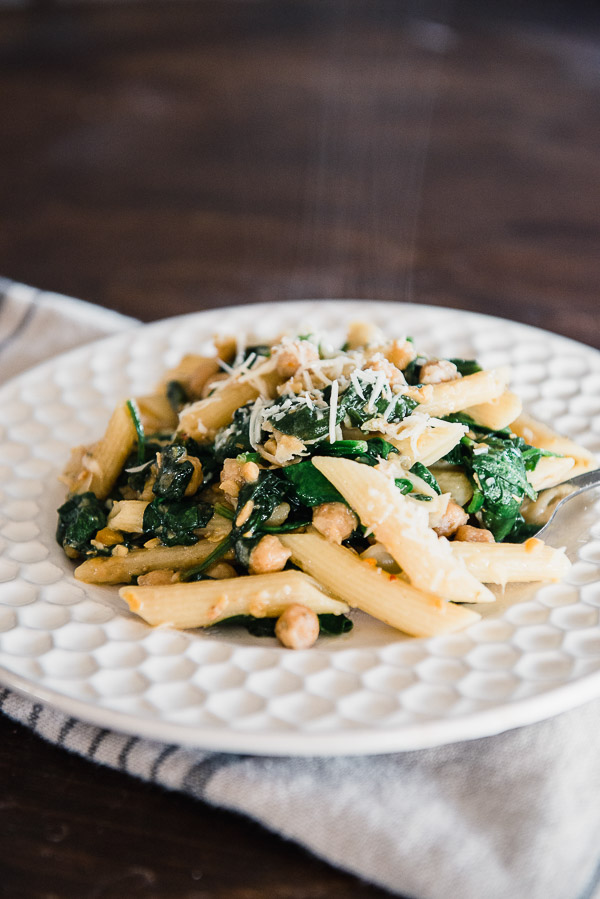 Since we have a vegetarian in the house as well, I love this pantry pasta recipe because it feels like a full meal but the protein comes from chickpeas, not meat. I can feel good about the kids getting a healthy, filling meal in, but don't have to mess with making something additional for the "meat-eaters".
The whole family gobbled this up and was fully satisfied by the end of the meal. In fact, I got the very much welcome "I'd eat this again" praise. This is always a sign that everyone loved it!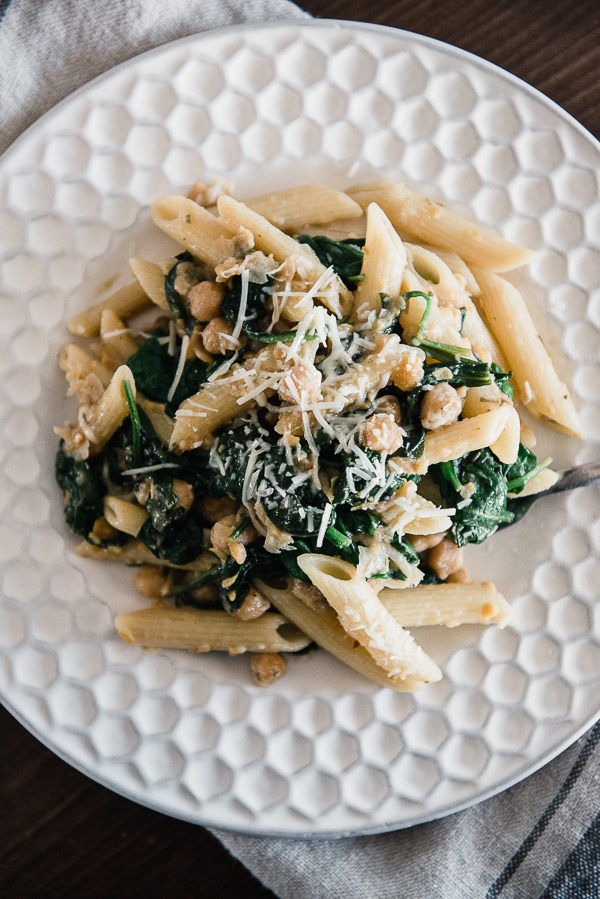 Once I got hooked on Bon Appetit TV, things started going down in the food world where they were accused of harboring a toxic and racist work environment. (I'm the worst blogger…I started writing this post in December and it's now almost March). It was really disheartening to see these allegations. Sadly, this seems to be so common in the entertainment industry and even as much so, in the food industry. I'm thankful chefs and TV personalities were willing to step up and stand by their colleagues.
I don't have this channel and won't be watching it again, but I'm glad to have at least a few bursts of inspiration from the few days I did see the show. Let's hope BA can get their act together and make up for these serious allegations by becoming open and educated to where they were wrong. Food, without embracing the culture and diversity of each dish and person behind it, is truly nothing.
With this said, I hope you enjoy this adapted yet inspired chickpea pantry pasta recipe. Adapt this same recipe to bring in your favorite ingredients and flavors! Enjoy!
Crispy Chickpea Pantry Pasta
This Crispy Chickpea Pantry Pasta recipe is a great "clean the pantry" vegetarian meal, full of great flavor and textures!
Ingredients
16

ounces

Penne Pasta

4

Tablespoons

Olive Oil

15

ounce

can Chickpeas

4

cloves

garlic

minced

1

pinch

Red Pepper Flakes

3

Tablespoons

fresh Basil

coarsley chopped

1/4

cup

broth

(vegetable for vegetarian, chicken for non)

4

handfulls

fresh baby spinach

1

Tablespoon

lemon juice

1

Tablespoon

lemon zest

1/2

cup

shredded parmesan cheese

plus additional for garnish

Kosher salt

to taste
Instructions
Bring a large pot of salted water to a boil and cook pasta according to package directions. Reserve 1/4 cup of salted pasta water after draining pasta.

While the pasta is cooking, heat the olive oil over medium low heat. Add garlic, chickpeas, red pepper flakes and basil. Sautee until chickpeas are crispy. Remove 1/3 cup of chickpeas from the skillet and set aside for later.

Add the broth to the skillet. Begin mashing the chickpeas in the skillet as you cook. Add the reserved pasta water and increase heat to medium. Continue cooking until liquid has reduced by 50%.

Reduce heat and stir in cooked pasta, fresh baby spinach, lemon juice, lemon zest and parmesan cheese. Cook until spinach is wilted. Top with reserved chickpeas and additional parmesan cheese. Sprinkle with Kosher salt, to taste.
Notes
Recipe inspired by Bon Appetit TV pantry pasta special.
If you love this pantry pasta recipe, check out these other simple pasta dishes!