Our family weekly menu plan for the week as well as a recipe for Skillet Steak Tortellini and Veggies – a quick and tasty weeknight meal!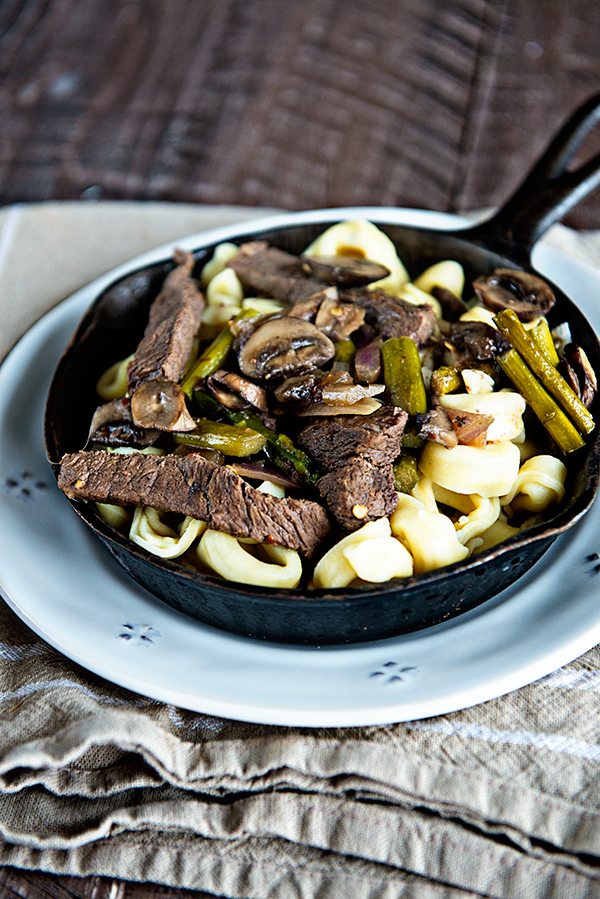 Man… I've had the hardest time getting back into the swing of cooking and blogging this year. That's probably obvious by my lack of blog posts lately, isn't it?
The problem is that unlike my slow start to 2014 with reading, I have already read so many great books this year! The kind that you don't want to put down and just want to ignore life and read all the time. I haven't been totally ignoring my family and reading… but I have ignored going to the grocery store and cooking and blogging for the most part and instead have been devouring these books! I'll write a post about the books at the end of January, but if you are curious what they are…this book was a page turner. I couldn't put it down! Along the same lines, I couldn't wait to get to the end of this book so I could see how it unfolded. This book was incredible and so well written, which shouldn't surprise me since I love everything by this author. And this book…well, I listened to it on audio and loved the narrators and it kept me on the treadmill, even when I was tired of running. They were all so good!
So if you are looking for some really good books to start your year of reading off on the right foot, I highly recommend those ones. I'm so excited as I have a stack of books to get through that I think are going to be really great. So I may not be blogging, but I am doing my due part to read books so I can recommend them to you 🙂 You are welcome.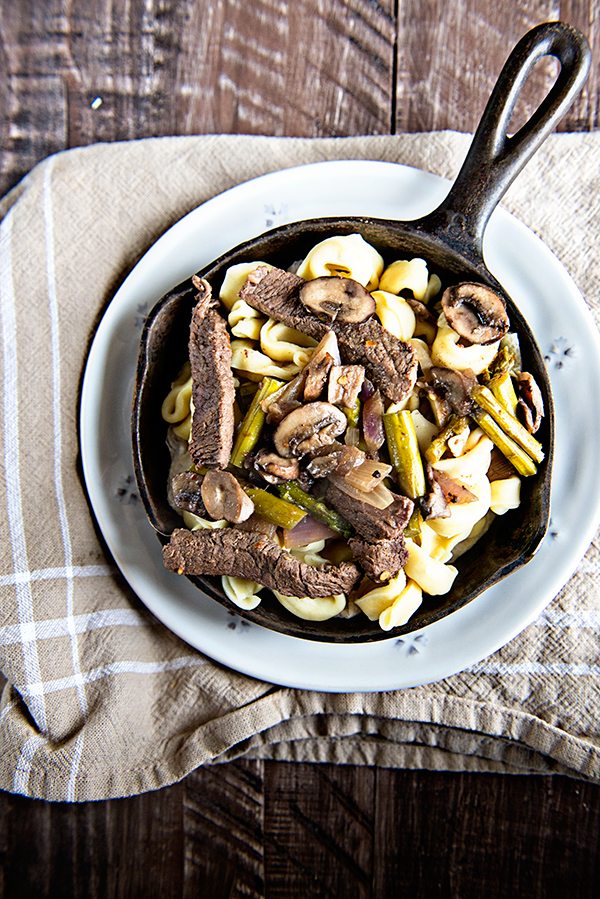 I think my family may be tired of sandwiches, and pretty soon my clients are going to be needing me to, you know, actually do the work they hired me to do…so this is the week I get back to the grind. And we all know that without a weekly menu plan, my intentions to get back to cooking are pretty nil. It's hard to cook when you don't go to the grocery store and for me, it's hard to get back to the grind without a plan in place. So here we have it… the first Dine & Dish weekly menu plan for 2015. My official start of getting my life back to routine. *sigh*
Make sure to read below the weekly menu plan for this awesome recipe of Skillet Steak Tortellini and Veggies. It's a great, protein packed meal for a busy weeknight! I hope you enjoy it as much as we did!

Want more Weekly Menu Plan Inspiration? Click here for past Dine & Dish weekly menu plan ideas!
Skillet Steak Tortellini and Veggies
If you are looking for a quick and tasty weeknight meal that your family will love, look no further than this skillet steak tortellini and veggies recipe.
Ingredients
2

Tablespoons

extra virgin olive oil

2

tablespoons

butter

1

pound

sirloin steak

sliced thin

1/2

teaspoon

red pepper flakes

Kosher salt and pepper

to taste

1

cup

fresh asparagus

cut into 1/4 inch pieces

1/2

red onion

sliced thin

1

cup

mushrooms

sliced

2

Tablespoons

Worcestershire sauce

1

cup

beef broth

10

ounces

cheese tortellini

cooked
Instructions
Heat butter and olive oil in a large skillet over medium heat.

Sprinkle steak with red pepper flakes, salt and pepper.

Add the thinly sliced steak and cook for 3 minutes on each side.

Remove the steak and keep warm.

Add asparagus, red onion and mushrooms to the skillet. Sauté over medium heat for 5 minutes, or until vegetables are tender.

In a small bowl, whisk together worcestershire sauce and beef broth. Pour over vegetables, add steak back into the skillet and simmer over medium heat for 5 minutes.

Toss with cooked cheese tortellini and serve.
Disclosure: This blog post contains affiliate links. As an Amazon Associate, I earn from qualifying purchases.