I lived off this Sweet Potato Hash recipe the two times I did Whole30. It's still one of my favorite go to meals today!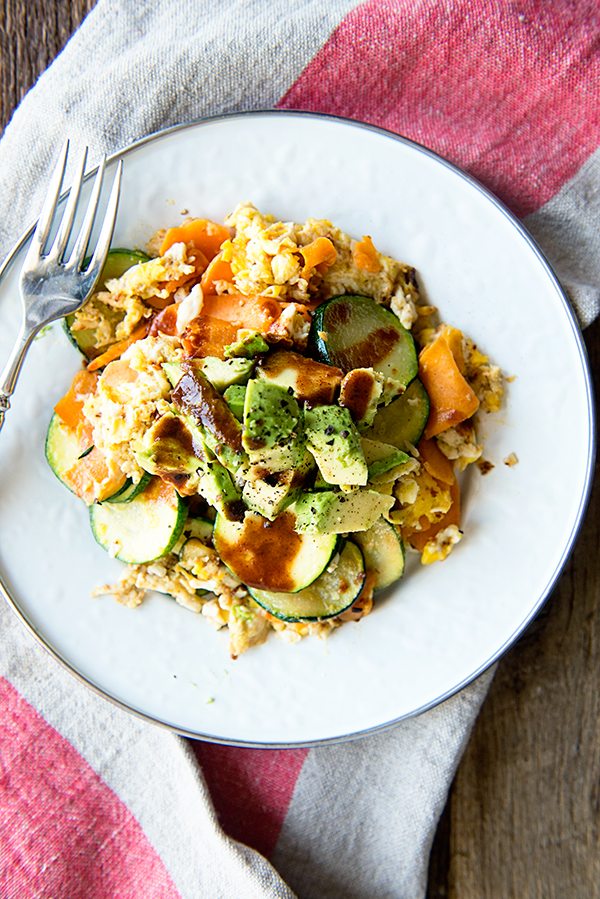 If any of you have attempted Whole 30, you know when you find a combination of foods you love that fits into the narrow parameters, it's like finding a pot of gold.
I discovered this Avocado and Sweet Potato Hash combination on week 2 of my first go at Whole 30. Let me tell you, I loved it so much I had it at least once daily during the 30 day duration. This recipe is made up of tender spiralized sweet potatoes, sliced zucchini, garlic, scrambled eggs, my favorite California Avocados and a splash of hot sauce. It's one of those incredibly satisfying recipes. It's so satisfying that you tend to forget what you are giving up when you eat it.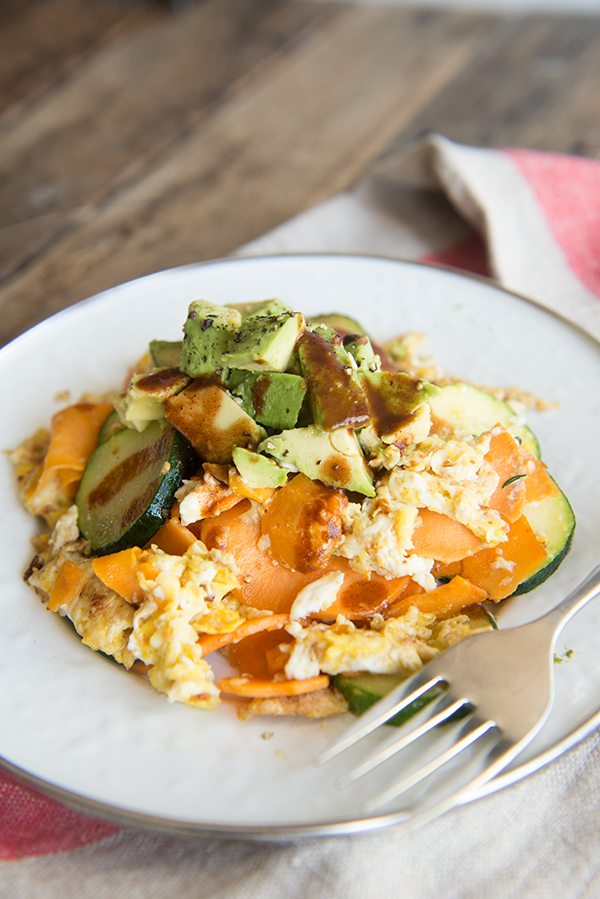 One thing that Whole 30 opened my eyes to was vegetables at breakfast. Never before had I considered a vegetable like zucchini a breakfast food. But now, after 2 rounds of Whole 30, I've discovered how good vegetables can be in the morning. Naturally, California Avocados have always been a part of my breakfast (here are some of my favorite avocado breakfast recipes), but other vegetables at breakfast time were new to me!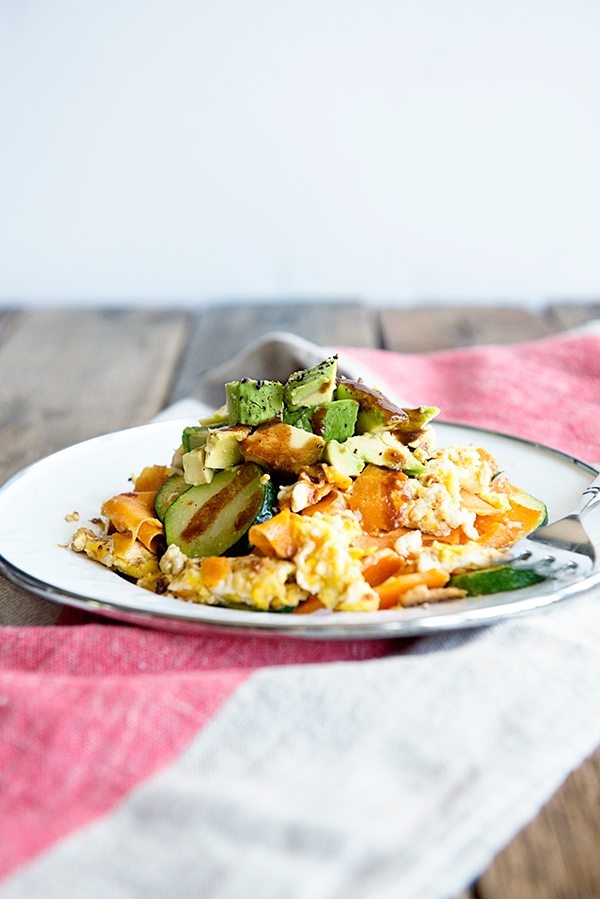 If you are looking for a way to amp up breakfast to the next level, definitely give this nutritious and delicious California Avocado Sweet Potato Hash recipe a try! Pair it with Bullet Proof Coffee and your morning will be started off on the right foot. By the way – this great breakfast hash is even better as leftovers. Enjoy!
If you love a good sweet potato recipe give these gems a try:
Every time I see this Tender Melting Sweet Potatoes recipe from Foodie with Family, my mouth waters.
This Sweet Potato Casserole from Mama Loves Food makes me yearn for the holidays.
Don't knock this Cinnamon Sweet Potato Almond Smoothie from Spoonful of Flavor until you try it!
Switch up your normal potato soup recipe with this Spicy Sweet Potato Soup.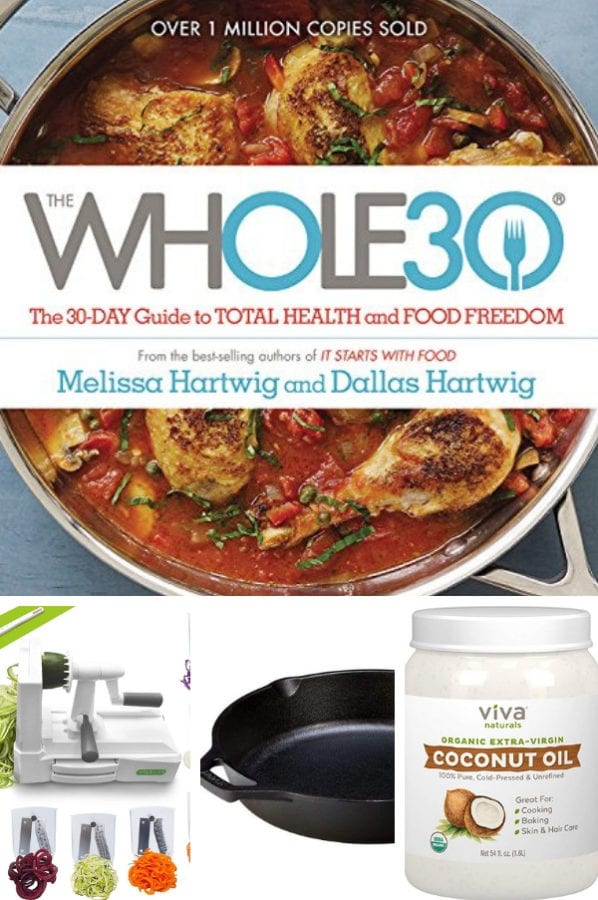 Here are a few tools that will simplify cooking sweet potato hash:
The Spiralizer: I am not a gadget person AT ALL. In fact, I tend to stay away from stuffing my kitchen cabinets full of single use gadgets. With that said, I've changed my tune with The Spiralizer. This little tool is so fantastic, especially with vegetables. Spiralizing sweet potatoes helps to make cooking them so quick and easy. It's a great tool for when you are doing the Whole30 program or when you are just trying to eat healthier. In addition, sprializing makes vegetables so easy to cook it's perfect for breakfast hash.
Lodge Cast Iron Skillet: A cast iron skillet seasoned with a little coconut or olive oil is a great pan to use for making hash. I don't know what it is about it, but the sweet potatoes get cooked so well. This nothing quite like crispy edged sweet potatoes. So good.
Whole30 Cookbook: If you are looking for other Whole 30 recipes, the Whole30 Cookbook by Melissa Hartwig is a must buy. This cookbook is the best Whole30 resource out there and great for meal planning while on the program. It's also a cookbook I still reference often as it truly helps me to manage my relationship with food.
Coconut Oil: Finally, coconut oil may be trendy, but I love it. It adds such a great flavor to this sweet potato hash recipe. I always buy big jars of Coconut Oil on Amazon because we go through it so fast.
Now that you know everything that makes cooking this sweet potato hash recipe a cinch, let's get cooking! You can find the recipe below. Bookmark it because I know you'll be making it time and time again.
Whole 30 California Avocado Sweet Potato Hash
A simple wholesome recipe full of veggies and good things to start your day!
Ingredients
1

Ripe California Avocado

peeled, seed removed and diced

2

teaspoons

coconut oil

divided

1

medium sweet potato

peeled and spiralized or thinly sliced

1

zucchini

sliced thin or spiralized

2

cloves

garlic

minced

2

eggs

Salt

pepper and hot sauce to taste
Instructions
Preheat 1 teaspoon of coconut oil in a large skillet over medium heat.

Add garlic, sweet potato and zucchini. Stir and cook for 5-7 minutes or until vegetables are tender. (The thinner the veggies, the faster they'll cook - so keep a close eye on it!)

Push vegetables over to the side of the skillet, add the additional teaspoon of coconut oil. Once the oil is heated, add 2 eggs and scramble.

Once the eggs are scrambled, stir together with the cooked vegetables.

Top with diced California Avocados, salt, pepper and hot sauce.

Serves 2.
Disclosure: This is a sponsored post on behalf of my long time client, California Avocados. For more great recipes featuring California Avocados, make sure to check out their great recipe database! In addition, this blog post contains affiliate links. As an Amazon Associate, I earn from qualifying purchases.