You won't miss the chicken when you replace it with Bush's Garbanzo Beans in this flavorful Chickpea Salad Sandwich recipe!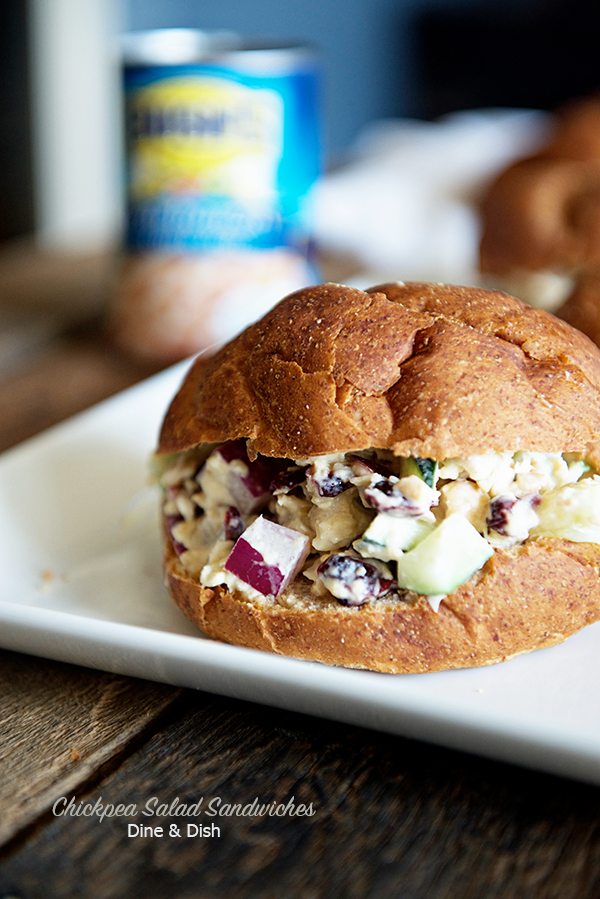 Oh friends…I am so excited to share this recipe with you today!
As you know, school is back in session for us, which means I'm no longer responsible for feeding my pesky kids at lunch time.  Lunch time gets to be all about me, myself and I. It means no more "kid friendly" lunch food…instead I get to eat what I want and what I crave. I've recently discovered this is a big silver lining to my kids being at school all day. A little me time and a little grown up lunch time is definitely not a bad thing! 
When my friends at Bush's Beans recently asked me to create a recipe using their Garbanzo Beans (aka Chickpeas), I knew I wanted to do a salad of some sort. But then I thought about how much I love Chicken Salad Sandwiches and it was then that I decided to make myself a delicious "Chickpea" Salad Sandwich instead. I wanted something quick, easy and full of grown up flavors I could enjoy at lunch. This Chickpea Salad Sandwich recipe is just that… a grown up lunch done right.
When you replace the chicken in your favorite chicken salad recipe with Bush's Garbanzo Beans, you won't even miss it. I promise. Chickpeas are such a great vegetarian alternative for those who want a little less meat in their lives and a little more protein and fiber packed chickpea goodness.
In addition to Bush's Garbanzo Beans, crunchy cucumbers, flavorful red onions and dried cranberries give this recipe an extra tasty flavor boost! Plus, there's no need to cook anything, so these sandwiches can be ready for you to enjoy in just a matter of a few minutes. It's the best kind of grown up lunch done right! I hope you enjoy it!
(Here's a quick video I did just to show you how easy these sandwiches really are to make!)
Chickpea Salad Sandwiches Recipe
You'll never miss the chicken in this flavorful Chickpea Salad Sandwich recipe!
Ingredients
1 19

ounce

can Bush's Garbanzo Beans

chickpeas

1

small cucumber

coarsely chopped

1/2

red onion

coarsely chopped

1/2

cup

dried cranberries

1/4

cup

mayonnaise

1

Tablespoon

lemon juice

1

teaspoon

garlic powder

1

pinch

Kosher salt

1/4

teaspoon

coarse ground black pepper

4

Kaiser buns or Crossaints
Instructions
Drain and rinse chickpeas. Place into a medium size mixing bowl and mash with a potato masher or a fork.

Mix in cucumber, red onion, cranberries, mayonnaise, lemon juice, garlic powder, salt and pepper. Stir until mixture adheres together and can be spooned onto rolls.

Spoon 1/2 cup sandwich filling onto each Kaiser roll.

Serve and enjoy!
Disclosure: This is a sponsored post on behalf of Bush's Beans, a long term supporter of Dine & Dish. Thanks for supporting the brands that make Dine & Dish possible! For more great recipes like this one, please visit their website. Also, check out the Done This With Beans website for more great Bush's Beans recipe inspiration!