I spent some time last night browsing through recipes on Recipezaar, in my favorite cookbooks and through past issues of Food and Wine magazines. After much debate with my husband on how we wanted to cook it (grilled, broil, oven) and what kind of ingredients we wanted to use, this recipe from Recipezaar won the battle. I love the fact that you can do a lot of the recipe ahead of time, which will be great so that the time spent before the party can be used doing more important things (like drink wine!) Here it is:
Show-off Roast Pork Recipe #41426
My favorite do-ahead party dish. Excellent taste, very easy to make, and perfect for everything from a casual to a formal dinner party, or even a buffet. It's great served with braised belgian endive or lightly sauteed broccoli rappe, green salad, wine, and even pasta. Versatile and easy dish. My go-to dish when we've got friends coming over, and I can't think of what to make.
Mix together butter, prosciutto, garlic, rosemary, parmesan, and black pepper and set aside (can be made in advance and refrigerated up to one day, but warm to room temperature before proceeding).

Preheat oven to 350 degrees F.

Cut slits about an inch or so long and a half inch or so deep all over the top of the roast.

Spread butter mixture over the roast, using the handle of a spoon to get it into the slits you made earlier (very important).

(At this point, you can wrap roast in plastic and refrigerate overnight and up to 1 day.) Put prepared roast in a roasting pan, pour wine slowly over it, and cook for about 1 1/4 to 1 1/2 hours, depending on the size of the roast, basting about every 30 minutes or so with pan drippings.

Remove from oven, cover with aluminum foil and let rest for about 15 minutes.
Doesn't that sound delicious?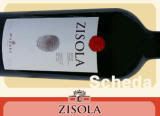 While browsing through the December issue of
Food and Wine Magazine
, I found the perfect wine to pair with our meal. Zisola… a tangy blend of wild berries with a rustic, leathery note. This wine was featured in Ray Isle's article
Exciting New Wines of 2006
.  At a very reasonable price of $19 per bottle, it will be a nice addition to our dinner party's meal.  I can't wait to give it a try.
That's where things stand at the moment. Stay tuned!