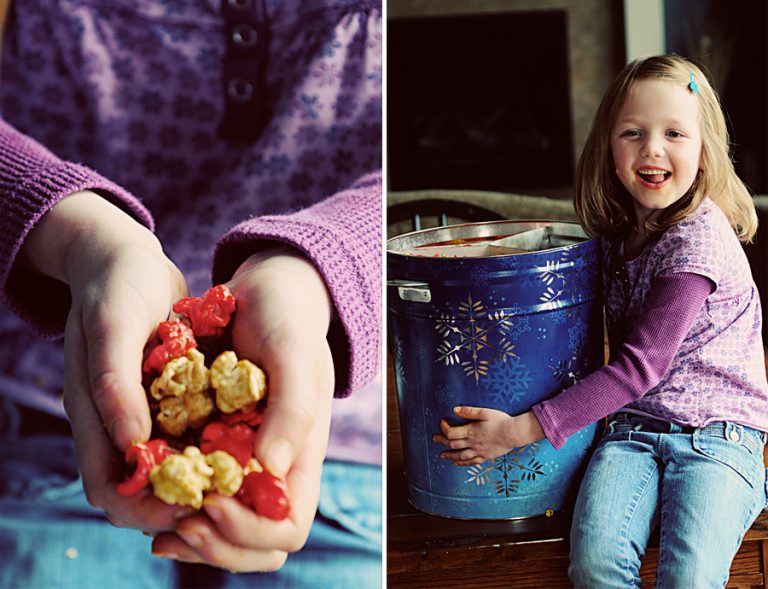 I remember the moments well… our family squashed in among the crowds of people anxiously awaiting the Kansas City Country Club Plaza Lighting Ceremony. I was young, so could usually be found either hiding behind the backs of strangers, desperately trying to peek my head around them for a view or precariously sitting atop my dad's shoulders, shivering as the cold, Kansas wind would hit my face.
It never failed. As the countdown to the lighting began, my heart would flutter with excitement. The moment… 5-4-3-2….and 1… was always so magical. No matter where you were standing, who you were nestled between, the sudden brightness of the beautiful light display would take your breath away.
After the ceremony we'd walk through the plaza, deciding where our dessert stop would be. The ice cream shop under the brightly lit star (with bubblegum ice cream) always won out, but after eating ice cream I longed to stop at the cute little popcorn shop with the long line of people wrapped all the away around the corner. "We aren't waiting in a line that long for popcorn, Kristen." Begrudgingly, I'd move on, but I was always so envious of the folks walking out of Topsy's with the giant tins of popcorn in their hands.
Fast forward many years later and I've been lucky enough to have experienced Topsy's popcorn many, many times. When my mom became a school teacher, Topsy's popcorn tins were a common gift from her students. As I grew up and moved into a professional, office role, clients were often adorning my office space with tins of popcorn. I never tired of Topsy's popcorn.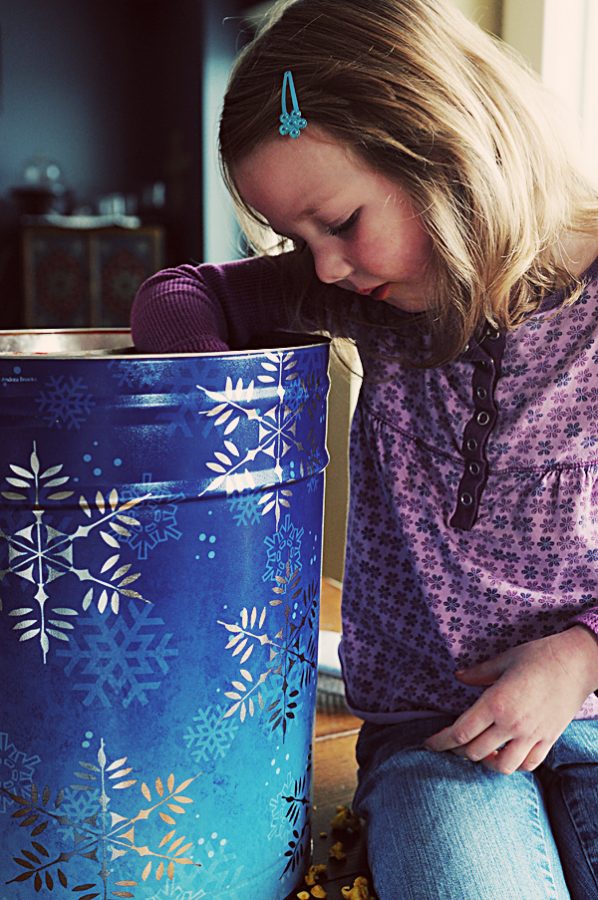 My friends at Topsy's gifted our family with a big tin of popcorn this week. As my 5 year old was eating it she exclaimed "When I grow up, I'm going to buy twenty-five hundred of these every year." Needless to say, we are all fans.
Topsy's wants to share a 6.5 gallon tin with someone this year, and I thought we would do an "Acts of Kindness" type giveaway. Receiving a tin of popcorn is such a fun treat. This time around the giveaway is not going to you…but to someone YOU want to surprise! It's your chance to pass on some holiday kindness on behalf of Topsy's and Dine & Dish. To enter, simply leave a comment on this post telling me whose day you would want to brighten by sending a tin of Topsy's popcorn. For additional entries:
Tweet the following: " I want to brighten someone's day by sharing a tin of Topsy's popcorn from Topsy's & @dineanddish http://su.pr/2gwwHv " Leave a separate comment on this post letting me know you did this.
Visit Topsy's website and leave a comment here letting me know which flavor or flavor combination of Topsy's you would choose.
All entries must be received by midnight CST on Wednesday, November 23rd, 2011. Winner will be chosen via Random.org and will be notified via email (must have a valid email address).
This is a sponsored post on behalf of Topsy's. All opinions expressed are my own.