If you love McDonald's Caramel Frappe beverages like I do, skip the drive through and give this caramel frappe recipe a try at home.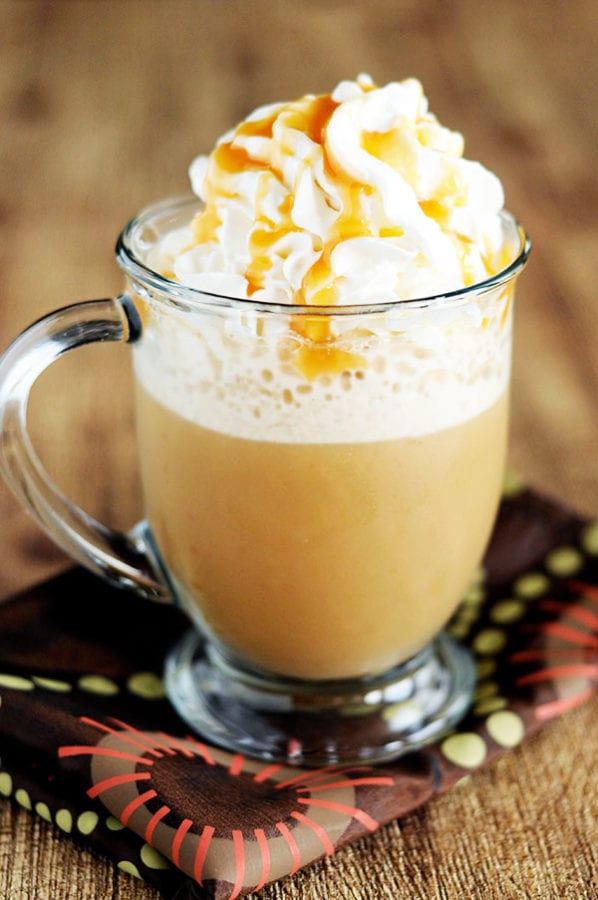 If you couldn't tell by my chicken leg post, I have what I would call "addictive tendencies". That is one reason why I have never tried drugs… I know I would probably like them and then be addicted and then we'd all see my happy little life spiral down the drain, out of control. If drugs are anything like baked chicken legs, I know I'd be in trouble.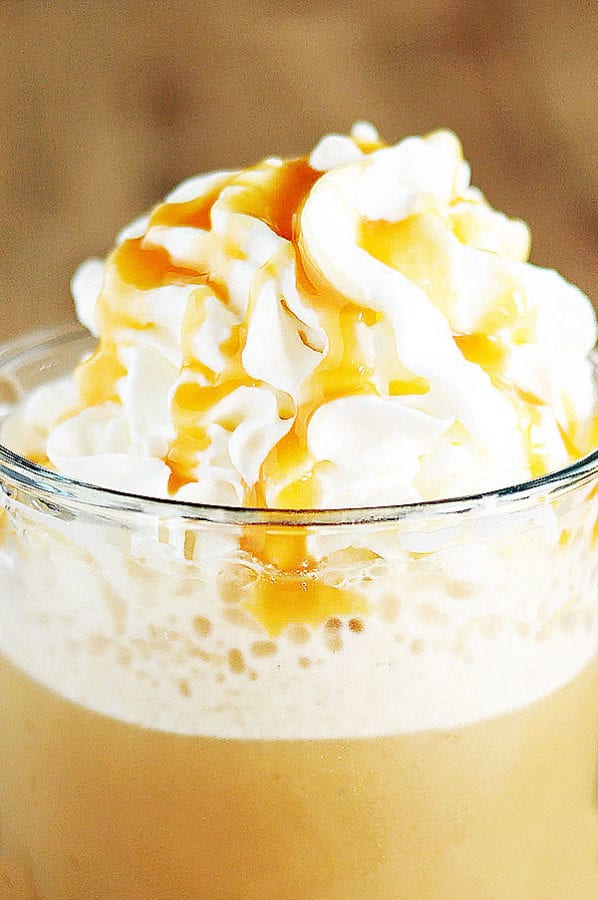 As mentioned in a recent Project 365 entry, I was sailing through life pretty much sure that all of you drinking iced coffee drinks were disgusting. An iced coffee drink seemed like you forgot you had a half of cup of coffee sitting on your night stand and then you woke up the next morning and continued to drink the old, cold coffee. Cold coffee? Blech.
I was at a McDonald's play date with my 3 year old, innocently slurping from one of my current and long standing addictions – a fountain drink – when a McDonald's employee handed me a sample of their new McCafe Caramel Frappe. Of course I took it because – you know… it was free. It is a common rule of life…you don't turn down free samples, even if you don't like what they are passing out. With the Caramel Frappe sitting in front of me, I decided to take one sip, knowing that after that one sip, I'd be tossing the Frappe into the garbage.
So, I took my sip. Then another sip. Before you know it slurpy straw sucking sounds were echoing through the McDonald's as I tried to get the last little drips of deliciousness from the bottom of the cup. I left that McDonald's and promptly went through the drive through to order my own Caramel Frappe.
That week alone, I had four Caramel Frappe's. I'd wake up thinking of Caramel Frappe's. I'd go to sleep thinking of Caramel Frappe's. Brushing my girls hair, I'd look down at their golden locks and I'd be immediately transported to the golden caramel ribbons that adorned my new favorite indulgence.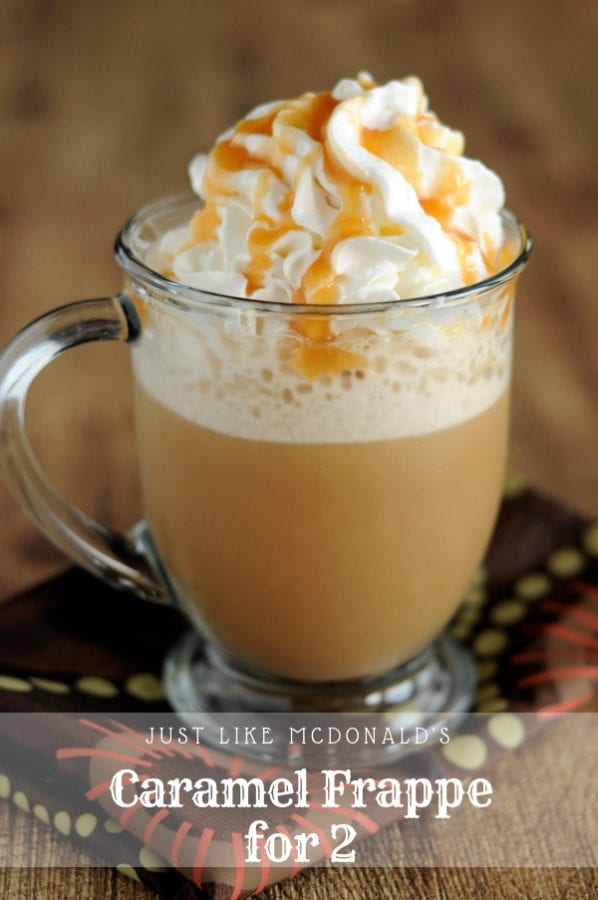 I attempted to give up my Caramel Frappe addiction…
The hard thing about addictions is that, well, they are addicting. Overcoming them is difficult. I tried hiding my keys so I couldn't go to McDonalds. I attempted leaving my money at home when I'd be out (although it is challenging to buy groceries when you don't have money with you… they kind of frown upon that for some reason). I tried shocking myself with the enormous Caramel Frappe calorie count. Didn't work… apparently my addiction can't be scared into submission.
I tried everything to just kick the habit. Then, I finally decided, instead of trying to stop the addiction, I'd embrace it. Surely it will get old and my overwhelming desire for Caramel Frappe goodness will eventually subside.
In my effort to embrace my 24 hour, 7 days a week desire for a Caramel Frappe, I figured I should try to find out how to make a caramel frappe at home. Finding this Caramel Frappe for 2 recipe at Recipezaar.com did the trick. I made some minor adjustments, after studying the "barista's" at the McCafe and now have the perfect way to feed my addiction at home. Between Baked Chicken Legs and the at home Caramel Frappe, I'm a happy – albeit addicted – woman.
Caramel Frappe for 2
If you love McDonalds Caramel Frappe like I do, then you'll love this copycat Caramel Frappe recipe for 2.
Ingredients
1/2 

cup

hot water

2-3 

teaspoons

instant coffee granules

2 

tablespoons

vanilla bean latte mix

International Delight Brand works well

1

tablespoon

caramel coffee shop syrup

optional (although recommended)

2-3 

tablespoons

caramel ice cream topping

2 

cups

ice

more for a thicker, shake like texture

1/2 

cup

milk

not skim

Redi Whip and additional caramel topping for garnish
Instructions
In a heat-tempered, glass measuring cup heat water in microwave, on high, for about 1 minute.

Add instant coffee and latte mix. Stir until both are dissolved.

Add caramel ice cream topping and syrup to coffee mixture and stir.

In a high powdered blender or smoothie machine, place 2 cups of ice. Add 1/2 milk, and then the coffee/caramel mixture.

Process on "ice crush" setting until smooth

Garnish with RediWhip and caramel drizzle.

Depending on one's taste, milder or stronger versions of this can be achieved by increasing or decreasing each ingredient.
 Because I'm apparently trying to make this the longest post in the history of man kind, here is my Menu Plan Monday menu for the week:
If you love iced coffee, you may enjoy these recipes from other bloggers: