This Pumpkin Funnel Cake recipe makes the perfect dessert for the fall season!
Growing up, we used to frequent the restaurant Long John Silvers on occasion. I used to love going in and getting a token for the treasure box, running around with my cool pirate hat on, eating the hush puppies and…. I'll admit it… eating the little "crispies" you'd find in the bottom of bag of battered fish. You know, the fried batter crispies? Those were the best.
I guess things haven't changed much. It has been eons since I've been to a Long John Silvers, but I still remember those tasty little fried crispies like it was yesterday. Mmmmmmm.
Who doesn't love fried batter? I'm sure there are some of you who might not particularly care for it but I would wager a guess that a lot of you like to indulge in a fried treat every now and then. Not often, but every once in awhile…
Speaking of fried goodies, I love funnel cakes. I don't love funnel cakes for the bready, doughy, sugary goodness in the middle, but for the crispy sweet edges. Like my Long John Silver "crispies" I have a particular love for the crispy parts of funnel cakes.
I shared a funnel cake recipe a couple years ago on my blog. This time, I decided to use up some of the canned pumpkin I had left over from making a couple of bundt cakes and gave the funnel cakes a fall update. I decided to also turn these into mini, bite size pumpkin funnel cakes – or pumpkin funnel cake crispies, if you will. If you are willing to admit you are a fan of "crispies" then I promise you, you'll love these treats.
I'm sharing this on the I'm Loving It Roundup on TidyMom.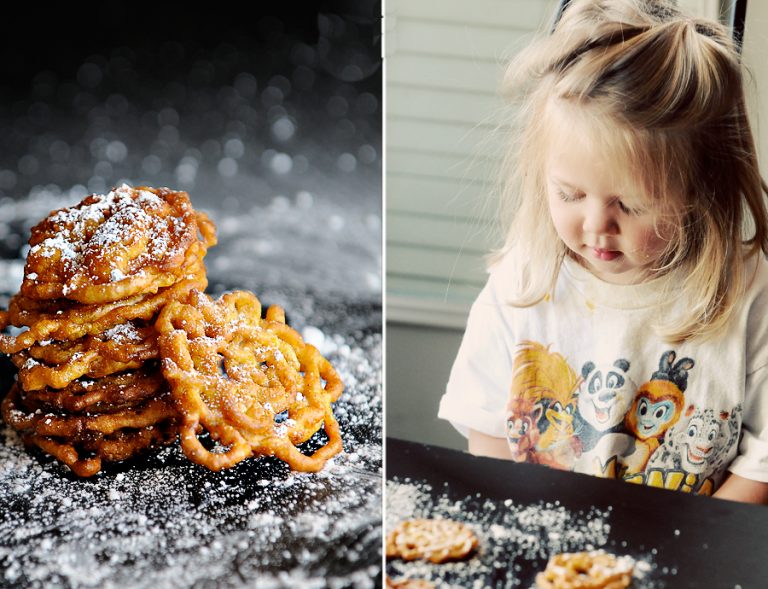 Bite Size Pumpkin Funnel Cake Recipe
This Bite Size Pumpkin Funnel Cake Recipe is the perfect dessert for the cozy fall season.
Ingredients
3

eggs

1/4

cup

sugar

2

cups

milk

1

Tablespoon

vanilla

1/2

cup

canned pumpkin

3 1/4

cup

all purpose flour

1/2

teaspoon

salt

2

teaspoons

pumpkin pie spice

2

teaspoons

baking powder

vegetable oil

for frying

1/2

cup

powdered sugar

1

tablespoon

cinnamon
Instructions
Beat eggs, sugar and vanilla together and then add the milk slowly–beat. Add the canned pumpkin, continue to beat until ingredients are well blended.

Add the dry ingredients and beat until smooth and creamy.

Pour batter into a squeeze bottle or funnel

When the oil becomes hot, squeeze the batter into the shape you want your mini cakes to be (I only do one at a time)

Move the funnel around to make designs - if you are super creative you can write things, make special designs, etc.

Brown on both sides...which for minis took about 30 seconds on each side. Remove from hot oil and drain on a dry paper towel.

In a small bowl combine powdered sugar and cinnamon. Using a sifter, sprinkle cinnamon sugar mixture over the funnel cake crispies.