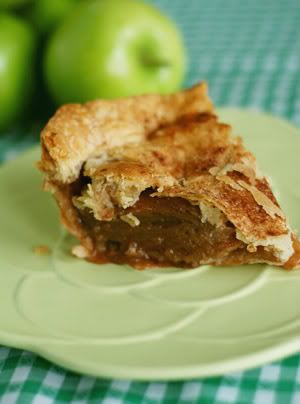 I am trying… desperately trying. It seems that many of the things I usually love to do… blogging, photography, cooking, reading, etc. are hidden somewhere among a mass of things that stress me out. Those activities that I deeply love to do are falling into the same categories as cleaning my house, paying the bills and shaving my legs. Things that I have to do but that just don't make me jump for joy.
I am finding great happiness in my kids right now, which I am thankful for, but I need more than that. I need to feel productive and I want to BE productive, but the part of me who has the energy to produce just isn't coming forward right now. She is hidden… sleeping in a deep coma apparently hidden until the day when this pregnancy isn't knocking me down every time I feel like I can stand up.
This past Monday, I did find a smidgen of energy and decided to use it to please my husband. Not what you think people… I baked him an apple pie. He has been so good through all of this and I appreciate his love so much. No matter what, he always seems to pick up the pieces that I let fall and he does it without a bit of resentment. I felt like the one day I had some energy and the desire to cook something, it would only be appropriate to make him one of his favorite desserts.
As most of you know, I am pretty much a stick to the recipe kind of cook. One of the exceptions to that is when I make apple pie. I go off of one of my favorite recipes and then rarely measure. My apple pies are a scoop of this, a scoop of that and usually filled with more sugar than should be allowed! I always combine brown sugar with white sugar because I like the caramel taste the brown sugar adds when mixed with the apples. Gone by noon the day after I made it, and only eaten by one person in our house, I would say that this pie was much appreciated and quite a success!
Kentucky Apple Festival Apple Pie
SERVES 6
Crust
Filling
1 teaspoon cinnamon
1 1/2 tablespoons butter
3/4 cup sugar (I always use half white sugar, half brown sugar)
1Tbs flour
1 Tbs lemon juice
Crust: Mix shortening, 1/2 cup butter and flour.

Add boiling water, salt and baking powder.

Mix well.

Separate into 2 balls; place between 2 pieces of wax paper; roll.

Filling: Peel, core and slice apples.

Lightly mix cinnamon, sugar, flour and lemon juice with the apples.

Heap into pastry lined pie pan and dot with 1 1/2 tablespoons butter.

Cover with topping crust; slit to allow steam to escape. (I always brush with a bit of milk and sprinkle cinnamon sugar on top).


Bake at 425°F for 15 minutes then reduce temperature to 350° and continue baking 45-60 minutes.
Do you love apple pie? Check out these other delicious apple pie recipes from food bloggers around the blogsphere:
Make sure you get in on the giveaway for your own copy of The Taste of Home Cookbook. Details can be found HERE.