This Beer Battered Fish Tostadas Recipe, featuring Gorton's Beer Battered Fish Fillets, is a definite keeper for those busy weeknight meals.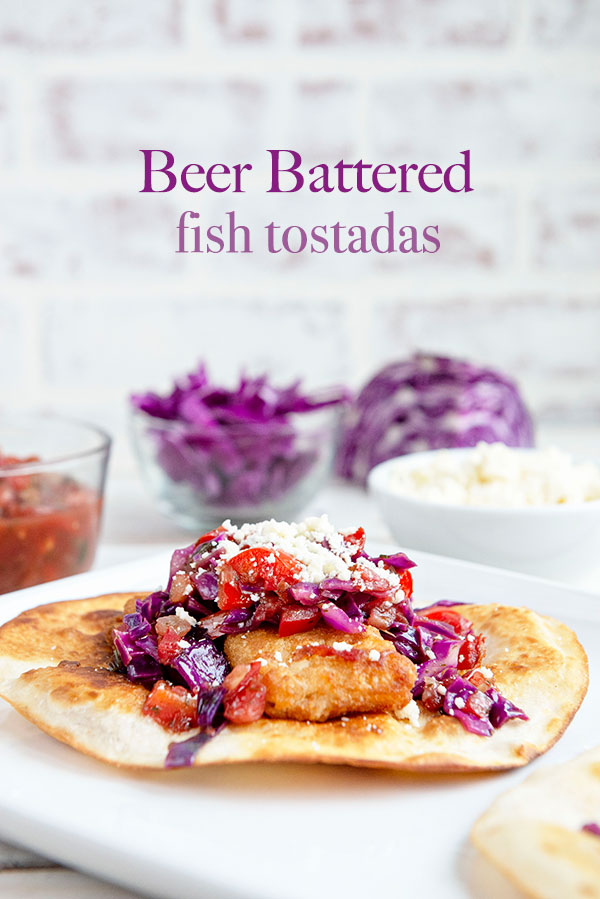 Happy New Year, friends! I'm coming to you in the new year with a recipe that fits into my New Years Resolutions perfectly. It's one of my goals in 2019 to eat more meals at home. We do a decent job of this most of the time, but when we fall off the wagon, we fall hard. Life is busy for all of us. Sometimes I forget that creating a delicious meal at home doesn't have to take a lot of time.
For this Beer Battered Fish Tostadas recipe, I partnered with Gorton's Seafood. Gorton's Seafood products are a staple in our house and something I turn to often when I need a tasty meal, quick. I love that I can bake and serve the fish fillets as they are with a little tartar sauce. A simple fish and chips meal is a family favorite. If I want something a little more involved, I will dress the fish fillets up into something like this tostada recipe. In addition, the fillets are so easy to bake, my kids can help out by making them if I'm tied up with work and need a little help.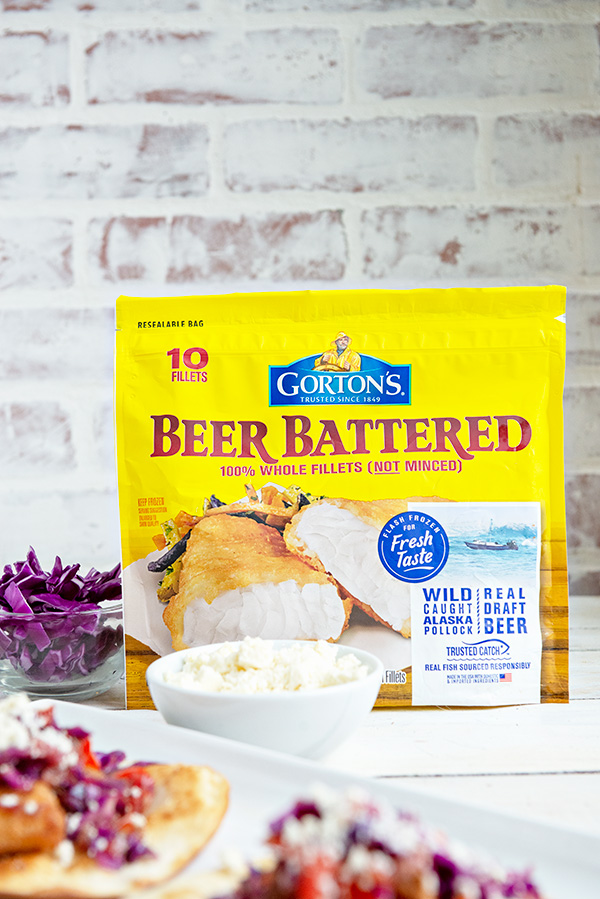 Shortcuts for Beer Battered Fish Tostadas
Let's chat about how easy it is to make this fish recipe at home. Using Gorton's Beer Battered Fish Fillets as the seafood base is the key to simplicity. Cooking the fish fillets on a baking sheet until they are deep golden brown is the most complicated step. Thank you, Gorton's, for making dinner so easy!
I chose to make my own tostada shells by lightly frying flour tortillas in hot oil over medium high heat. Doing this for just a few seconds on each side results in flavorful, crispy tostada shells. If cooking with oil makes you nervous, or you want another shortcut, you can always buy pre cooked tostada shells. I just recommend warming the shells before serving for best results.
One other "shortcut" I used was purchasing pre-made pico de gallo. You can always use your own homemade version of pico de gallo with fresh ingredients. However, supermarket deli's often have a great substitute when in a pinch. As much as I love homemade pico, grabbing a container from the market definitely saves a lot of time.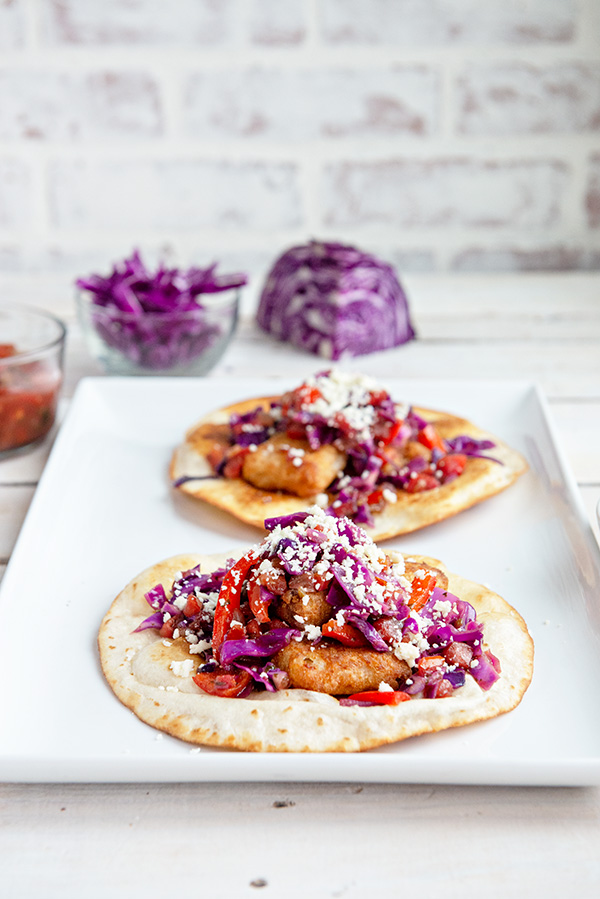 What I Love About This Recipe
I absolutely love this Beer Battered Fish Tostadas recipe for a number of reasons. First of all, it's incredibly simple. We've already talked about the simple shortcuts you can use to make these tostadas. The shortcuts make this an accessible recipe for any night of the week.
The flaky, beer battered fish fillets combined with the sautéed vegetables is such a flavorful combination. Plus check out how beautiful those colors are! Purple cabbage, red bell peppers and pico de gallo give this recipe a color boost these dull winter months need.
Topping the tostadas with Cojita or Monterrey Jack cheese makes me feel like we've grabbed the best fish tostadas from a niche taco truck. I love eating restaurant style meals at home.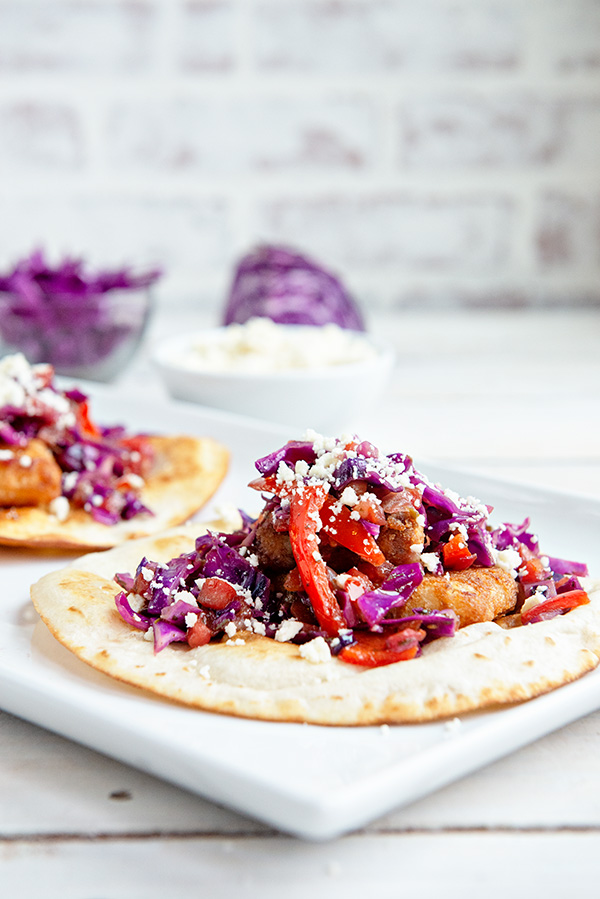 Give this Beer Battered Fish Tostadas recipe a try if you have a goal of eating more meals at home. Full of flavor and quick to make, you'll wish all of your resolutions were this easy to achieve!
Enjoy!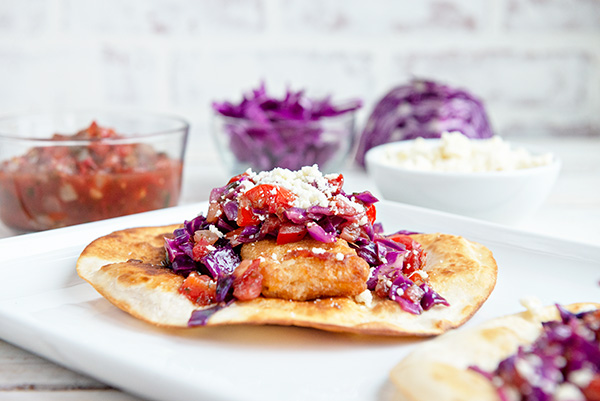 Beer Battered Fish Tostadas
A simple Beer Battered Fish Tostadas recipe is a simple way to have a delicious meal on the table, quick.
Ingredients
8

Gorton's Beer Battered Fish Fillets

baked according to package directions

4

8-inch flour tortillas

2

tablespoons

vegetable oil

1

red bell pepper

chopped

1/2

small purple cabbage

shredded

1

cup

pico de gallo

2

tablespoons

balsamic vinegar

1/3

cup

Cojita cheese or shredded Monterrey Jack cheese

Kosher salt

to taste
Instructions
Bake Gorton's Beer Battered Fish Fillets according to package directions.

While fish is cooking, heat 2 tablespoons vegetable oil in a heavy skillet over medium heat. Once oil is heated, using tongs, gently add tortillas, one at a time. Cook in oil for 15 seconds on each side until light brown. Remove from skillet and place in between 2 paper towels. Keep warm.

In the same skillet, add the chopped bell pepper and cook until tender. Add purple cabbage and pico de gallo, cooking for about 3 minutes until tender. Remove from heat and drizzle with balsamic vinegar.

To assemble the tostadas: Place one tortilla on a plate. Top with 2 cooked Gorton's Beer Battered Fish Fillets. Add a generous spoonful of cooked vegetables and top with cheese. Sprinkle with a pinch of Kosher salt, if desired. Repeat for each tortilla and serve hot.
Disclosure: This is a sponsored post on behalf of Gorton's Seafood. All opinions expressed are my own. For more great recipes featuring Gorton's Seafood products, visit the recipe page of their website.  You can also other great Gorton's Seafood recipes right here on Dine & Dish.