Caramel Cashew Fudge is an easy fudge recipe that's rich, decadent and delicious! Made with butter, milk chocolate, marshmallow creme and evaporated milk, this homemade fudge recipe is one you'll make year after year!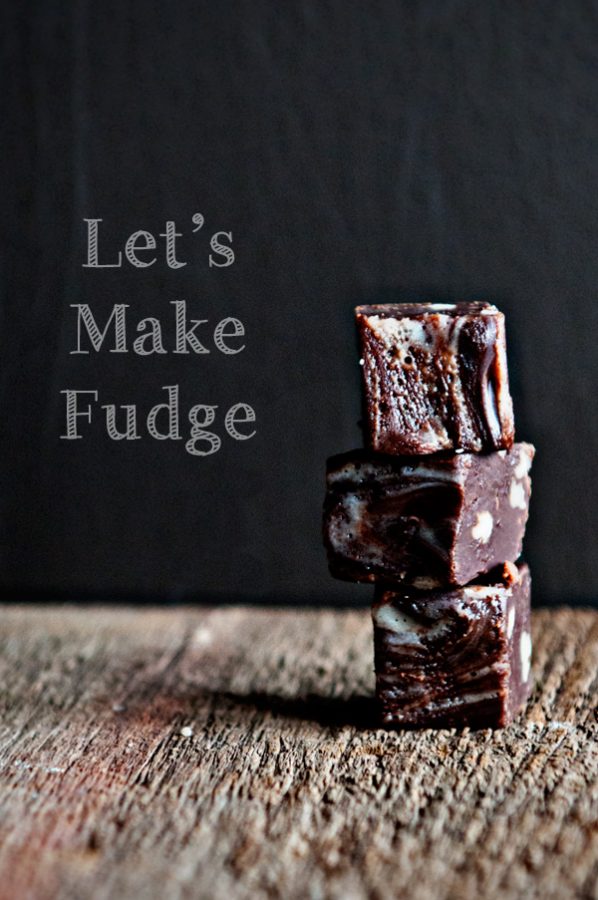 Yesterday, my friend Jenny invited me over for her huge annual fudge making day! Jenny has been doing this tradition with friends for the past 9 years and I was honored to take part in it. She had fudge making day planned out to perfection.
I've made a few simple fudge recipes before but not since I was a kid, so my part in all of this was to do whatever was asked of me and to take pictures! That's definitely something I could easily do.
Homemade Fudge as a Holiday Tradition
My mom and dad love fudge so making fudge was always part of our holiday traditions growing up. In fact, I remember when I was six years old and we bought our first-ever microwave. My mom made an easy fudge recipe to christen the microwave for the first time.
I don't remember anything about how the fudge tasted, but I recall my mom being so excited about how convenient the new microwave made fudge making. It's so funny the things that stick out in our minds, isn't it?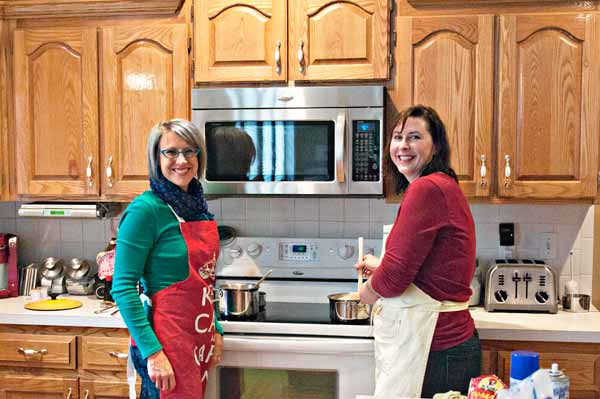 One of the main reasons homemade fudge is especially popular around the holidays is because it really is so simple to make. A day full of fudge making isn't completely overwhelming, and often times you can make an easy fudge recipe base and change it up just by adding mix-ins, like marshmallows, nuts, chocolate chips, etc.
The other great thing about fudge is it stores longer than a lot of holiday treats. Cookies and cakes often go stale, but you can make a batch of chocolate fudge, place it in a covered baking dish in your refrigerator and it's good to dole out today or a few weeks down the road. Having that "make ahead" convenience is definitely a plus when the busy holidays arrive.
You can also freeze fudge, which means you can make it even earlier to be ahead of your holiday baking. Just wrap it up tight in plastic wrap then cover with foil. Freeze until you are ready to use it.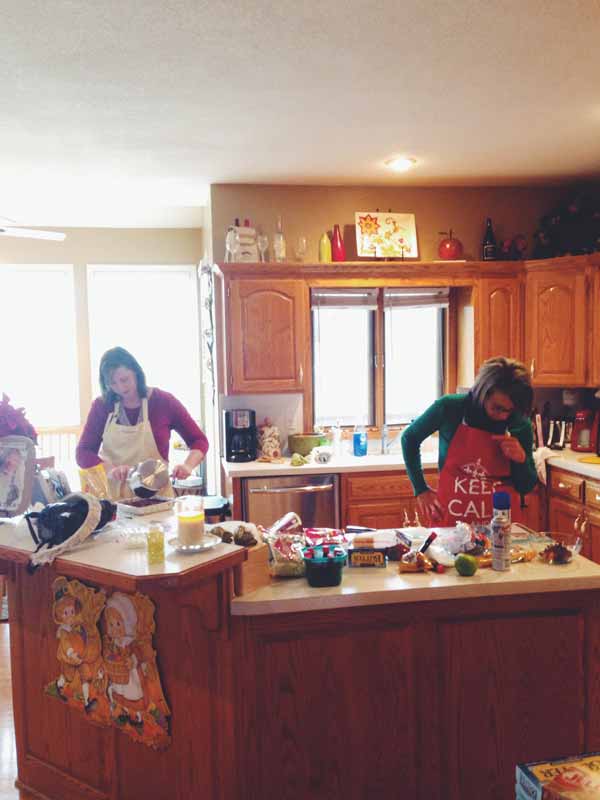 11 Varieties of Fudge in One Day
On the docket for the day of fudge making with Jenny was 11 different fudge recipes. Some of these fudge recipes Jenny had perfected over time. Other fudge recipes were new experiments added on for this specific year. All of the recipes turned out to be fantastic and so different. Not a single fudge got kicked out of the rotation for next year…they were all that good!
Here is a list of what we made:
Chocolate Snowswirl Fudge
Cookies and Cream Easy Fudge
Butterscotch Fudge
Layered Mint Fudge
White Christmas Fudge
Cashew Caramel Fudge
Homemade Peanut Butter Cups
Cherry Almond Fudge
Chocolate Peppermint Fudge
Lemon Fudge
Pecan Pie Cheesecake Fudge
As you can tell, it was an ambitious list for a single day. Because there were so many easy fudge recipes to go off of, it wasn't as difficult as it seemed. Making fudge is simple, and the variety of options are more than plenty. Because of this, fudge is such a great option for holiday food gifts!
Items to have on hand for a homemade fudge making day:
Another great thing about making easy homemade fudge is you really don't need a lot of special equipment. Here are a few of the items I recommend to have when you are making fudge:
Medium Saucepan (for stovetop)
Microwave Safe Large Glass Bowl/Measuring Cup (for microwave fudge recipes)
Parchment Paper (I prefer pre-cut)
Candy thermometer (not necessary but some people prefer to know the temperature of their fudge before removing from heat)
Ingredients could include: sweetened condensed milk, evaporated milk, cocoa powder, chocolate chips, peanut butter, caramel bits, marshmallow fluff, nuts, etc. Having these things on hand would mean you could make a batch of easy fudge on demand.
That's about all you need to make most fudge recipes. Some recipes may require a few more things, but for the most part the equipment and ingredients needed to make homemade fudge is very simple.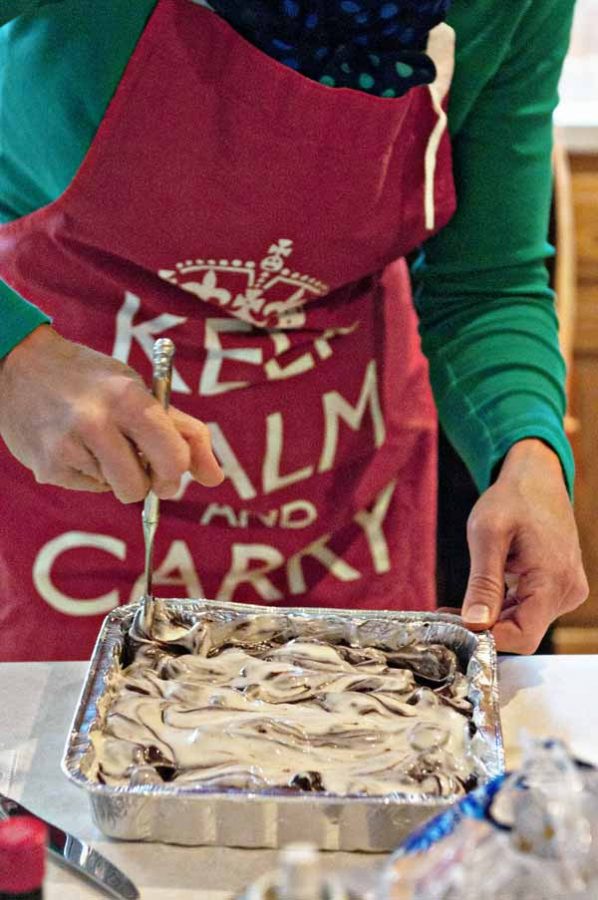 If you are thinking of having a fudge making day this holiday season, I highly recommend it. I have a traditional Christmas cookie baking day with a friend of mine, but I think fudge might be the way to go! It seemed a lot easier and there are so many chocolate fudge recipes out there which means you can have a huge variety at the end of a cooking day.
Imagine all the great holiday gifts Jenny will be able to make up for friends and neighbors with so much fudge to give. I love this fudge making day tradition and feel honored to have been included in on it this year!
I made a quick video (so not my forte) of the day with some of the highlights. Give it a watch below to see how much fun we had! Also, below I've shared the recipe for my favorite easy fudge recipe out of the eleven we made yesterday. Caramel Cashew Fudge tastes just like a Mr. Goodbar candy bar. It was definitely one of my favorites! I hope you enjoy!
Caramel Cashew Fudge Recipe
Caramel Cashew Fudge is made with semisweet baking chips, fluffy marshmallow cream and salty cashews, for a wonderful treat from my friend Jenny's recipe collection.
Ingredients
1/2

cup

butter

softened

1

5 ounce can

evaporated milk

2-1/2

cups

sugar

2

cups

BAKER'S Chocolate Chunks

1

jar

7 ounces JET-PUFFED Marshmallow Creme

24

caramels

quartered

3/4

cup

salted cashew halves

1

teaspoon

vanilla extract
Instructions
Spray a 9 inch baking pan with cooking spray or line with parchment paper. Set aside.

In a large heavy saucepan, combine the milk, sugar and butter. Cook and stir over medium heat until sugar is dissolved. Bring to a rapid boil; boil for 5 minutes, stirring constantly. Remove from the heat; stir in chocolate chunks and marshmallow creme until melted. Fold in the caramels, cashews and vanilla.

Pour into prepared pan. Cool. Once set, cut fudge into 1-in. squares. Store in an airtight container.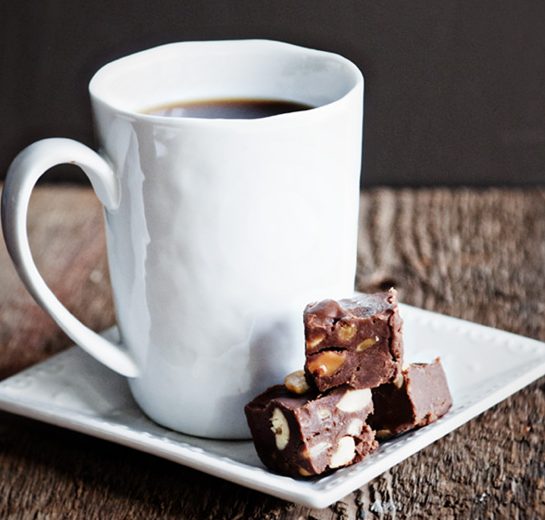 This blog post for Caramel Cashew Fudge was originally published on December 5th, 2013 and refreshed and re-published on December 4th, 2019.
Disclosure: I'm proud to be a compensated brand ambassador for Kraft Foods. All opinions expressed are my own. For additional Christmas Recipes, make sure to visit the Kraft Foods holiday and baking page.