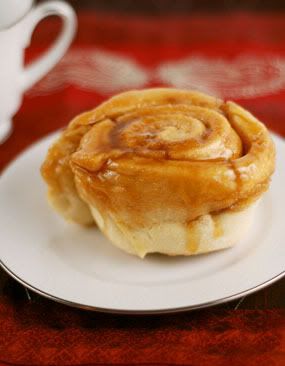 I am always so impressed with the effort that goes into food gifts this time of year. Ellaborate trays of cookies, breads of all kinds, gingerbread houses… bakers are busy in the kitchen cooking up things to give to others. A gift of homemade goodies, in my opinion, is a true gift of love.
I think I am going to do an assortment of pumpkin bread, cookies and something a bit different this year. My closest friends are going to get a pan of Caramel Rolls. I read about this idea last year, but with using your favorite cinnamon roll recipe. Purchase several alumnimum round cake pans and whip up a few batches of your favorite cinnamon roll dough. Roll and slice the dough and place 6 rolls each in the round cake pans. Tightly cover and freeze. When you are ready to gift your cinnamon rolls, take them out of the freezer, wrap in clear plastic wrap, decorate the packaging as you wish and attach instructions for thawing and baking on a card. Your friends will love the idea of having home baked goodness given to them to bake fresh in their own oven. Imagine how nice it would be to wake up to hot cinnamon rolls on Christmas Day without the effort of actually making them.
What food gifts are you giving your friends and neighbors this year? I would love to hear your ideas!
Mom's Caramel Rolls (from Sidd on Recipezaar)
First, a couple of notes. These are the best caramel rolls I have ever tried! Buttery and delicious and full of sweet ooey gooey caramel flavor. I halved the recipe since it was just for my family and did all of the work in the bread machine. I took out the dough and then followed the rolling and baking instructions from there. I got 10 large rolls.
2½ hours | 2 hours prep
SERVES 18
Mix water and yeast and wait 5 minutes.

Stir in sugar, salt and 2 cups of flour.

Add egg and butter and mix.

Stir in rest of flour by hand, if dough is still sticky add just enough to make it not sticky anymore.

Let raise until dough is double in size.

Sprinkle flour on surface and roll dough out until is approx 18 X 12 inches.

Spread a very thin layer of soft butter on dough and sprinkle cinnamon/sugar mixture on it.

Roll dough from the long side, it should look like a log.

Cut into 1 inch pieces.

Should be 18 pieces.

Place brown sugar and butter into microwave dish and heat until butter is just melted; stir well.

Stir in 3 T water.

Divide mixture into 3 pans (8-inch cake pans).

Place 6 pieces in each pan.

Let raise for about 45 minutes.

Bake for 20 minutes in a 325°F oven.

When you take out of oven, turn each pan of rolls over on a plate, otherwise you will have a hard time getting them out when they cool.

If you can, let them cool slightly and enjoy them when they are still warm.
Do you love sweet rolls in the morning? These food bloggers have some other great recipes to try!