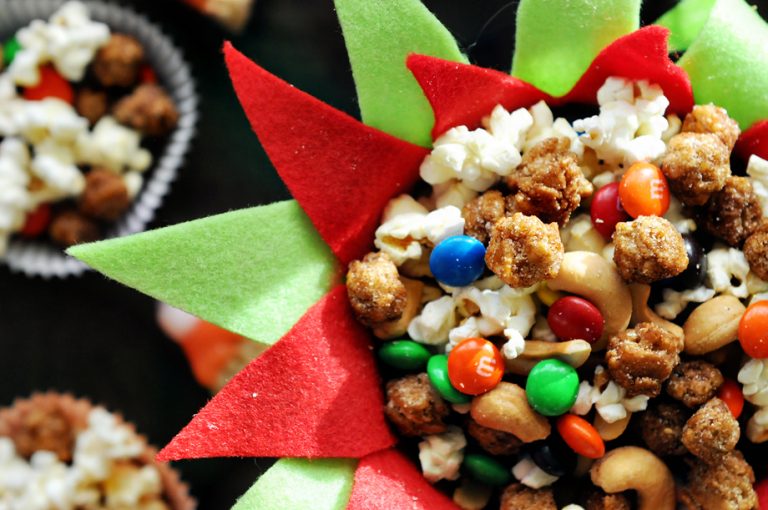 This giveaway is now closed. The winner of the $100 gift card is Laura from the blog Trains and Tutus. Congrats to Laura and thank you to all who entered!
October is here, which means it's time for another post about Team Kansas City's Rice Krispies® Treats Making Memory Challenge! This months challenge was to highlight Halloween with a Rice Krispies treat and craft.
We've been chatting about doing a snack mix for quite some time and I am so glad we decided to go this route. I have to say, our Cinnamonster Rice Krispies Treat Snack Mix is my favorite tasting treat yet. Who doesn't love a good snack mix? How about a snack mix with crunchy cinnamon sugar Rice Krispies treat bites, popcorn, cashews, and M&M's? So delicious!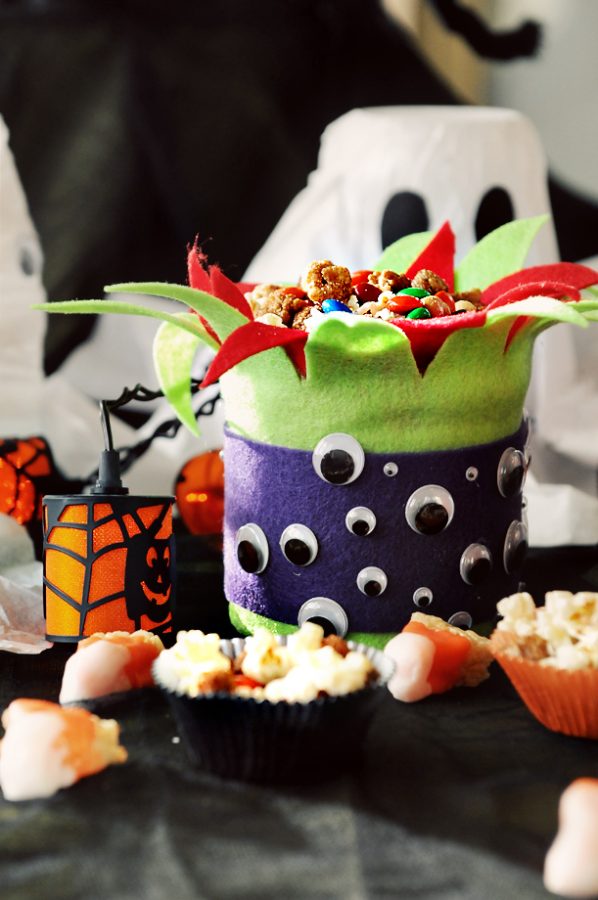 There are so many fun ways to serve Cinnamonster Rice Krispies Treat Snack Mix. We loved these Monster Cans so much and felt like it was the perfect combination of spooky and tasty! Imagine how fun this would be to bring to your next classroom party. The kids will go crazy for this fun treat.
Before the recipe, like all of our Rice Krispies Memory Making Challenge posts, my friends at The Motherhood and Rice Krispies want to give you the opportunity to win a $100 gift card! To enter, simply leave a comment on this post telling me what your favorite Halloween treat is! For an additional entry, tweet the following:
"Check out the fun Cinnamonster Rice Krispies Treat Snack Mix on @dineanddish & enter to win a $100 Gift Card! http://su.pr/5HmKdh"
Leave a separate comment on this post letting me know you tweeted the giveaway! All entries must be received by midnight on Tuesday, October 25th. Winner will be chosen via Random.org and notified via email. All three of my teammates, Kelly from Kansas City Mamas, Jenn from Super Jenn and Julie from My Kansas City Mommy are each giving away their own $100 Visa Gift Card, too.  Visit them for even more chances to win!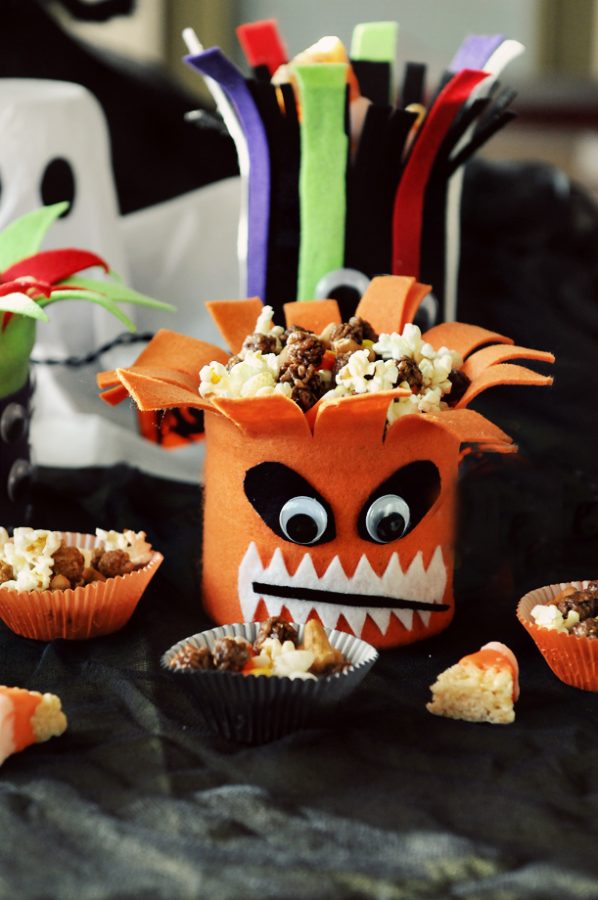 For details on how to make our spooky snack mix containers or how to make a chocolate version of our delicious Rice Krispies Snack Mix, visit this post on my teammate Jenn's blog!
Now for the recipe:
3 Tbsp. Unsalted Butter
4oz.  cinnamon flavored marshmallows (1/2 bag)
2 1/2c. Traditional Rice Krispies®
Cinnamon Sugar (Mix to your personal cinnamon/sugar preference)
Melt 3Tbsp. Butter in a heavy saucepan over med-high heat.
Add marshmallows, stirring constantly until melted and mixture is smooth.
Add RiceKrispies® to hot mixture in saucepan (this keeps them warm, and thus easier to manipulate, longer)
Mix thoroughly.
Spray cooking spray on a cookie sheet and pull out small chunks of RiceKrispies mixture one at a time to work with.  Pull apart enough to make small balls of krispies treats, slightly smaller than "bite sized".
You will need to work quickly.  The cooler the mixture gets, the more difficult it is to shape.
Roll each ball in the cinnamon and sugar mixture to coat.  Set aside on waxed paper.
If not using immediately, cover tightly to store.
Tip **If you want a more crunchy texture to your cinnamon balls, set your marshmallows out the night before so that they dry out.  They will melt as normal but when the final mixture cools it will be more crunchy and less chewy.**
Mix Cinnamon balls with 1 1/2c. popped popcorn, 1/2c. salted cashews and 1/2c. chocolate candy pieces.
This is a sponsored post on behalf of The Motherhood and Kelloggs Rice Krispies. All opinions expressed are my own.