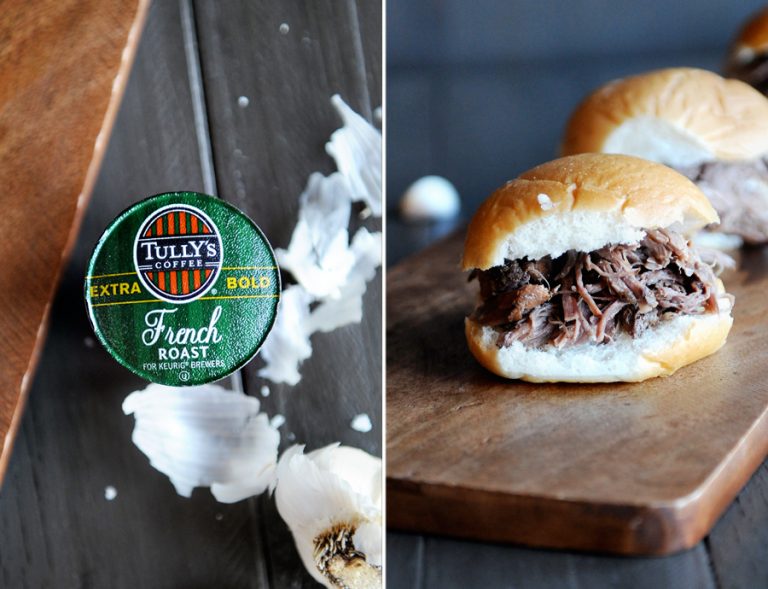 As I was typing the title for this blog post this morning, I got stumped…. I used a Rival Crock-Pot to make the Coffee and Garlic Roast Beef for these sandwiches, but my fingers wanted to type crockpot. I went to my Facebook and Twitter friends to find out the important answer to this most critical question – Is it Crockpot, crockpot, crock-pot, slow cooker or slowcooker? What is this handy appliance really referred to as?
And you know what? You all are as confused as I am! The answers rolling in proved that we all are calling it completely different names. No matter what the appliance is called, I can tell you that it is an under-utilized little machine in my house. Every single time I use it, and remember how much it simplifies dinner, I vow to use it more and more.
My mother-in-law recently treated us to some tasty open faced shredded roast beef sandwiches. She made the roast beef in her crockpot / crock-pot / slow cooker and added a bottle of heavy stout beer. Those sandwiches were so good. I decided to test out her recipe but instead of using beer, I used a bold coffee. You can't really taste the coffee in this recipe (just like you couldn't really taste the beer in hers) but the roast beef was so incredibly tender and rich in flavor. I've since made this recipe again and have turned my family into big roast beef fans.
Speaking of coffee, it's time for a new Keurig K-Cup® Ambassador promotional code to share with you! AM0004-3571. This code offers 15% off Donut House K-Cup® portion packs (one of my favorites!) and free standard shipping (no minimum purchase), from now until 9.11.11. Make your discounted purchases at www.greenmountaincoffee.com! This offer cannot be combined with any other offer or discount.
Now, on to the recipe!
Recipe: Slow Cooker Coffee and Garlic Roast Beef
1 5-6 pound Beef Roast
4 Garlic cloves, minced
10 ounces bold coffee (Super easy to brew just 10 ounces with the Keurig!)
salt and pepper to taste
Place whole roast beef in a large slow cooker / crock-pot
Spread minced garlic all over roast beef
Pour bold coffee over roast beef.
Cook on low settubg for 8 hours or high settubg for 4 hours.
Shred and serve on buns or slice and serve.
Disclosure: This blog post contains affiliate links. As an Amazon Associate, I earn from qualifying purchases.