Some practical dinner party ideas for hosting an Italian-Themed party as well as an amazing recipe for Caramelized Onion Stuffed Portobello Mushrooms.
How many of you host regular dinner parties? My husband and I used to host a themed dinner party every month with a group of friends, then life, kids and busy schedules got in the way and our official dinner club disbanded. We have talked about starting one up again now that the kids are older, because we absolutely loved those nights with our friends.
As I was thinking back to some of the various themes we had, my favorite dinner party ideas stemmed from our Italian-themed dinner party. Everyone loves Italian food, and the Italian culture is one of celebrating friends and family with food and gatherings. Thanks to a little push from my friends at Bertolli®  surrounding the launch of their new Gold Label sauces, my husband and I decided now is as good as time as any to get back on the dinner party schedule! After hosting many years of successful dinner parties, I thought today would be a great time to share some of my dinner party ideas for an Italian-themed party. Plus, I have this AMAZING recipe to share with you towards the end of this post for Portobello Stuffed Mushrooms with Caramelized Onions, featuring Bertolli's new Gold Label Imported Balsamic Vinegar from Modena, Italy paired with Caramelized Onions Sauce. These sauces were a must for my Italian theme since they've been specifically crafted and created to combine essential Italian flavors with authentic taste and quality.
In addition to tips I'm teaming together with some incredible bloggers to bring you an entire menu this week for your own Italian-themed dinner party! Be sure to check out the list of participating bloggers at the end of my post to see the great contributions to the #BertolliGoldLabel dinner party!
Dinner Party Ideas for Hosting an Italian Themed Dinner Party
Set the Mood
When I think of Italy, I think of natural colors, rustic wood and surfaces, al fresco eating, and upbeat background music. For your next Italian themed dinner party, if you are unable to eat outside, consider bringing the outdoors in to you. Decorate your home with soft white lights, natural colored linens and outdoor greenery. Let the rolling hills and vineyards or Italian cafe's be your inspiration.
Think Long and Leisurely
When it comes to Italian dinner parties, there is no such thing as rushing. The evening is meant to be one to savor… in fact, each course should have a time all its own. I like to serve the antipasto part of the meal on my antique buffet, in a room separate from the kitchen or dining room. I feel like that encourages people to walk about and linger. It gives them time to talk and to be able to come back to the food and drink at their convenience, without the rush of passing food around a table. There will be plenty of time to sit and commune around the dinner table for the main course, but let the antipasto course be just as important.
An antipasti platter and wine is a must for a great Italian themed dinner party. Tracy, with the blog Shutterbean, recently wrote an excellent post on creating the perfect Antipasti platter. Make sure to check it out here.
Utilize Premium Quality Ingredients
When people think of Italy, the first thing they think of is food – because their attention to detail is so high! I believe that this is one evening where what you serve matters just as much as the people you invite. However, I also believe that you shouldn't stress yourself out and work yourself ragged creating the perfect meal. By combining fresh ingredients with Bertolli Gold Label sauces, I know that I am getting premium ingredients that can transform my meals from ordinary to extraordinary without having to slave over a simmering pot all day.
Quality wine is just as important for this evening as the food. Don't feel like you have to go out and buy the most expensive bottles of wine to pair with your food, but do take some time to talk to an expert at your local wine shop to see what wines they recommend within a price point you are comfortable with.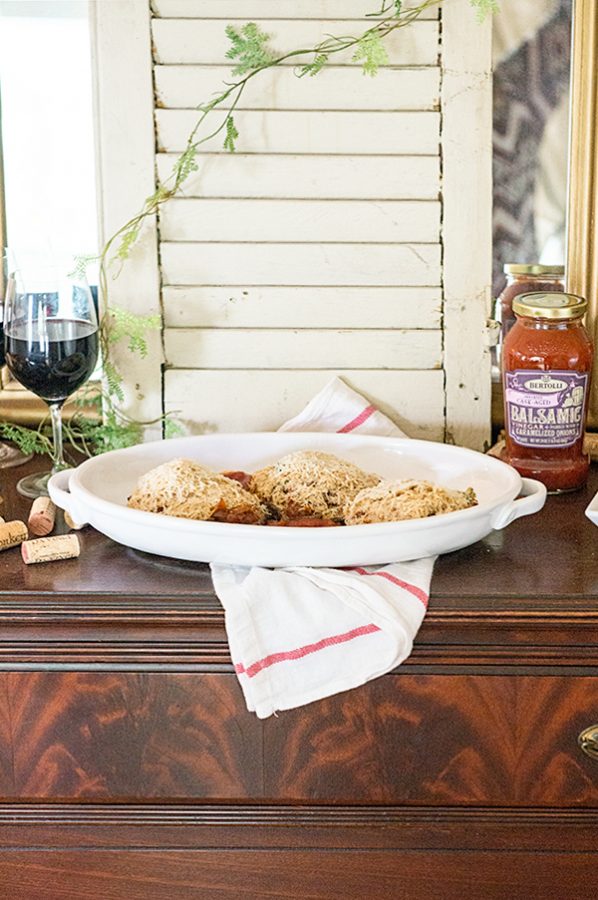 My dinner party ideas are simple and practical, yet doable. If you focus on setting the mood of the evening through decor and music, creating a space conducive to savoring your meal leisurely, and focusing on serving recipes with fresh, high quality ingredients and plenty of good wine, you are sure to have a dinner party to remember.
Throughout this week, the following bloggers will also be sharing their recipes and contributions for our special #BertolliGoldLabel Progressive Italian Dinner Party. For my course,  I am sharing these Caramelized Onion Stuffed Portobello Mushrooms. Make sure to visit each of the blogs below the rest of the week for authentic Italian recipes and more dinner party ideas!
November 3rd – Antipasta Recipe – Tracy with Shutterbean
November 5th – Pasti Recipe – Beth from Local Milk Blog
November 6th – Secondi – Carrian from Oh Sweet Basil
November 7th – Dolci – Adrianna from A Cozy Kitchen
I hope you enjoy my contribution below! A special thanks to Bertolli Gold Label for sponsoring this dinner party and giving me an excuse to share some dinner party ideas! Make sure to visit the Bertolli Facebook Page, website and Pinterest page for even more recipes featuring the new Bertolli Gold Label sauces.
Caramelized Onion Stuffed Portobello Mushrooms
Perfect as an appetizer or a main course, these stuffed portobello mushrooms are a mouthwatering addition to any menu!
Ingredients
4

large portobello mushroom caps

Cooking spray

2

Tablespoons

olive oil

2

medium Vidalia onions or sweet onions

thinly sliced

1 1/2

cups

Bertolli® Gold Label Imported Balsamic Vinegar with Caramelized Onions

divided

1/4

teaspoon

Kosher salt

1

teaspoon

cracked black pepper

1 1/2

cups

Italian seasoned bread crumbs

1/2

cup

freshly grated parmesan cheese

chopped fresh parsley to garnish

if desired
Instructions
Preheat oven to 350°

Remove stem and brown gills from undersides of mushrooms using a spoon; discard gills. Place mushrooms, stem side down, on a baking sheet coated with cooking spray. Bake at 350° for 10 minutes; cool.

Heat oil in a large nonstick skillet over medium-high heat. Add onion slices; sauté 10-15 minutes, or until onions start to soften and become caramelized.

Reduce heat and stir in 1 cup Bertolli® Gold Label Imported Balsamic Vinegar with Caramelized Onions, salt and pepper. Heat through and simmer for 10 minutes, stirring occasionally.

In a small dish, combine bread crumbs and parmesan cheese.

Spoon remaining 1/2 cup Bertolli® Gold Label Imported Balsamic Vinegar with Caramelized Onions sauce into the casserole dish. Top with cooked portobello mushrooms, stem side up. Spoon 1/2 cup sauce and caramelized onions mixture into the cap of each mushroom. top with bread crumb mixture and then garnish with fresh parsley.

Bake in a 350° oven for 25 minutes and golden brown. Serve warm.