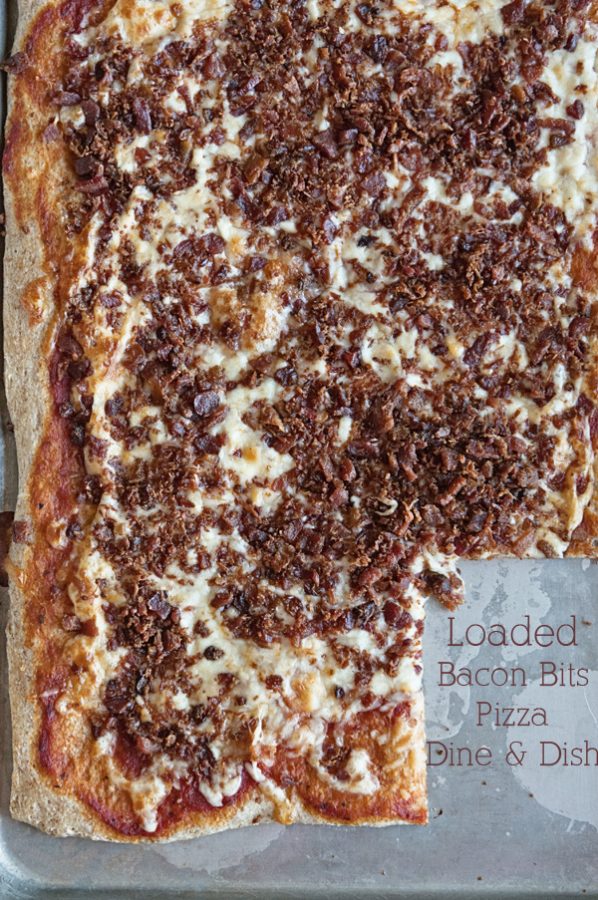 I love pizza. If I could alternate Chipotle Chicken Burritos and Pizza, every other day, I'd be an extremely fat and happy camper. Happy being the keyword there… because happy is what matters most, right?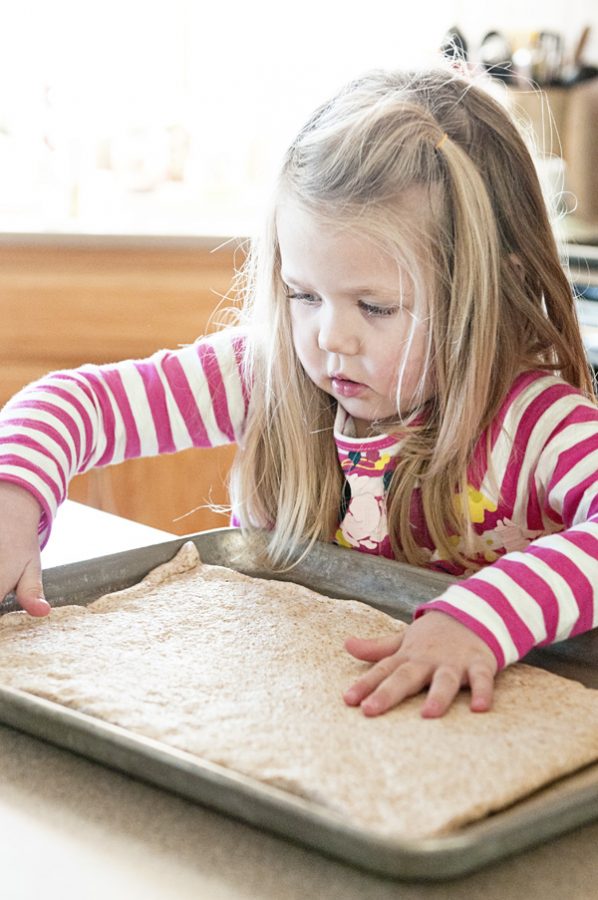 You know what I love even better than pizza? Putting my kids to work making dinner. Nothing better than sitting back, eating bon bon's, watching the servants I birthed slaving away making dinner. It's pretty wonderful.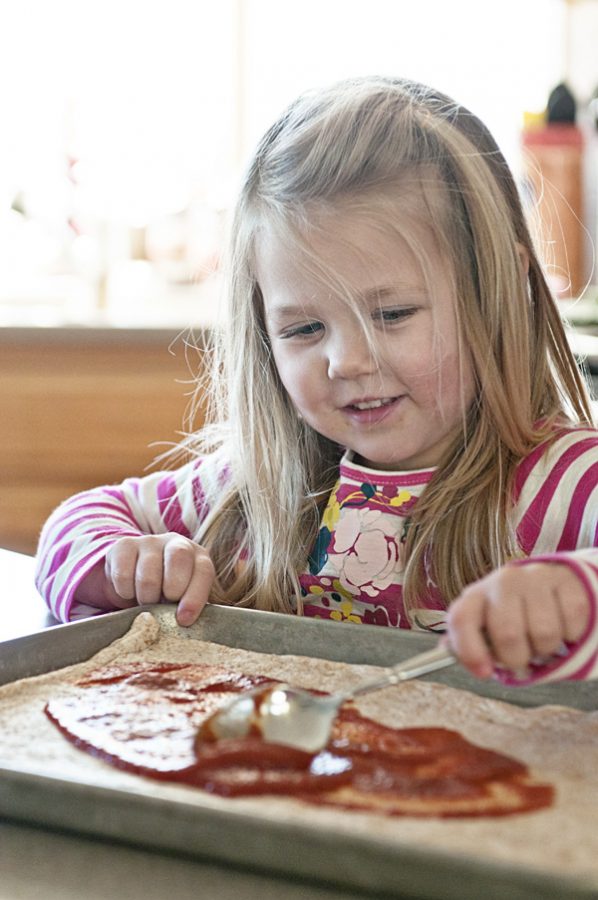 Doesn't she look so happy being the family lackey for the evening? It's even better when they think working is fun. At 3, she's still not jaded to the harsh realities of a working lifestyle, so I'm taking advantage of her happy attitude for as long as I can.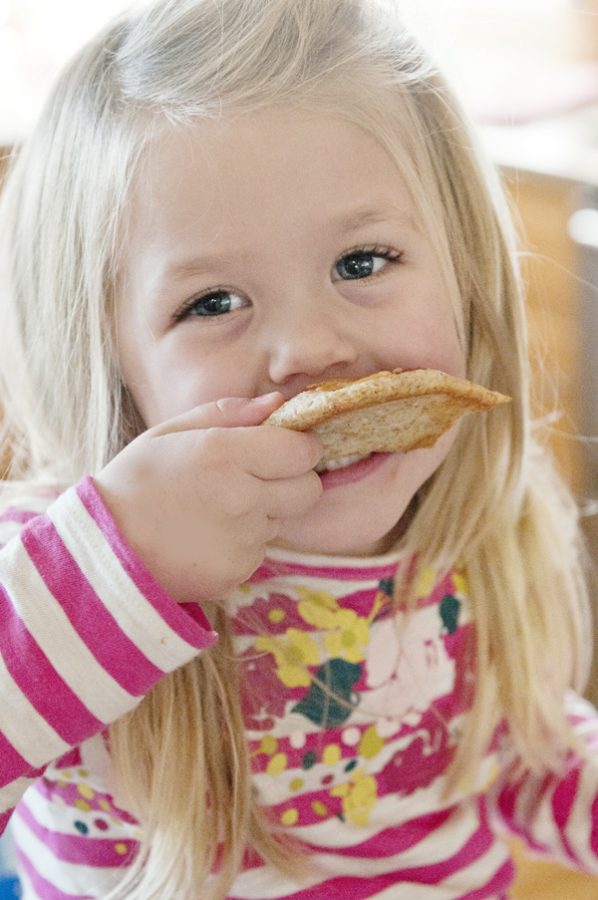 But seriously, can we talk about this pizza Leah made using Pillsbury's new Artisan Whole Grain pizza crust? Can we chat about how this pizza creation was inspired by one of my favorite pizza places in Bourbonnais, IL? Monical's Pizza Restaurant has what they call Bacon Bit Pizza. My brother Mike and his family live in Bourbonnais and long ago convinced us to give this pizza a try. It sounded kind of strange, but I figured they knew what they were talking about. Let's just say, as much as I love my brother and his family, the Bacon Bit pizza from Monical's is a really nice bonus when we visit. We'd visit if it weren't for the Bacon Bit pizza, but having it there is a nice plus, for sure.
Bacon Bits pizza is simple…and although it doesn't taste exactly like Monical's, this recipe is pretty darn close. If you like bacon, and you love pizza, and you enjoy a recipe so easy your kids can make it, you're set… this is the recipe for you.
Enjoy!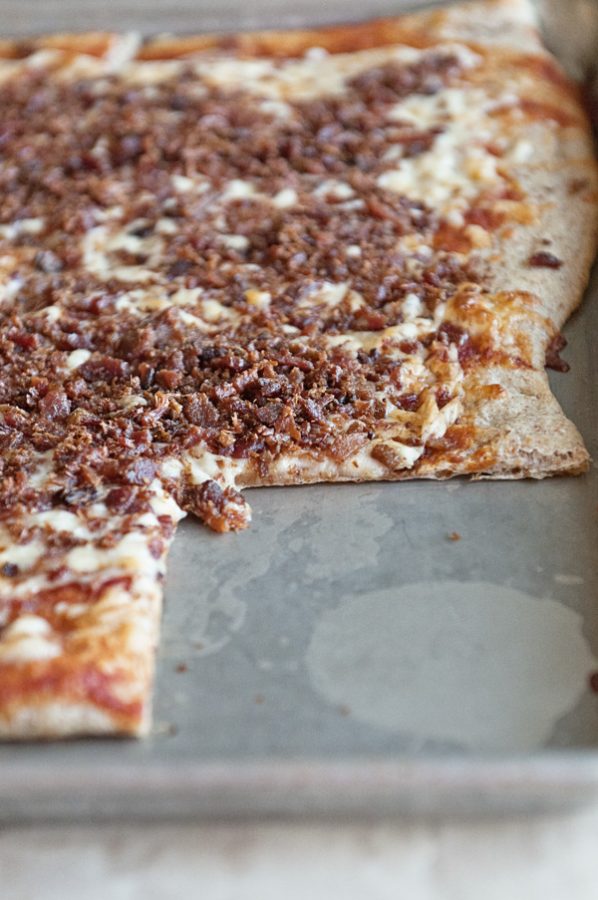 Recipe: Loaded Bacon Bits Pizza
A quick and delicious pizza recipe, loaded with bits of crumbled bacon and topped with mozzarella cheese and baked to perfection on a Pillsbury Artisan Pizza Crust.
Ingredients
1

tube Pillsbury Artisan Pizza Crust rolled out to desired thickness

1 1/2

cups

prepared pizza sauce

2

cups

shredded mozzarella cheese

1 1/2

cups

bacon crumbles
Instructions
Preheat oven to 400°F and spray 15x10-inch cookie sheet with cooking spray.

Roll out pizza dough to desired thickness and spread sauce to within 1/4 inch of the outer edge

Top with shredded mozzarella cheese and then bacon crumbles

Bake for 8-10 minutes or until crust is a light, golden brown.

Slice and serve warm.
I was hired to create a recipe using Pillsbury Artisan Pizza Crust. All opinions expressed are my own.