"Oh, dear me!" Those were the first words that escaped my lips when I first tasted this creamy chocolate pancake syrup. Then I took another spoon full and continued to sing praises of joyous things unto the world. This. Is. Good. Period.
When I took Chef Brad's awesome recipe for Buttermilk Syrup and turned it into Creamy Eggnog Syrup, I thought that was the best it could get. Both of those recipes are seriously to die for. Last meal? Give me a bowl of either of those syrups and a spoon and I'll be a very happy camper (minus the fact that it was my last meal, but that's beside the point). However, dear friends, I may have taken this syrup to the brink of amazing.
So, you know those mornings when you wake up at 6:30am with an immediate chocolate craving? Well, I had one of those intense cravings yesterday morning and decided to do something about it, with pancakes. No, I didn't want to make chocolate pancakes, although I do love those. Looking in my fridge, deciding what to make, I remembered we had some chocolate milk and then I thought… "What would happen if I added chocolate milk instead of eggnog to that delicious pancake syrup?" Which, is exactly what I did.
Now, friends… you don't use some wimpy, lite, low cal, non-fat kind of chocolate milk for this recipe. I recommend the full fat, in a glass bottle, prepared chocolate milk…the kind that leaves a permanent milk mustache on your top lip. The gooooood stuff. I mean, really, if you are eating chocolate for breakfast, you shouldn't be concerned about calories, right? Of course, unless you want your thighs clapping together when you walk, I wouldn't recommend eating this syrup every day. If you want to live in a complete and total state of bliss and start your morning off in the most indulgent of ways, then sure… every day is just fine! Go for it!
Either way, make this. Love it. Eat it. Enjoy it. When they say "eat dessert first" I'm pretty sure they meant first thing in the morning. This creamy chocolate pancake syrup is the next, best thing.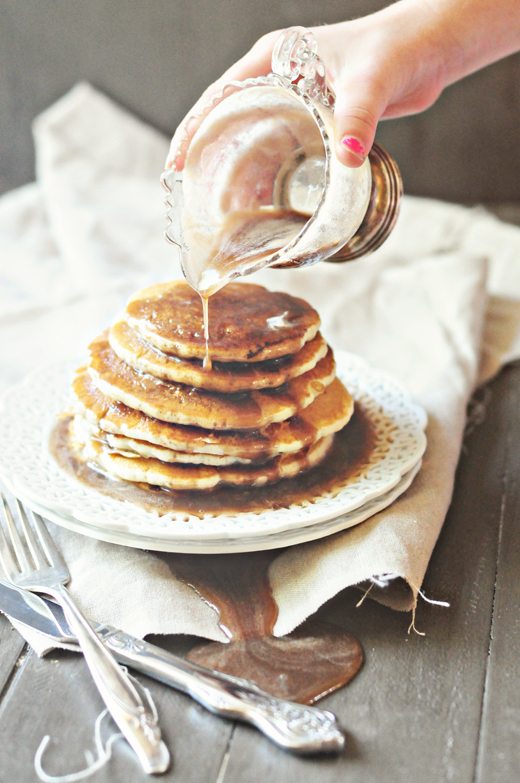 Oh, and when you ask your 6 year old to help slowly pour the syrup so you can get an action shot, remember, they don't know what slow means and will simply "dump" the syrup. Don't worry though… no chocolate syrup was wasted during this photo shoot. We promptly proceeded to lick it clean.
Creamy Chocolate Pancake Syrup
An indulgent, delicious, creamy chocolate syrup for your pancakes, waffles or ice cream.
Ingredients
1

stick butter

3/4

cup

commercially prepared chocolate milk

full-fat version

1

cup

granulated sugar

1

teaspoon

vanilla

1

teaspoon

baking soda
Instructions
In a large pan (make sure it is large, this syrup will grow when you add the vanilla and soda), place the butter, chocolate milk, and sugar. Bring to a boil, stirring continuously.

Remove from heat and whisk in vanilla and soda (it will foam)

Serve over hot pancakes or waffles. Enjoy!