A mostly sweet, yet just a tiny bit spicy, Honey Glazed Almonds recipe. Perfect for a simple snack or gifting this holiday season!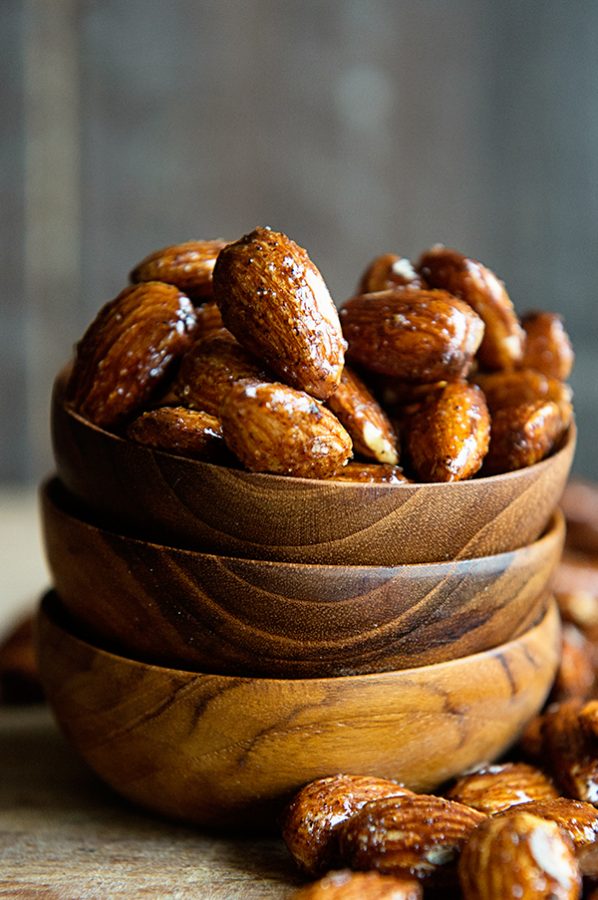 "Mom, how did whoever developed the English language come up with the word "crunchy"?", my 13 year old asked.
We had just sat down to dinner as a family and this question launched a whole series of other questions from my kids. As we crunched on our tacos, we all began to guess how the word crunchy came about. Was it from the sound crunching on something makes in your mouth? Did someone just think crunchy was a fun word and it happened to be the next word in queue to use?
It was random and silly and exactly the kind of family dinner I love most! I feel like so often we get caught up in talking about the hum-drum of the day, that it's nice to laugh and be silly instead.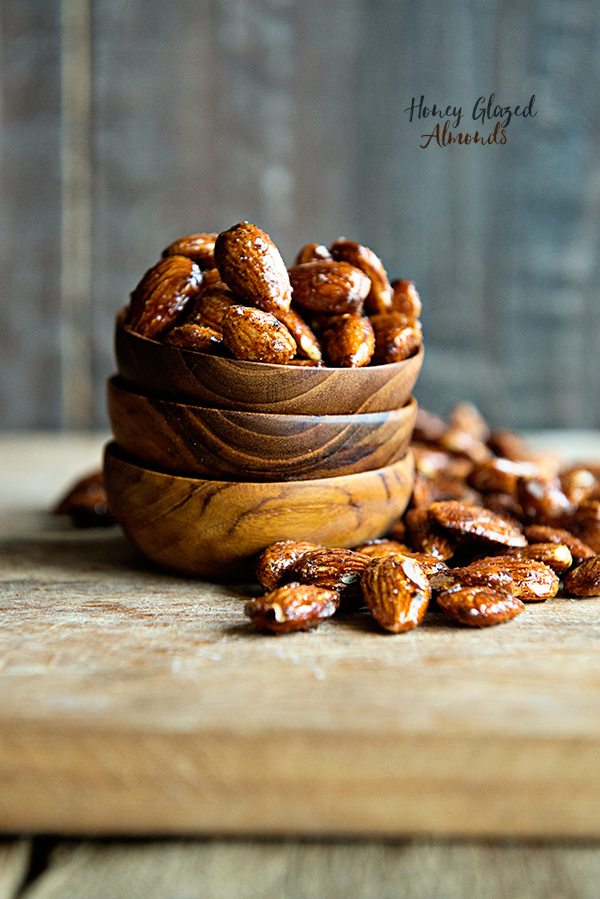 We never figured out the answer to Jacob's question, but the conversation came up again when we were munching on these Honey Glazed Almonds. Crunchy is one word that describes this treat perfectly. Sweet, spicy and perfectly good for snacking and gifting are some other words to describe these tasty almonds.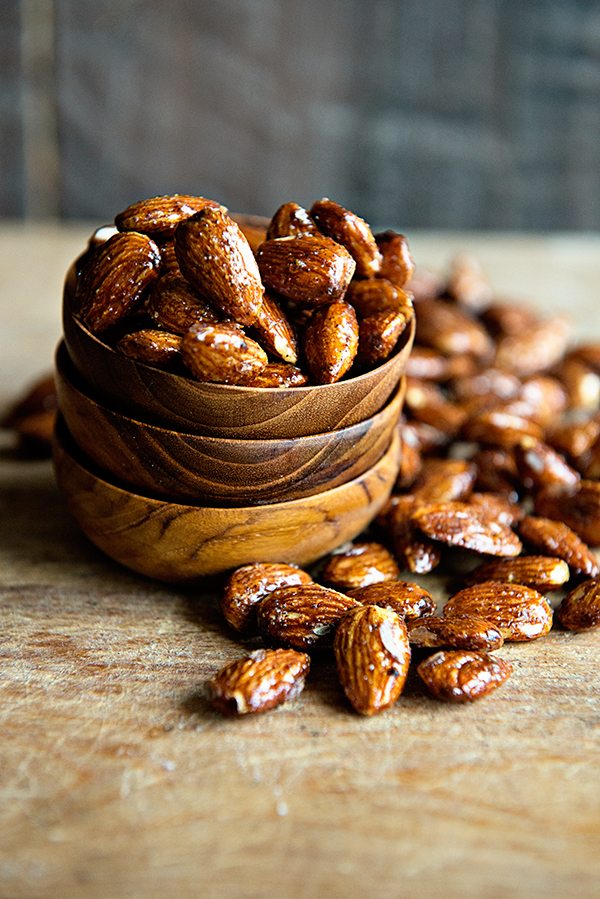 This recipe was given to us from our friend Grace. She makes these Honey Glazed Almonds for Christmas gifts to hand out each holiday season and they are always a huge hit with the recipients. In fact, I'm pretty sure if she stopped giving them out, there would be a few protests among her friends. They are so so so good!
If you are trying to find a simple snack to give out to your friends this holiday season, this Honey Glazed Almonds recipe is a perfect choice.  Gingerbread Spiced Nuts, Whisky Honey Toasted Walnuts, and Rosemary and Garlic Slow Roasted Almonds would be great options too! Enjoy and happy crunching!
Grace's Honey Glazed Almonds Recipe
A mostly sweet, yet slightly spicy, glazed almonds recipe.
Ingredients
1 ½

cups

raw unblanched almonds

1

tablespoon

sugar

1 ½

tablespoon

honey

½

teaspoon

ground chipotle chile powder

¼

teaspoon

ground cumin

¼

teaspoon

salt
Instructions
Line a large baking sheet with parchment paper

Place the almonds in a medium nonstick skillet; cook over medium heat fro 6 minutes or until lightly toasted, shaking pan frequently.

Combine the remaining ingredients in a 2 cup glass measuring cup. Microwave on high for 30 seconds. Add honey mixture to pan and cook 2 minutes, stirring constantly. Arrange almond mixture on prepared baking sheet in a single layer, Let stand 10 minutes. Break apart any clusters. Store in an airtight container for several days.