A homemade bread recipe that will fill your home with the comforting aroma of herbs and fresh baked bread. This Herb and Sun Dried Tomato Pull Apart Bread featuring Fleischmann's® Yeast is one of my favorite homemade bread recipes, yet!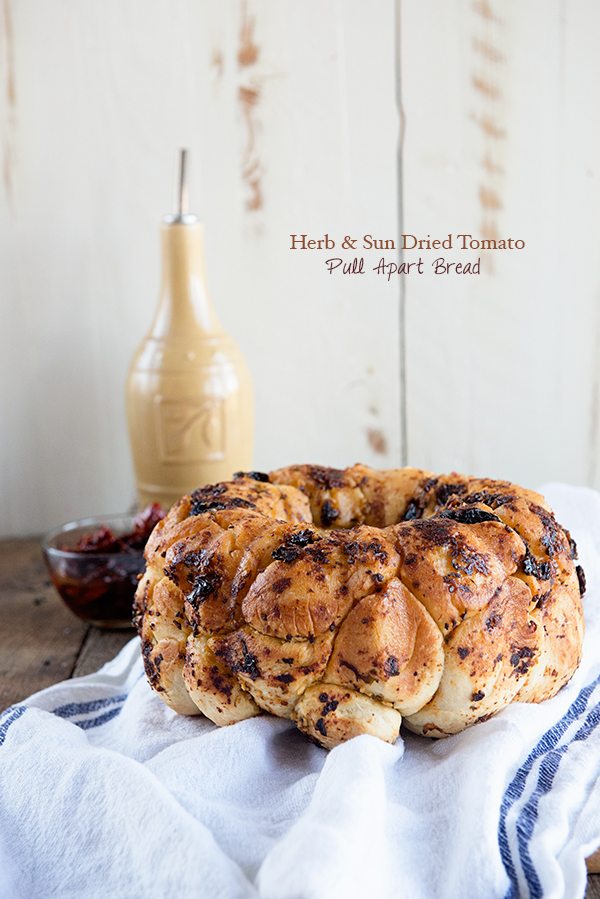 Friends, I am so excited to share this homemade bread recipe with you to today. I've made a lot of bread over the past 9 years on Dine & Dish and I've loved so many of them, but this Herb and Sun Dried Tomato Pull Apart bread may be one of my favorite bread recipes, yet.
Here's what I love about making homemade bread… it's kind of like magic. You put a little flour, eggs, milk, salt, etc. into a bowl, add some Fleischmann's® Yeast, and before you know it after some kneading, time and a little bit of patience, you have a beautiful loaf of homemade bread in front of you. OK, there may be a little more involved than that, but homemade bread is really such a simple thing once you've had some practice. Every time I make a loaf, I feel like I'm baking up a little bit of happiness in a pan. People love homemade bread…and sharing it with others is such a great gift!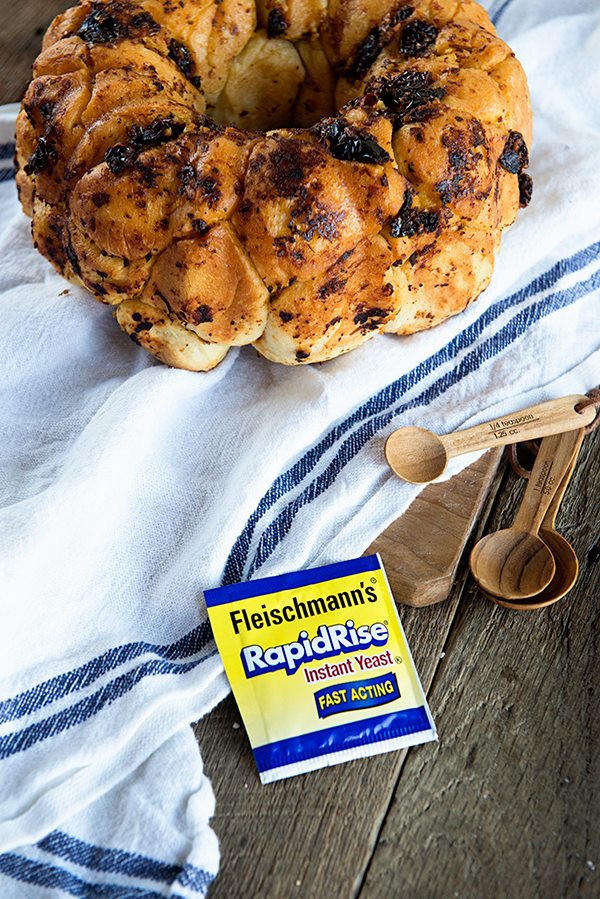 Now, let me tell you about this recipe. I hope just reading about how much I love it and seeing the yummy pictures, you will decide to give it a try and make it yourself! In fact, it would be a great addition to your holiday table this Thanksgiving or Christmas!
The original Olive Oil, Garlic and Fresh Herb Pull-Apart Bread recipe comes from the Fleischmann's® Yeast website. The recipe itself sounded so good, but I wanted to add a little bit of my own twist to it.
First off, I love making homemade bread by hand, but I've been super busy and really just wanted to let my bread machine do the majority of the work. Secondly, one of my favorite olive oil dipping sauces for homemade bread has a blend of herbs, parmesan cheese and sun dried tomatoes. I thought it would be a delicious idea to add some of those elements to this bread recipe. Turns out, this flavor combination is so good…seriously good. I hope you don't just trust me, but try it for yourself! I promise you are going to love this recipe.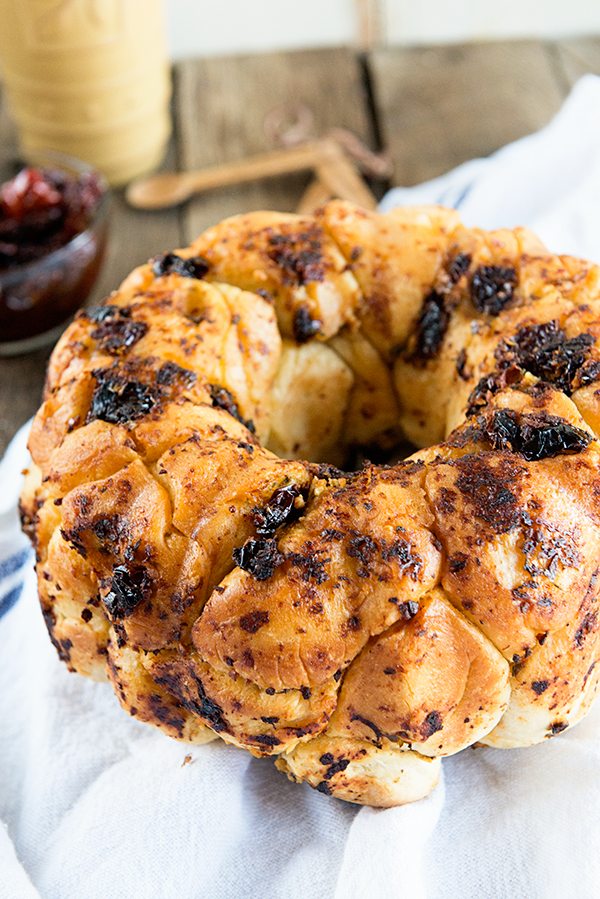 For the original recipe, visit the Fleischmann's® Yeast website. To try my own version with the sun dried tomato twist, see the recipe below. Enjoy!
Herb and Sun Dried Tomato Pull Apart Bread Recipe
Pull apart bread is a fun bread to make and eat. Add herbs and sun dried tomatoes and you have a recipe sure to please everyone at the table.
Ingredients
For the Herb and Sun Dried Tomato Infused Oil:

1/2

cup

Mazola® Extra Virgin Olive Oil

1

Tablespoon

fresh Oregano

minced

1

Tablespoon

fresh Basil

minced

2

cloves

fresh garlic

minced

1

cup

jarred Sun Dried Tomatoes

coarsely chopped

1/3

cup

grated parmesan cheese

1/2

teaspoon

Kosher salt

For the Dough:

4 1/2

cups

all-purpose flour

2

packages Fleischmann's® RapidRise™ Yeast

2

tablespoons

sugar

1 1/2

teaspoons

salt

1 1/3

cups

very warm milk

120° to 130°F

1

egg

lightly beaten

1/4

cup

Mazola® Extra Virgin Olive Oil
Instructions
For the infused oil:

Combine olive oil, herbs, garlic, salt and sun dried tomatoes into a small bowl and set aside.

For the bread dough:

Place all ingredients in the pan of your

automatic bread machine

in the order recommended by the manufacturer. (My bread machine recommends all wet ingredients first, dry second, then a small valley for the yeast).

Process on dough/manual cycle.

Once cycle is complete, transfer dough to a lightly floured surface and using hands, pat dough into a 10x12 inch rectangle, approximately 1 inch thick.

Divide dough into about 30 pieces using a pizza cutter, or knife and roll into balls.

Dip dough balls into olive oil and herb mixture to lightly coat. Arrange coated dough balls evenly in bottom of a greased 10-inch tube or bundt pan.

Cover; let rise in a warm, draft-free place until doubled in size, about 30 minutes.

Bake in a 350° preheated oven for 25-30 minutes, or until done. Let cool in pan on a rack for 10 minutes. Invert to remove from pan and serve immediately.
Disclosure: This is a sponsored conversation on behalf of Fleischmann's® Yeast. I am honored to be sharing recipes with you all year as a Bake a Little Extra Blog Ambassador. Thanks for supporting the brands who make Dine & Dish possible!
This blog post contains affiliate links. As an Amazon Associate, I earn from qualifying purchases.