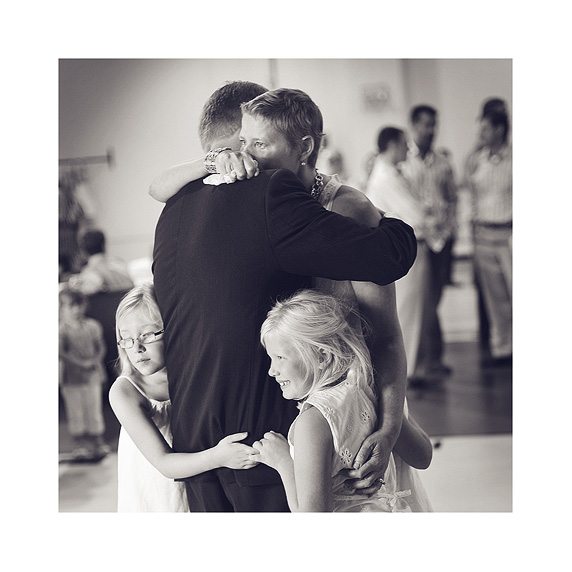 Photo courtesy of my friend, Heather Morrow, from Hocus Focus Photo.
You'll have to excuse me for this one post, as there is nothing food related involved.

You may remember a post I wrote last September about my friend Ann and her heart touching vow renewal ceremony with her husband, Hal, of 10 years. Ann, if you will recall, had been facing a brave battle with cancer for the past 9 years. This past Saturday, July 17th, Ann was taken from our world and is now in heaven, I am sure relieved to be rid of the illness that has been inflicting her body for the past 9 years.
This past Wednesday evening was her visitation. Instead of getting a babysitter, my husband and I decided to split up. He'd go first, come back home to watch the kids, and then I would go. As I was standing in the long line, a true testament to how much Ann was loved, I started to get frustrated with myself. "I should have just gotten a babysitter. I want my husband with me. This is not the kind of thing anyone should have to do alone." Even though I was surrounded by friends, I wanted Nick, my rock, with me more than anything.
As I got closer to the front of the line where Hal was standing, I looked up and noticed him, standing all by himself, accepting the condolences of friends and loved ones. "This is not the kind of thing anyone should have to do alone." His plus one, his shoulder to lean on, his best friend, his parenting ally… his person who should be doing this type of thing with him is gone. It just isn't right.
Watching Hal and Ann over the past nine years, as they have faced cancer head on, has been one of the most incredible things I have ever witnessed. As I reflect back on what Ann and Hal have taught me through their example of faith and love, there are a few key things that I will take away from having the honor of knowing Ann.
Always have faith. Always. Ann's faith in God through her battle with cancer has been unrelenting. With every dose of suffering, she accepted it and gave it all up to God. If you want to be touched forever by her incredible faith, all you have to do is go to the final blog post she was able to write on July 4th, 2010.
Value your friendships. Ann was always one of those people who truly made time for her friends. Even though she was feeling crappy. Even though she may not have been up for it. Ann knew the value of friendship and made her friends a priority in her life. It was witnessed yesterday in the rows and rows and rows of pews filled with people mourning her death at the funeral. From her closest of friends in the front row, to those of us who were lucky enough to call her a friend scattered throughout the church, there is not a single person who knew Ann who won't say that watching what unfolded over the past 9 years was not a true testament to the value of friendship.
Be real. Ann was about as real and authentic as it gets. She didn't try to be someone else. She didn't mince her feelings. She was real, honest and raw.
Be courageous. In the face of death, she showed an incredible amount of courage. In the face of cancer, she showed an incredible amount of courage. Many times, we'd all wonder, "how can she be so strong?", but she was. She was one of the most courageous women I have ever met and I will forever be reminded of her strength, especially when I am feeling whiny and pathetic.
Have fun. Ann turned shaving her head into a big party and then transformed herself into "Foxy Roxy" with her pink wig. Her laugh was infectious. There is no doubt that Ann knew how to have fun. Sometimes, attitude is everything, and Ann proved that to be true each and every day.
I hope that, even though many of you didn't know Ann, you will take a look through her blog and be touched by her faith, courage and love. She will be deeply missed but always remembered.