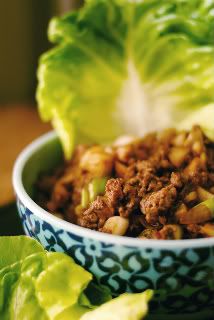 I admit… I was torn to see school start this year. It felt like the summer just flew by. Maybe that is something all moms say once they have kids in school, but I truly feel like summer was gone in a blink.
As sad I am to see school back in session, I am truly excited to get back into a somewhat more manageable routine. We may have more things going on during the school year, but at least we are on somewhat of a schedule.
Along with that schedule comes the challenge of finding time to sit down to dinner as a family each evening. During the summer we would eat dinner early or eat late or eat out… we ate dinner together, but it varied greatly as far as times. Now with school getting out at 4pm, and after school activities starting soon after, I am hungrily looking for delicious recipes that can fit into our ever tight schedules.
I recently found this recipe for Asian Lettuce Wraps on another food blog and now I can't find the blog. Luckily, I did a search on All Recipes and found the same recipe. (If I commented on this recipe on your blog, please let me know and I'll link this back to you.) I love this recipe because it gives me something besides tacos and spaghetti to use ground beef with. It is a fun, hand held dinner and it can be made in a jiffy. With recipes like this in my repertoire, I feel like I can finally get into the groove of things!
Asian Ground Beef Lettuce Wraps, from Allrecipes
16 Boston Bibb or butter lettuce leaves
1 pound lean ground beef
1 tablespoon cooking oil
1 large onion, chopped
2 cloves fresh garlic, minced
1 tablespoon soy sauce
1/4 cup hoisin sauce
2 teaspoons minced pickled ginger
1 tablespoon rice wine vinegar
Asian chile pepper sauce (optional)
1 (8 ounce) can water chestnuts, drained and finely chopped
1 bunch green onions, chopped
2 teaspoons Asian (dark) sesame oil
Rinse whole lettuce leaves and pat dry, being careful not tear them. Set aside.

In a medium skillet over high heat, brown the ground beef in 1 tablespoon of oil, stirring often and reducing the heat to medium, if necessary. Drain, and set aside to cool. Cook the onion in the same pan, stirring frequently. Add the garlic, soy sauce, hoisin sauce, ginger, vinegar, and chile pepper sauce to the onions, and stir. Stir in chopped water chestnuts, green onions, and sesame oil, and continue cooking until the onions just begin to wilt, about 2 minutes.

Arrange lettuce leaves around the outer edge of a large serving platter, and pile meat mixture in the center. To serve, allow each person to spoon a portion of the meat into a lettuce leaf. Wrap the lettuce around the meat like a burrito, and enjoy!
Interested in other recipe versions of Lettuce Wraps? Check out what these food bloggers have to offer: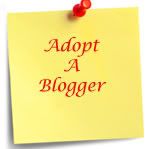 There is still some room for you in the Adopt-a-Blogger 2 event. Veteran's especially… come on out and mentor a new blogger! Click here to sign up.