How I use this Polaroid Printer as a memory keeping component in my bullet journal. (PS – this would be a great way to add photos to your personal recipe books too!)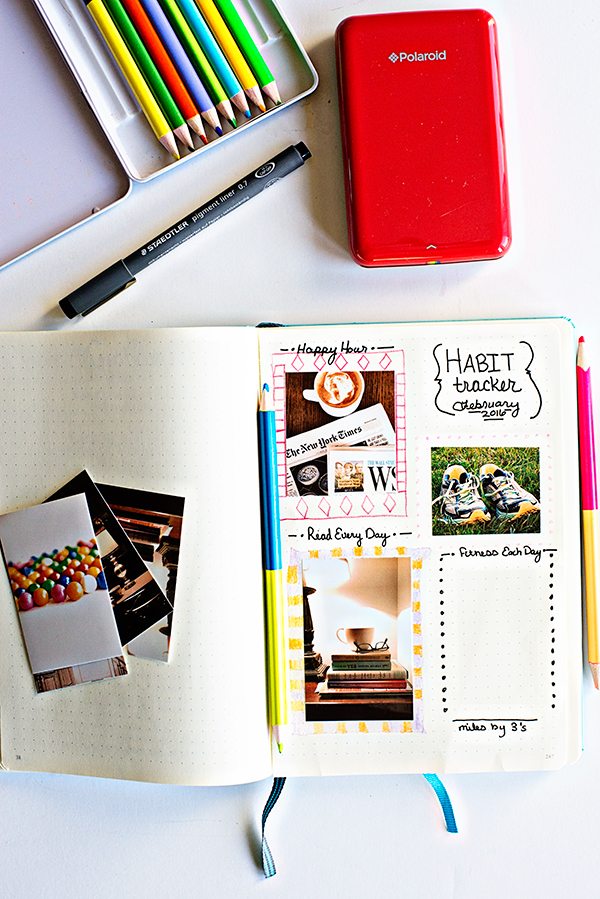 Since I shared the walk through video and blog post about Bullet Journaling a few weeks ago, I've had a ton of questions about my process. I thought it'd be helpful if I'd share some of the ways Bullet Journaling is working for me and some of the various tools I use that make me love it so much. Of course, the original Bullet Journal system is a very basic, straight forward approach, however because the system is so flexible, so many people have adapted it to what works for them.
I am using my Bullet Journal as a combination monthly and daily planner, as well as a way to capture memories through journaling each day. For a complete run down of the various things I do in my bullet journal, make sure to check out my original blog post. Today though, I'd love to share with you how I'm using the Polaroid Zip Mobile Printer to incorporate images into my bullet journal. I love this printer so much and I am so happy to finally find something that makes it really easy for me to get my photos out of my phone, camera and computer hard drive and printed.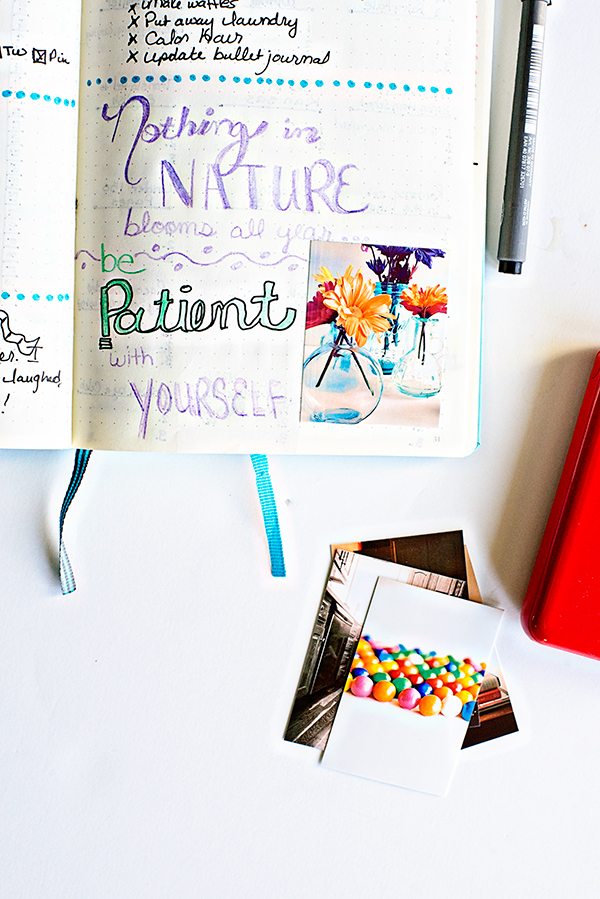 First of all, let me tell you a little bit about the Polaroid Zip Mobile Printer. Santa originally brought this polaroid printer to my daughter for Christmas. When I kept borrowing hers on a daily basis, she kindly suggested that maybe since I loved it so much, I should get my own…which I promptly did! The Polaroid Zip Mobile Printer connects simply to your mobile device via bluetooth. You download the Polaroid Printer Zip App and from there you can easily select which photos you want to print. You can click "quick print" and print your photos without any editing or you can chose "edit" and turn your photos into collages, adjust the color/tone, add text and graphics, and more.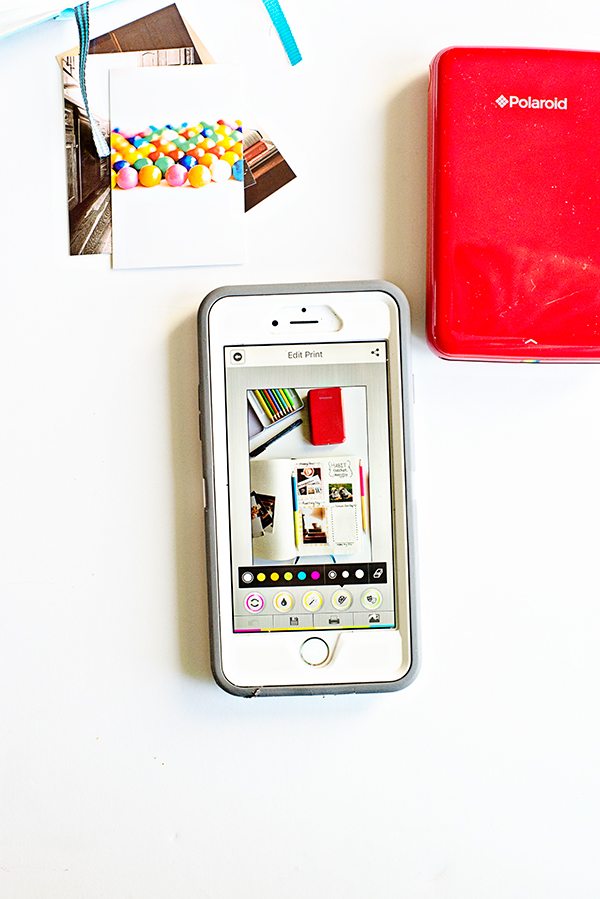 This printer is so easy to use! The best thing about it and what makes it perfect for my Bullet Journal is that you can peel off the back of the photo to make the photos a sticker. I absolutely love adding these "sticker" images into my bullet journal! Unlike the pictures that you get with one of the Instax cameras (which I do have as well), these photos are flat, so they don't add a lot of bulk to your journal.
(Click on the video above to see a 10 second video of the Polaroid Printer in action!)
Here are a few ways I'm using this fun little polaroid printer with my Bullet Journal:
You may recall that on my last post I admitted that the habit tracker I was using wasn't working so great for me. The joy of bullet journaling is that if something isn't working for you, you aren't stuck with it all year long! You can switch things up monthly, weekly and even daily. Nothing is set in stone. Well, I've decided that for February I'm going to combine my Habit Tracker with photography and art. For each habit (I've decided to stick with just 6 habits this month) I'm going to use a photo to represent that habit. Then, for each day I do the habit, I will color in a square or design around the photo, so that by the end of the month if I've been consistent with my habits, each photo will be framed. (See the top picture in this post for my habit tracker idea. I'll let you know how it works!)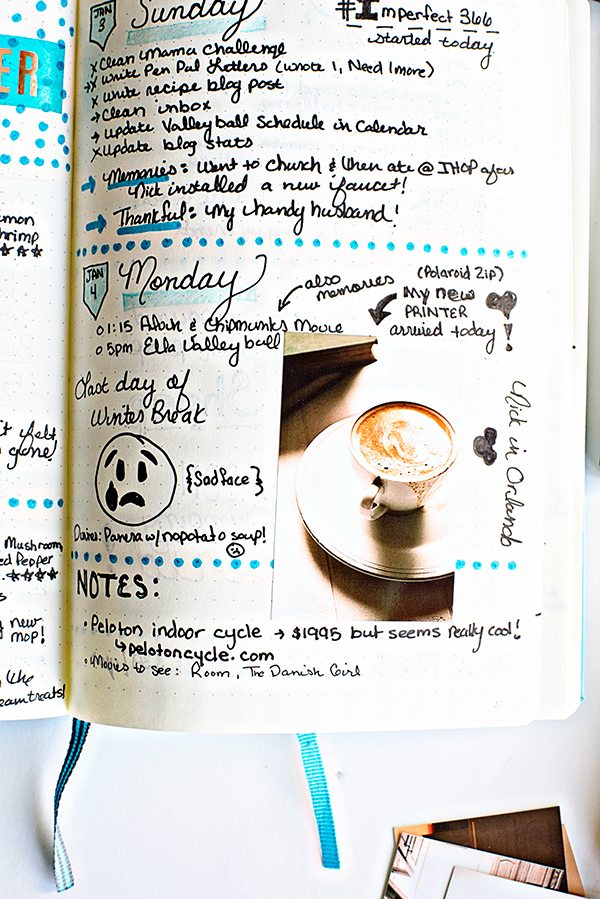 I'm not an artist…drawing is not my strong suit, but I am a photographer. Instead of using a lot of drawings and doodles in my bullet journal, I've been printing off some of my own photos and using those as "stickers" to embellish my bullet journal with. In the second photo in this post, I used a picture I took of flowers to go along with the quote "Nothing in nature blooms overnight…be patient with yourself." (Thanks to my friend Alexis for sharing this quote with me.) I've also been printing off some of my favorite #Imperfect366 photos and sharing them on my dailies pages. I love that I'm actually doing something with those photos instead of just keeping them online. That makes me really happy!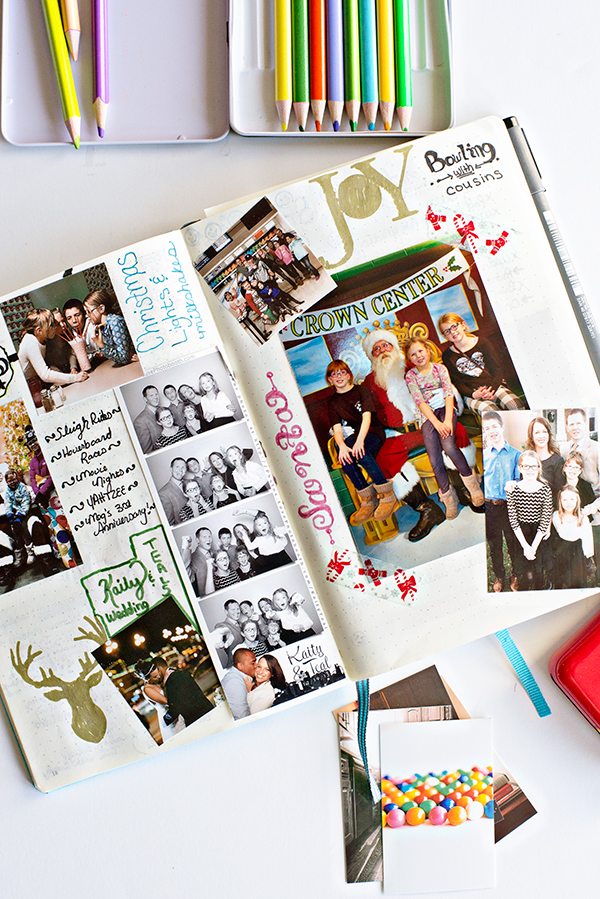 Each month I do a monthly recap in my bullet journal, including some of the biggest highlights of the month in words and photos. My Polaroid printer has been key in printing out the images for those page layouts! In fact, I think these monthly recap pages are my absolute favorite in my bullet journal!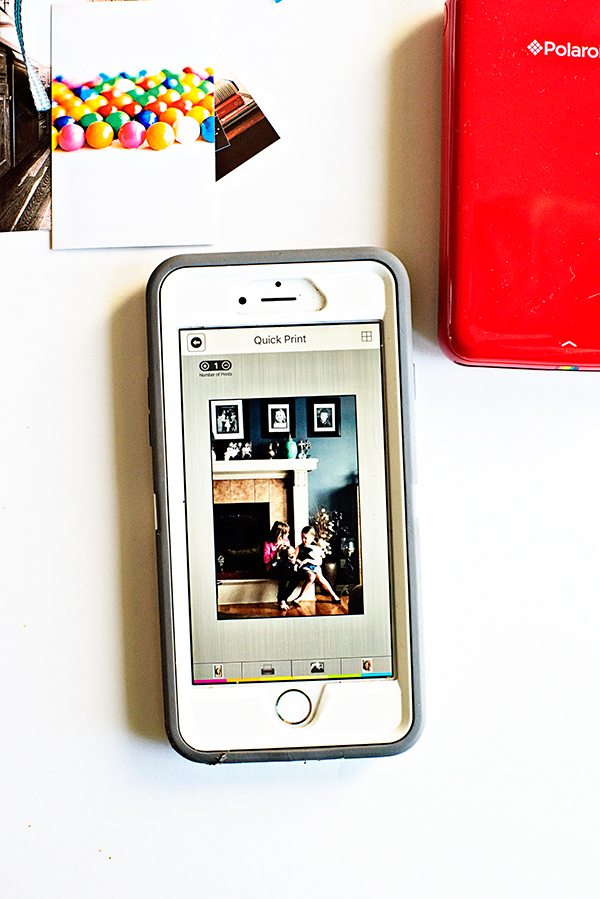 Here are a few facts about the Polaroid Zip Mobile Printer:
The printer comes in 4 different colors…white, red, blue and black and can be purchased on Amazon here.
It has its own rechargeable battery, that takes about 1.5 hours to charge (and the charge lasts a good long while).
The actual printer has no ink. The ink technology is in the printer paper…so there's no need to keep buying expensive ink cartridges (and the prints are smudge and fade resistant too!)
The photos printed are 2″x 3″ and come out vibrant and full of color. Now, I will say these aren't incredible professional quality prints, but they are great for memory keeping uses, card making and more.
I sometimes cut down the photos to fit the exact size I want…then peel off the back and stick the picture into my bullet journal.
Paper for this polaroid printer is about 50cents a page, however you can find sellers on Amazon that sell it for less. (Here is one option.) I've found this to be less than film for an Instax polaroid type camera.
One note of caution… do NOT tell your phone to "forget" this device as I can't figure out how to re-pair once you do that without reverting back to your original settings.
I hope those of you who are using the bullet journal system or who are considering it, found this to be helpful! Please let me know if you have any questions about this Polaroid Printer or Bullet Journaling!
MY FAVORITE BULLET JOURNAL SUPPLIES:
Leuchtturm 1917 Dot Grid Notebook A5
Studio Calico Monthly Planner Embellishment Kits (so fun if you want stamps, stickers, etc)
Check out Tiny Ray of Sunshine for an incredible resource page for bullet journaling posts from bloggers all over the web!
Disclosure: This blog post contains affiliate links. As an Amazon Associate, I earn from qualifying purchases.