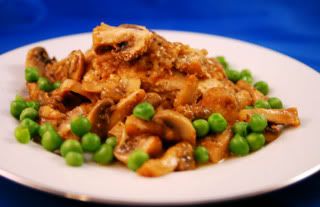 I'll admit… I am not a risk taker. Sky diving sounds terrifying to me. Swimming with sharks? No thank you! Stock market day trading? I would probably have a heart attack with all the stress that would cause me. Nope…risk taking is not my thing. My kind of risk and about as adventurous as I get is with recipes. I often risk trying something new in hopes that it will be great.
We were all really hungry tonight. We had a late breakfast and just snacked for lunch. By the time dinner was here, our tummy's were rumbling and everyone was ready to eat something good for dinner. The deal is, I had a new recipe on the menu for tonight. I thought by the ingredients in it that we would like the recipe, but I just wasn't sure. When my family is hungry, putting a yucky meal on the table will get me nothing but scowls and requests for PB&J. Still, being the "risk taker" that I am, I decided to take the chance.
I am so glad I took the plunge and tried this new recipe because this meal received rave reviews. I am sure that it will be on the monthly menu rotation from now on.  If you are feeling risky, try this recipe from the Oct/Nov 2007 issue of Taste of Home magazine. No safety waivers to sign and your lawyer will not have to be present. This is one risk worth taking, and I promise that it will pay off!
Romano Chicken Supreme
Delicious dinner that is now in our weekly dinner rotation and soon to be in yours.
Ingredients
6

boneless skinless chicken breast halves

5 ounces each

1/4

teaspoon

salt

1

pound

fresh mushrooms

chopped

1

tablespoon

lemon juice

2

garlic cloves

minced

1

teaspoon

dried basil

3

tablespoons

butter

1/2

cup

reduced-sodium chicken broth

2

tablespoons

orange juice

1

cup

soft bread crumbs

1/3

cup

grated Romano cheese

I mixed in a cup of cooked peas when it was done baking
Instructions
In a large skillet coated with cooking spray, brown chicken on both sides over medium heat. Transfer to a 13-in. x 9-in. x 2-in. baking dish coated with cooking spray; sprinkle with salt.

In the same skillet, saute the mushrooms, lemon juice, garlic and basil in butter. Stir in the broth and orange juice; bring to a boil. Reduce heat; simmer, uncovered, for 2-3 minutes or until heated through. Spoon over chicken; sprinkle with bread crumbs and cheese.

Bake, uncovered, at 400° for 20-25 minutes or until lightly browned and chicken juices run clear.