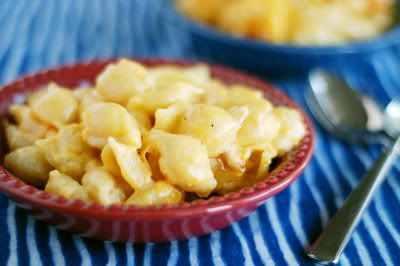 The kids, my fun and crazy Aunt Rose, and I are off on a 16+ hour road trip tomorrow to visit my parents at the very southern tip of the big old state of Texas. I think when my parents retired down near South Padre, they decided to really test us to see how much we love them… would we travel that far to visit them regularly? Mom and Dad – we love you. 16+ hours in the car with three kids under six will hopefully convince you of that 😉
I am looking forward to seeing them, relaxing some, and hanging out on the beach… making sand castles, frolicking in the waves, and just being away from everyday reality for a bit. Of course, as my vacation luck would have it, they are supposed to get some kind of tropical storm there. I hope we have at least a few good sunny days!
If not, we will still have fun. I will make mom make up for the unfortunate weather by cooking us some of her delicious homemade shell macaroni and cheese. Comfort food at its finest!
Grandma Sugar's Shell Macaroni and Cheese

SERVES 4
Cook macaroni 10 minutes in boiling salted water.

Coat microwave safe casserole dish with melted butter.

Put cheese cubes, milk, and pepper in butter-coated, 2-quart casserole dish and microwave six minutes on medium power or until cheese is melted. Stir until it creates cheese sauce.

Add cooked macaroni to the cheese sauce. Stir until all macaroni shells are coated with cheese sauce.

Slice cheddar cheese into approximately 3/8″ slices and insert slices into macaroni and cheese sauce mixture.

Bake at 350 degrees for 35 minutes or until browned.
So, you are craving comfort food? Check out these other Macaroni and Cheese recipes from some other great food bloggers: