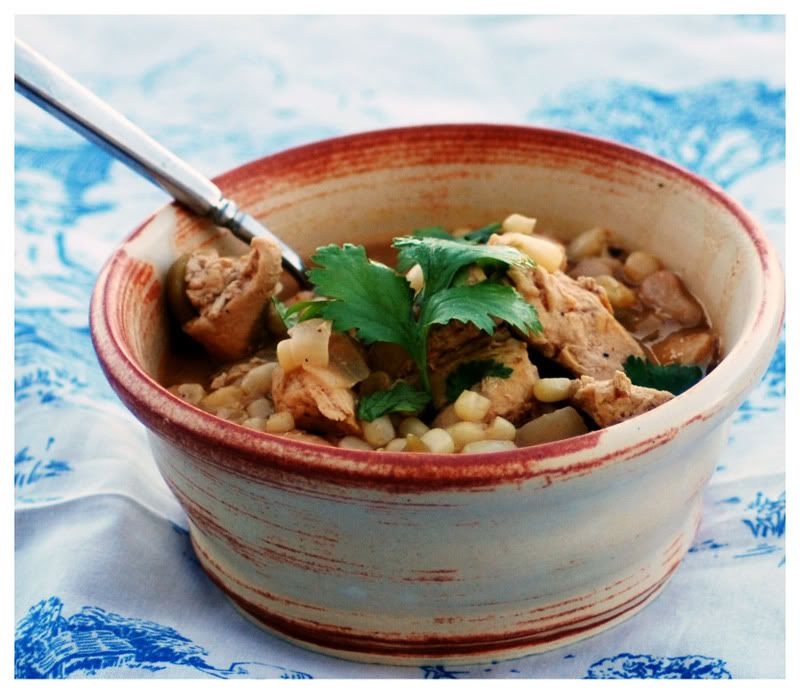 We had our first really cool day of the season on Monday. It was in the high 60's by the time dinner time came around and I was in the mood for my annual pot of "first cool day of the season" chili. Of course, I had no idea it was going to be that cool on Monday so I did not have all the ingredients on hand to make chili. You can bet that on Tuesday, I was at the store ready to buy the ingredients to make us some chili. It was not nearly as cool on Tuesday night as it was on Monday, but I had chili on my mind and nothing was going to stop me from making it. I typically make the traditional chili with red beans, ground beef, etc. This year, however, I decided to make my good friend Sara's White Bean Chicken Chili. If you were the family side of Dine and Dish back in the beginning, you might recall that I wrote about having this chili on Christmas Eve at Sara's house. This chili is best if simmering on the stove all day. I, being the slacker mom that I am, started it at 3pm for a 6pm dinner time. It was still fantastic (although not as fantastic as Sara's. I need to find out what her secret is!)
Oh – and doesn't this beautiful bowl holding the chili just scream "soup" to you? I've used it for ice cream in the past, but it really is my new favorite soup bowl. My dear friend Jody of The Devils Cloth made this gorgeous bowl. She is super talented. Check out her store and while you are there snatch up one of her hot and highly demanded by boutiques everywhere, Arm Candy bags.
Is it cool where you are yet? What is your traditional "first cool day of the season" dish to make?
From Southern Living Magazine and my friend Sara
White Bean Chicken Chili
Perfect hot dinner for a cold winter night.
Ingredients
1 

medium onion

chopped

1 

tablespoon 

olive oil

2 

garlic cloves

minced

8 

skinned and boned chicken breast halves

cut into bite-size pieces

3 

cups 

water

1 

teaspoon 

salt

2 

teaspoons 

ground cumin

1 

teaspoon 

chili powder

1 

teaspoon 

pepper

1 

teaspoon 

dried oregano

4 

15-ounce cans cannellini or great Northern beans, rinsed, drained, and divided

1 

14 1/2-ounce can chicken broth

1 

16-ounce package frozen shoepeg white corn

2 

4.5-ounce cans chopped green chiles

3 

tablespoons 

lime juice

Garnish: fresh cilantro sprigs
Instructions
Sauté chopped onion in hot oil in a large Dutch oven over medium-high heat 7 minutes; add garlic, and sauté 2 to 3 minutes.

Stir in chicken pieces, and cook, stirring constantly, until chicken is lightly browned. Stir in 3 cups water and next 5 ingredients; reduce heat, and simmer, stirring often, 10 minutes or until chicken is done.

Place 2 cans of beans in a blender; add broth, and process until smooth, stopping to scrape down sides.

Stir

bean pureé, remaining 2 cans of beans, corn, and chiles into chicken

mixture in Dutch oven; bring to a boil over medium-high heat. Reduce

heat, and simmer, stirring often, 30 minutes or until thoroughly

heated. Stir in lime juice just before serving. Garnish, if desired.
Recipe Notes
Note: Use a handheld submersion blender to pureé the beans and broth, if desired.