Do you see that picture right up there? The one with the bright, shining sun and palm trees? The kids and I are leaving on our annual 16 hour road trip to find the sun… down near South Padre Texas, where my parents live! I am so excited to leave the chill behind and head towards the warmth! The thought of warm weather in my near future is obviously making me smile. I thought it would be a great time to share what else is making me happy these days!
Have you seen this video with Billy Joel and the college student? Find out what happens when Billy Joel gives an unexpected answer to a student willing to take a risk. The moral of the story? It never hurts to ask! Love this life changing moment – it makes me smile from ear to ear!
Flip flops in 4 sizes make me happy!
Did you hear that Google Reader is shutting down? That doesn't make me happy, but finding out that I can still subscribe to my favorite blogs RSS feeds via the Reeder app and Feedly makes me happy!
I've been using the "If it won't fit on a post-it, it won't fit in your day" method for trying to maintain organization in my life, and I'm loving how this simple method seems to be working for me!
Dancing granny? She makes me smile! I love this rockin' grandma!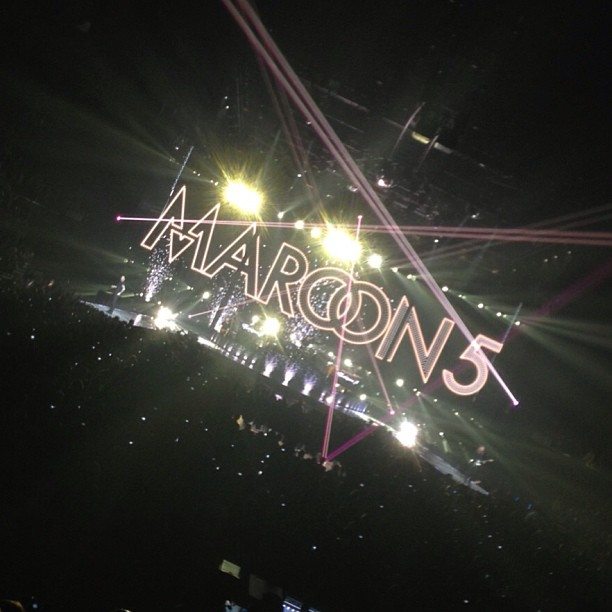 I had the time of my life a couple weeks ago at the Maroon 5 concert. It was so much fun! My crush on Adam Levine is only that much stronger now 😉 I honestly think it was a good 2 weeks before the high from that night began to fade. Even better, the time I had hanging out with my girlfriends Sandra, Lisa and Gina totally made the night. I love what Lisa wrote in her blog post "Adam Levine and the Art of Dancing Alone".
When people have the courage to hit publish on a vulnerable blog post? That makes me happy (great post, Irvin!)
Finding Butterbeer that can be shipped directly to my house thrills me to pieces!
Downtown Abbey season finale (yes, I was way behind)? Did not make me happy. Having a great friend to watch it with and bitch about it together? That makes me very happy!
I'm currently reading and practicing The Magic. What a great book and I can already feel it working. That makes me happy!
That's it! I need to get packing… but first, before I go, I want to hear what is making you happy! Make sure to share your happy in the comments below.
Have a great week!
Disclosure: This blog post contains affiliate links. As an Amazon Associate, I earn from qualifying purchases.