A tasty and filling Weight Watchers recipe that's only an unbelievable 5 PointsPlus per serving!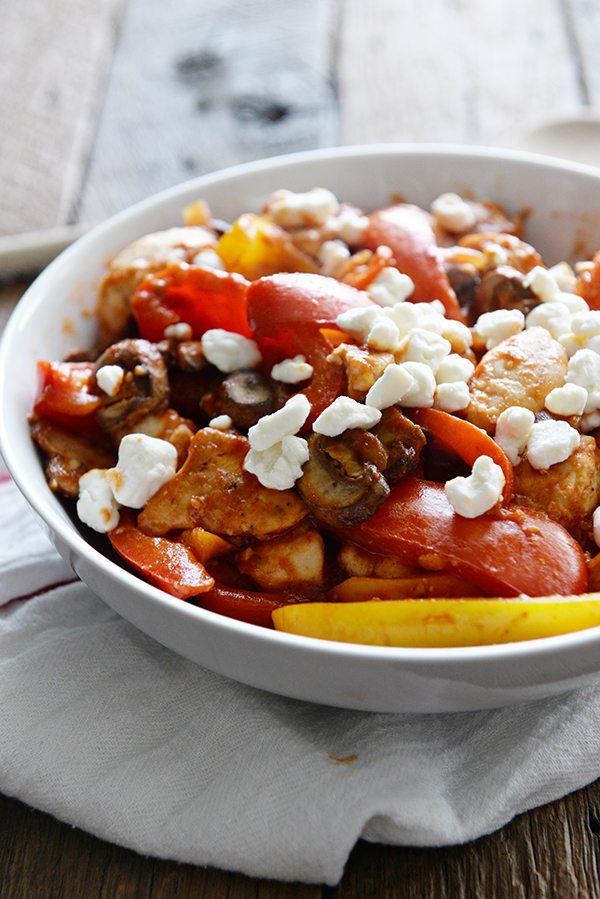 I go to Weight Watchers meetings on Saturday mornings. I've been going since November, at first consistently, then, you know… I left town for a bit and had way too many Pina Coladas…and was nervous to step on that scale when I returned. Turns out, I only gained 1 pound, and am now down 10 pounds total since I first joined (without whole heartedly trying). It's funny how we take a look at things and only pick out the negative. "Oh, I've eaten too much over the past month so surely the scale is going to show me the worst". Instead of… "I went to the gym 4 times a week this month and exercised almost every day on my vacation, so the scale is going to be really nice to me!" Turns out, it's silly to expect the worst, isn't it?
I haven't been a very good Weight Watcher since the new year. I haven't done a very good job of counting points and staying on plan, but what has clicked with me is that I'm more aware of what I put into my mouth. In fact, yesterday, I mindlessly put a bite of a dessert I was making for a client in my mouth, and ended up spitting it out because I didn't want it. It's such a habit for me to just eat whatever is in front of me! I'm trying to change that.
After a great conversation with a dear friend this past week who has lost 40 pounds, then having a gym partner who has lost almost 100, and having my half marathon buddy/friend/cousin 20+ pounds down, I've hit a new level of motivation. For the past two weeks I've been actually tracking my points, I've given up Starbucks and alcohol (eeeks, I know), and I'm working on changing some of those bad habits that I seem to pick up so easily. Plus, I've started training for another half marathon, and am refusing to let my head games beat me out of running what I know I can run. I mean, really…if this girl can run a half marathon without excuses, I can too, right?
One of my favorite things about Weight Watchers meetings (besides our leader, Carol, who is so good at her job) is being inspired by the people there. Losing weight is a hard thing to do, and it certainly helps to have other people who like doughnuts as much as I do there cheering me on and sharing their own relatable struggles.
The other thing I really love is picking up the Weight Watchers weekly. This is a simple pamphlet with some motivational stories and challenges for the week, as well as 1 recipe. The recipes they share in these weekly's are always so good! In fact, I typically get so inspired (and hungry) looking at them that I have to come home and make the recipes that very day. That was the case with this Chicken Sauté with Peppers and Goat Cheese. I barely got home from my Weight Watchers meeting and had the chicken sautéing on the stovetop.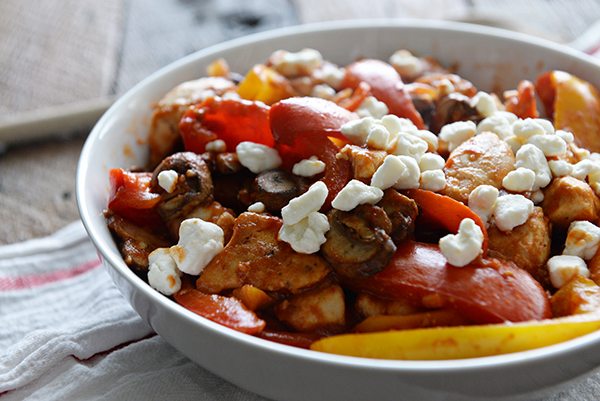 This chicken sauté recipe lived up to my expectations and more. I made a couple of changes in the ingredients and preparation, but for the most part, kept the recipe as is. Friends, it was sooooo good (good enough to eat the whole bowl full…but I stayed with my one measured out portion and was totally satisfied).
I love it when good for you recipes don't make you feel like you are sacrificing anything. If you are looking for a fantastic recipe, whether you are trying to lose weight or not, I can't recommend this Chicken Sauté with Peppers and Goat Cheese enough! Click here for the original recipe, and the one below is with my adaptations. Enjoy!
Weight Watchers Chicken Sauté with Peppers and Goat Cheese
A filling and tasty Weight Watchers recipe that's only an unbelievable 5 PointsPlus per serving!
Servings
4
1 cup servings
Ingredients
1 1/2

Tablespoons

all purpose flour

1/4

teaspoon

Kosher salt

1/4

teaspoon

freshly cracked black pepper

12

ounces

uncooked boneless skinless chicken breast tenderloins

cut into bite sized pieces

2

teaspoons

olive oil

divided

1

medium orange bell pepper

1

medium red bell pepper

1

medium onion

sliced into thin rings

8

ounces

sliced baby bella mushrooms

2

Tablespoons

minced garlic

8

ounce

can tomato sauce

1/4

cup

water

4

Tablespoons

soft goat cheese
Instructions
In a small bowl, combine flour, salt and pepper; add chicken pieces and toss to coat.

Heat 1 teaspoon olive oil in a large nonstick skillet over medium-high heat. Add chicken and cook, turning occasionally, until lightly browned and cooked through, about 6 minutes; remove to a plate.

Heat remaining teaspoon oil in same skillet over medium high heat. Add peppers, mushrooms and onions, and cook for approximately 5 minutes, until tender.

Add the garlic and sauté until fragrant, about 30 seconds. Stir in tomato sauce and water; bring to a simmer over medium-high heat, scrapping up browned bits from bottom of the pan.

Return the chicken to the skillet and heat through. Remove from heat and crumble goat cheese over the top.
These bloggers have some great recipes that fit a healthy lifestyle: