Today I'm sharing my 2015 Focus Word(s) as well as how I plan on using this phrase to shape my year. Plus, I'm giving one lucky Dine & Dish reader the chance to win an Etsy gift certificate!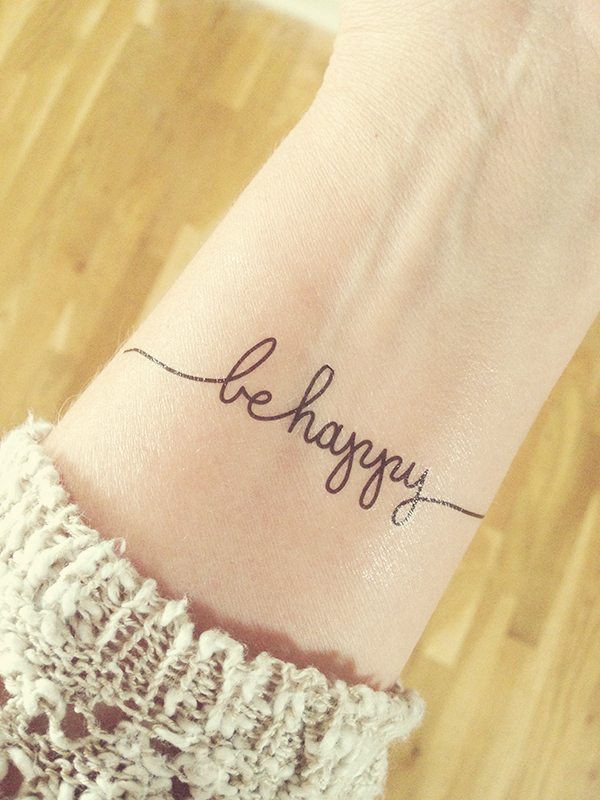 Instead of making resolutions each year, I always choose a focus word. This word or phrase is my guiding light throughout the year, so it has a fairly large responsibility. Every decision I make I use my focus word as a barometer… how does this decision impact the way I want my life to go this year?
I've gone back and forth over the past month thinking about what I want my focus word to be for 2015. 2012 was all about the word "Connect". 2013 we went on a quest to "Simplify". 2014 was the year I chose to "Invest". Now 2015 is here and I have oscillated back and forth between two words. But, after much consideration I've finally decided. My 2015 focus is actually a phrase…and it's a simple one. "Be Happy".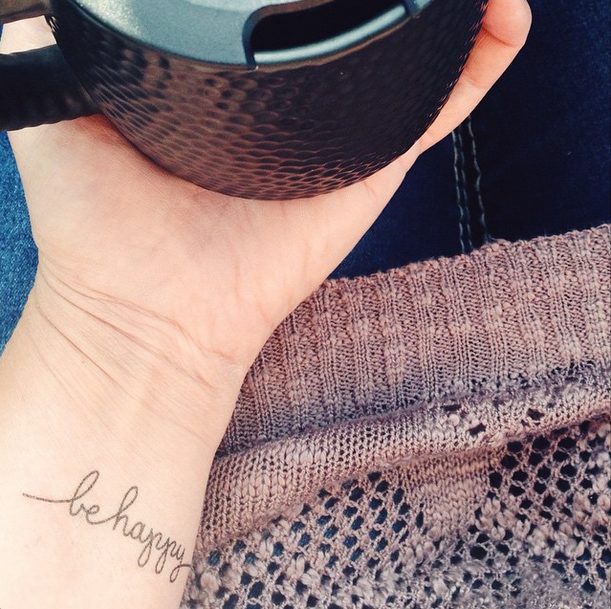 I have been living with these words on my wrist thanks to Tattly since October and I will be getting them permanently inked (yes, my first and only tattoo) on me in a few weeks with my friend, Cheryl. I never thought I'd be one to want a tattoo, but this daily reminder on my wrist makes me happy just to look at, and I'm ready for the real thing. These two simple words remind me that I am in charge of my happiness… I can wake up each morning and decide for myself how I want to face the day. I can tell you on those days that I make the conscious choice to "Be Happy", my day goes infinitely better.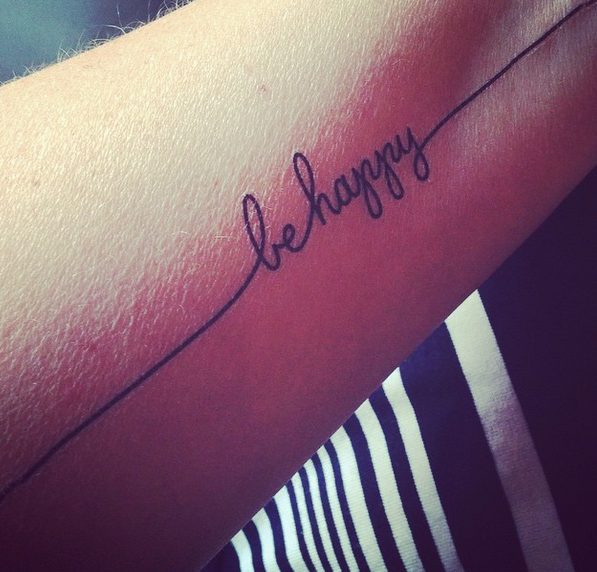 So what does "Be Happy" in 2015 mean to me? Well, here are a few of my thoughts on how I will use this phrase to shape my year.
For Dine & Dish ~
For this space, "Be Happy" is going to mean a few things. 1… fewer sponsored posts. I want more time to write and share the things that are from my heart, not necessarily dictated by a jam packed editorial calendar of sponsored content. Don't get me wrong… I love and am so grateful for the sponsors of Dine & Dish, however, last year things got a bit out of hand as I said yes to too many things. This year I am going to use my "be happy" barometer to really make sure that the partnerships and the time invested in those partnerships are mutually benefiting and make both parties happy.
I'm also going to be sharing more non-food posts. The #Imperfect365 Photo Project has taken off with huge success (you can still join!), which makes me really happy! I'll be sharing regular posts about that, starting a traveling book club where I'll ask you all to be involved, and other exciting things that make me happy (and hopefully you!). Stay tuned!
I'm also going to learn to "be happy" with where I am, and stop stressing about keeping up with the blogging Joneses. I have worked damn hard over the past 8 years to get where I am and I've been doing it in ways that work for me… I need to remember that just because other bloggers are having success doing things a certain way, doesn't mean that I need to jump on board. That's a hard one… I'll be totally honest with you!
For my family ~ 
For my family, this means I'll say "yes" more. Keeping safety and health in mind, obviously, if there are things that we can do to bring more happiness into our days, we will do it!
Planning and organization also fall into the "be happy" category for my family. We are all much happier with a little bit of structure and a clean and tidy environment. Decluttering and keeping things in some semblance of order will help us to be happy.
"Be Happy" applies to others as well. I often feel like our family is so obsessed with our day to day and our own lives, we don't do a lot for others. I know first hand how much serving others brings happiness to all involved… my family will get to experience that this year as well. In addition, we'll be adding a "happy tree" to our house in the coming weeks. I'll be sure to share what that's all about in a future post.
For me, myself and I ~
For the past few months I've been getting up and going to the gym at 4:40am. Getting up early, although it seemed ridiculous at first, is definitely part of what makes me happy. I love getting a good workout in first thing in the morning, I love going with friends to the gym, and I love being home in time to still have my morning happy hour. Getting up and having me time first thing in the morning makes me happy.
When I am organized and productive, that makes me happy. This all ties in to my morning happy hour… when I'm up early, I tend to organize my day better and therefore get more done. It also means I need to go to bed at a decent time, otherwise not having enough sleep is detrimental to me being happy.
Connecting with friends, spending time with my husband, taking good care of myself… all of these things are influential in the whole "be happy" frame of mind.
All in all, it comes down to mindset.The 2015 mindset is "BE HAPPY"…which is what I will be this year!
$40 Etsy Giveaway to Create Your Own Focus Word Token
This giveaway is now closed. Congrats to Sandy, whose comment was chosen via Random.org. Her word of the year was JOY!
So, now it's your turn. We're already a week into the new year so I'm sure some of you have been living your focus word! Take some time to tell me in the comments section what your 2015 Focus Word is and what that means to you. Once you do that, you'll be entered to win a $40 gift certificate to Etsy for a focus word momento, like a printable or a necklace (you can use the gift certificate however you'd like…a focus word momento is just a suggestion). Leave your comment by midnight CST on January 15th. Winner will be chosen via random.org and contacted via valid email address.
Thanks for entering!
Be happy,
Kristen