A selection and review of 5 books I've read and loved lately! Come share what you've read and loved lately.

I love summer! If you don't know that about me by now, you certainly will after this summer is over. I love the relaxed schedule and longer days…not to mention the increased opportunity for reading time. I always take a book with me wherever I go, but I seem to have more time to actually read it in the summer! It's always easier to get absorbed in a great book when I go to bed and stay up later reading, knowing I don't have to get up extra early to take the kids to school.
I've read some great books recently, and thought it would be a good time to share some good reads with you in case you have extra reading time too! Of course, you can always find my most up to date reads on Goodreads. Make sure to follow me over there for instant reading recs. Until then, here are 5 books I've read and loved a lot lately and hope you will too!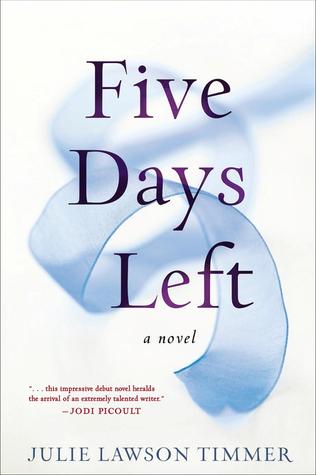 Five Days Left by Julie Lawson Timmer. It's hard for me to say I enjoyed this book because it was heartbreaking… but I love books that make me cry, and this one certainly did. My friend Aggie told me about this book (she also shares GREAT book reviews so follow her.)
Five Days Left is about two people…Mara and Scott. Mara has been recently diagnosed with Huntington's Disease and decided at the time of her diagnosis that once she gets to a certain symptom, she will commit suicide on her next birthday. Scott is the foster parent of a little boy whose mother has promised to take the little boy back once she cleans up her act (her son was poorly neglected and not well taken care of). Scott has become extremely attached to the little boy.
The story unfolds in parallel as both Mara and Scott, who know each other through an online parenting forum, come down to their final five days…Mara of her life and Scott with his little boy. This book will rip your heart open, but it is so good. Buy Five Days Left on Amazon or add it to your want to read list on Goodreads.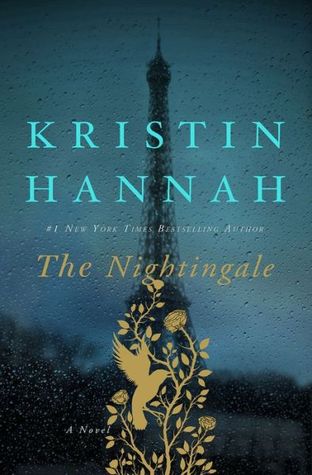 The Nightingale by Kristin Hannah. Those of you who are fans of Kristin Hannah will love this book, even though it's a complete departure from her normal style. The Nightingale is a moving story of two French sisters who lived during World War II. One sister is part of the French Resistance and one sister is left at home forced to house Nazi soldiers. Their struggles over time and harrowing events they are faced with, along with Hannah's descriptive writing, make this one of the best historical fiction books I've read.
I actually listened to this book on audio (I LOVE my Audible.com account, especially for keeping me entertained while I am on the treadmill) and I have to say it is one of the very best narrated books I've listened to. Buy The Nightingale on Amazon or add it to your want to read list on Goodreads.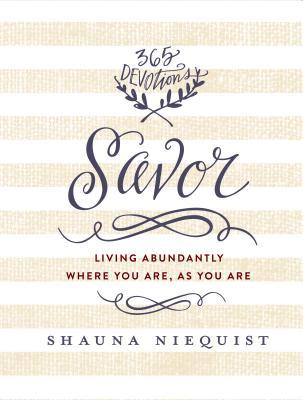 Savor…Living Abundantly Where You Are, As You Are by Shauna Niequist. Savor is a departure from some of my more typical shares. It's also possible I am one of the last people on earth recommending this book to you as I've seen it all over the place in the past couple of months, but there is really good reason for it. This is an absolutely beautiful book… it's not a sit down and read cover to cover book (although that's what I did), but more a daily devotional about everyday life and living abundantly (and sprinkled with really great recipes).
Definitely add this to your list of books to own and pull it out to read each morning. It'll be a great way to start your day! (It would also make a great gift for a friend.)
Buy Savor on Amazon or add it to your Want To Read shelf on Goodreads.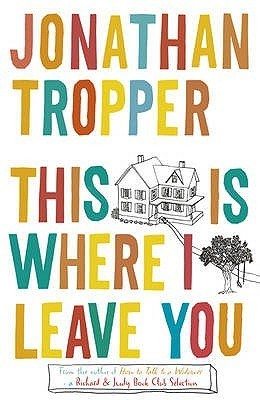 This Is Where I Leave You by Jonathan Tropper. I feel almost bad recommending this book right after I recommended a spiritual, life enhancing type book, but This Is Where I Leave You has been one of my favorite books recently. It's irreverent and raunchy and will make you laugh out loud, and at the same time will make you cry tears of sadness and sorrow. If you like to shake things up a little with your reading in the summer, this book will definitely do that!
Buy This Is Where I Leave You on Amazon or add it to your Want to Read shelf on Goodreads.

If You Find This Letter by Hannah Brencher. Connecting with others, especially strangers, is one of my favorite things. I have this theory that if we would all just open ourselves up to others, a small conversation or connection with a stranger can change our lives in unexpected ways. (That's probably why you never want to sit next to me on an airplane… I'm the person who tries to "connect" with you 😉 ). Anyway, Hannah Brencher's book is exactly my thing… a person (Hannah) is feeling down and depressed in her new home town of New York City. As a way to encourage and connect with others, she starts leaving miscellaneous letters for strangers in need of uplifting around the city.
What resulted was a new movement of letter writing from strangers to strangers across America. Check out Hannah's blog for a little more insight, but to get the start of the story, make sure to read Hannah's memoir. It's a good one!
Buy If You Find This Letter on Amazon or add it to your Want to Read shelf on Goodreads.
I'm currently listening to Every Fifteen Minutes by Lisa Scottoline (and LOVING it), I'm reading It Starts With Food (and am absolutely intrigued) and just started this morning Remember Me Like This. So many books, so little time!
Now it's your turn… let me know what you are reading and loving lately!
Disclosure: This blog post contains affiliate links. As an Amazon Associate, I earn from qualifying purchases.