You all know that I am a firm believer in the fact that happiness is not something that just happens, it's something we each have to actively seek out. It requires us to put a focus on adding happy things into our lives each and every day. But, I know that this is so easier said than done. That's why I thought it'd be awesome to see how we can each make 2017 the year to "Rock Your Happy".I'm partnering with my dear friend and like minded "Happiness Ambassador"  Bree Hester to bring you all a 365 day "Rock Your Happy" challenge!
It's FREE. It's fun. It's happy. And I think that it's going to make 2017 the best year yet. If you would like to join us, sign up here.
Every Sunday, you will get an email with 7 happiness prompts for the week. Most things are easy and take less than 10 minutes. (Most take seconds.) We are going to be adding some tips and tricks, happy resources and maybe a tutorial or two.
We are going to be sharing our journey on Instagram and through Insta Stories, please feel free to tag us at @breehester and @dineanddish. Or follow the community at #rockyourhappy2017 Check out all the fun pictures already being shared of people Rocking Their Happy!. Feel free to share along with us. We would love to be able to support and encourage you too.
Below is an example of the prompts for January – easy, attainable and FUN! You can also check out the first weekly email that went out HERE. In addition, you'll find all the weekly updates in the "Happy Place" here on Dine & Dish. (Know that it's NEVER too late to Rock Your Happy! Join in whenever you can!)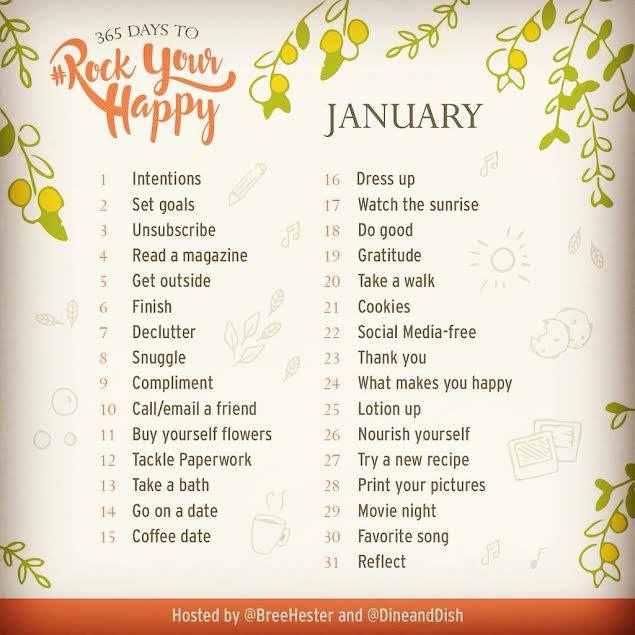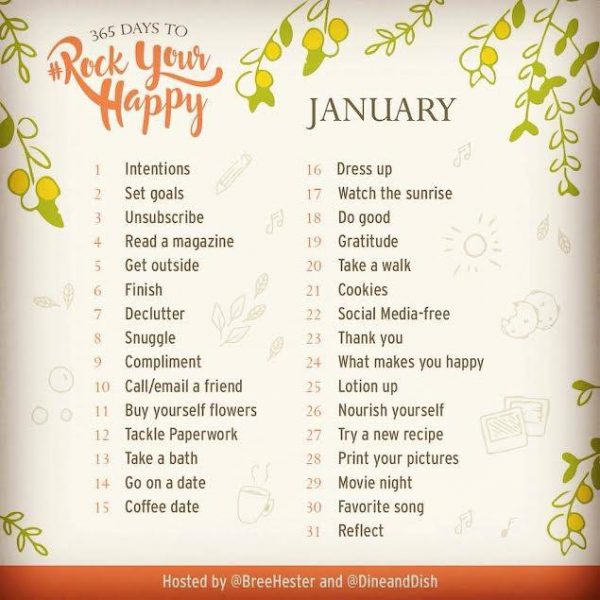 Here's to Rocking our Happy in 2017!