A Double Dip French Toast recipe and a review of the amazing Après All Day cookbook by Kelley Epstein.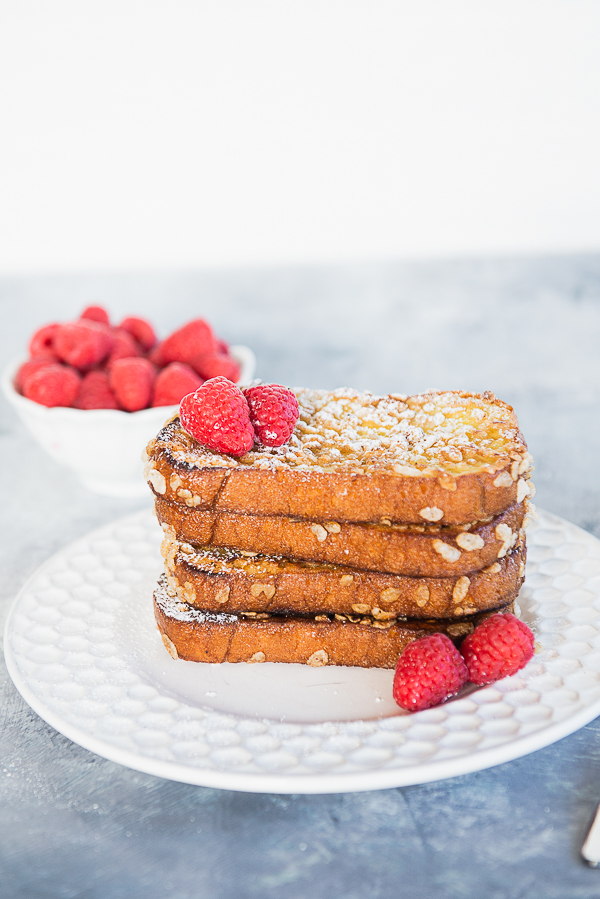 There are so many ways to make delicious French Toast. You have stuffed French toast, overnight French toast, skillet French toast…the varieties are endless. However, I think I've discovered the ultimate French Toast recipe and just had to share.
Several years ago I had double dipped French Toast at iHop and it changed how I made it going forward. It was a limited time menu item but it made an impression!
Dipping the thick slices of bread into an egg mixture, baking it on a baking sheet, then dipping it a second time and cooking it in a hot skillet until the toast is golden brown is a game-changer.
The only downside is this cooking process takes a bit more time, but I promise it is totally worth it! It makes perfect French Toast every time, no matter the recipe.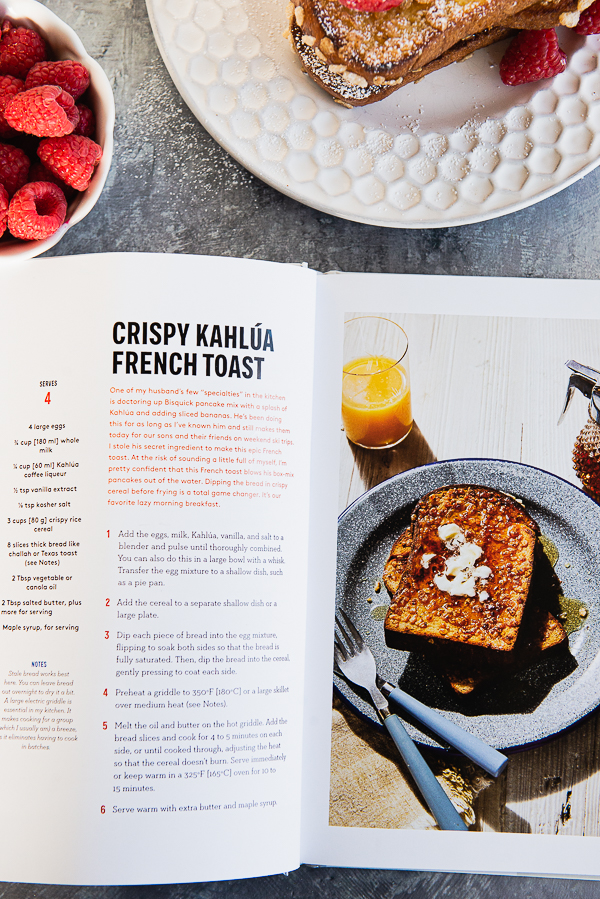 When my friend Kelley sent me her new cookbook and I saw the recipe for Crispy Kahlua French Toast, I knew I had to switch things up a little bit and give her regular French Toast method the double-dipped treatment. The result? One of the best French Toast recipes I've tried.
Before we get to the Double Dipped French Toast recipe, let me tell you a little bit about Kelley's amazing cookbook, Après All Day.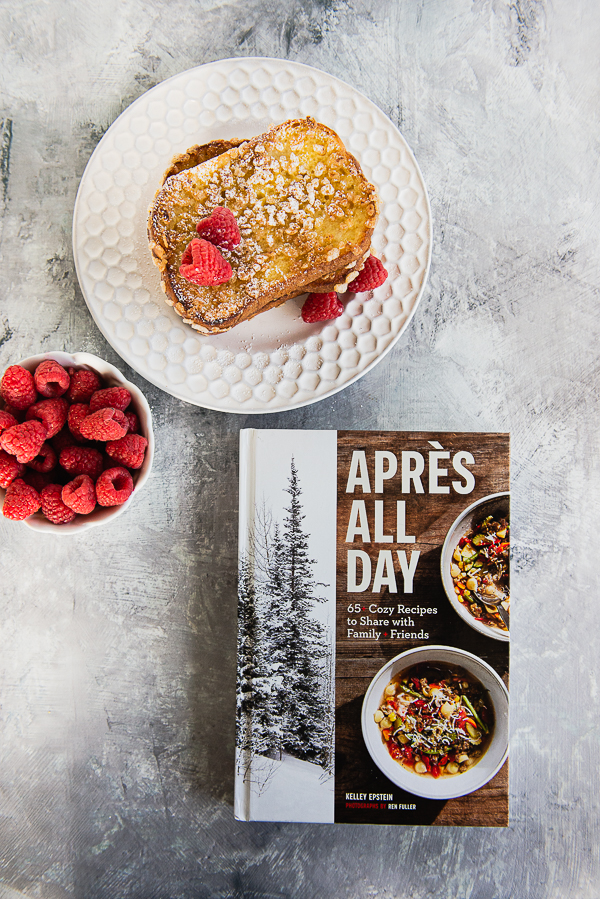 Après All Day, 65 Cozy Recipes to Share with Family & Friends by Kelley Epstein
I met Kelley from Mountain Mama Cooks years and years ago and we hit it off instantly. Kelley is one of those people who is just so full of life and wisdom. I admire her so much!
Through the years, we've spent time together at retreats and conferences as well as at her own home in Park City, Utah. I consider her a great friend and an excellent cook, so when she published her first cookbook, I knew it would be amazing.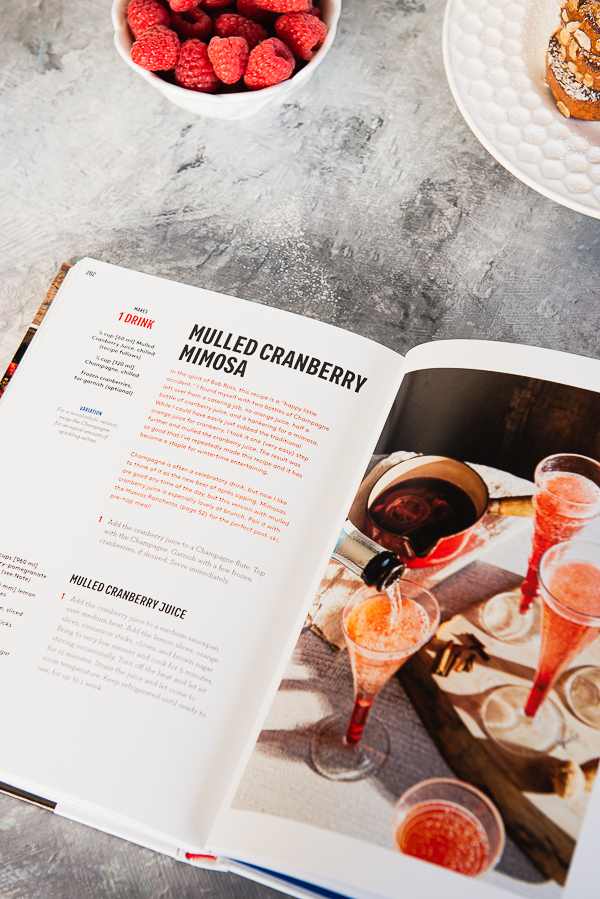 One thing Kelley and I don't have in common is a love for snow and skiing. Kelley is definitely happiest when there's lots of soft powder on the ground and she can hit the slopes. Me? The one weekend I went skiing I had a major mountain meltdown and cried while screaming obscenities at no one in particular. Needless to say, I discovered that when it comes to snow sports, my favorite place to be is in the ski lodge sitting by the fire, not snow sporting.
Luckily, Kelley's cookbook is for all of us…snow lovers and not, whatever your own personal preference. Après All Day is full of special food and drink recipes for those who are hitting the slopes and those who prefer to watch from the comfort of the warm indoors.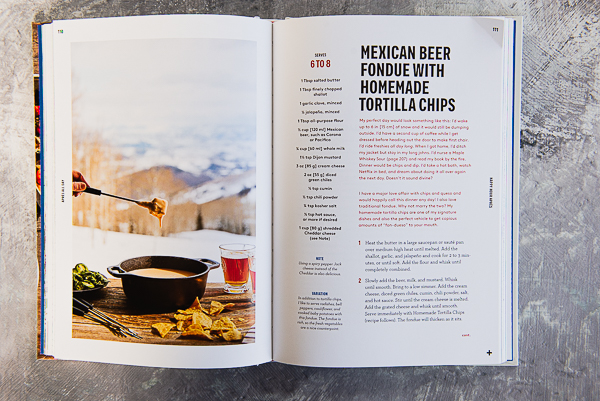 In Après All Day, you'll find breakfast recipes to fuel you up for a day of skiing or just enjoying a slow, Sunday morning. Midday Après for a lunchtime reprieve. The happy hour appetizers and drink recipes are my favorites (Snickerdoodle Coffee and Mexican Beer Fondue, anyone?). In addition, Kelley included family-style recipes as well as fun ideas for ways to have fun in the mountains. I love her list of favorite family board games and perfect snowstorm novels.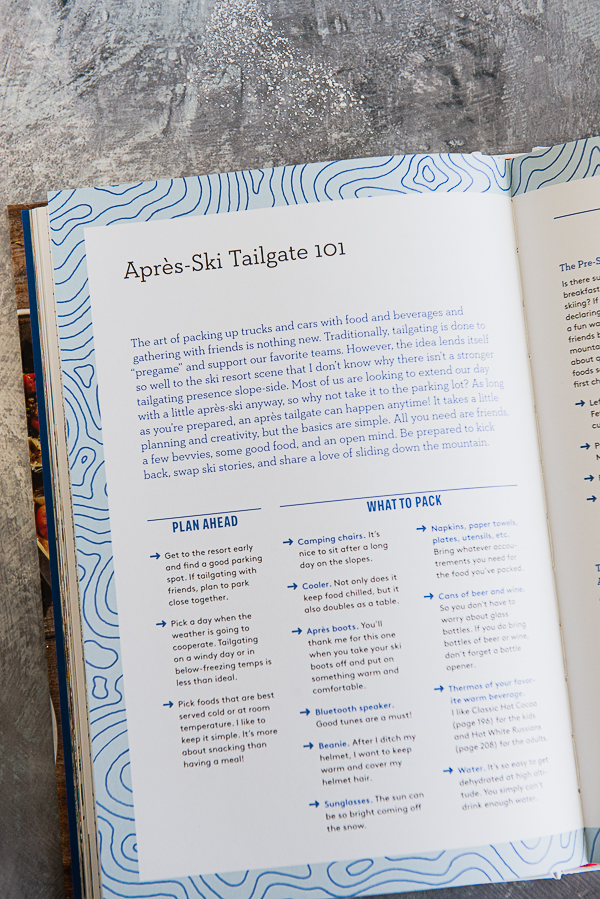 Whether you are the enthusiastic snow-loving type, or your preference is to have a cozy indoor seat to all the action, the Après All Day cookbook needs to be part of your collection. It's a great cookbook with a lot of heart and soul, just like my friend Kelley. (I also have to give a shoutout to the photographer who shot this cookbook, Ren Fuller. The food images, as well as mountain and ski-related images, are absolutely gorgeous!)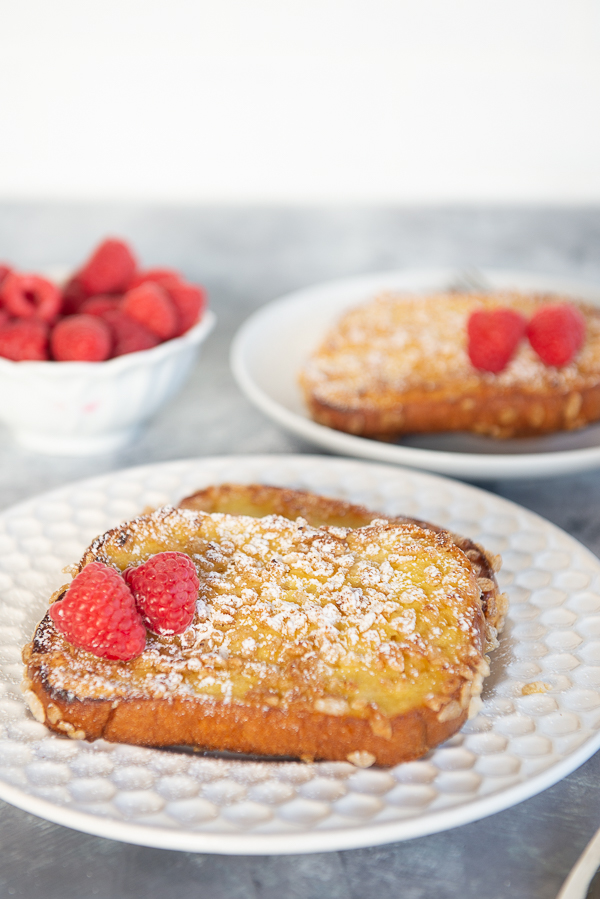 Now, this brings us to this Double Dip French Toast recipe.
The Crispy Kahlua French Toast recipe from Après All Day is a distinctive dish on its own, without the double-dip treatment. I mean, when you dip bread in Rice Krispies to create extra crunch that's brilliant. But I just can't stop double dipping, so I had to try this method on Kelley's recipe.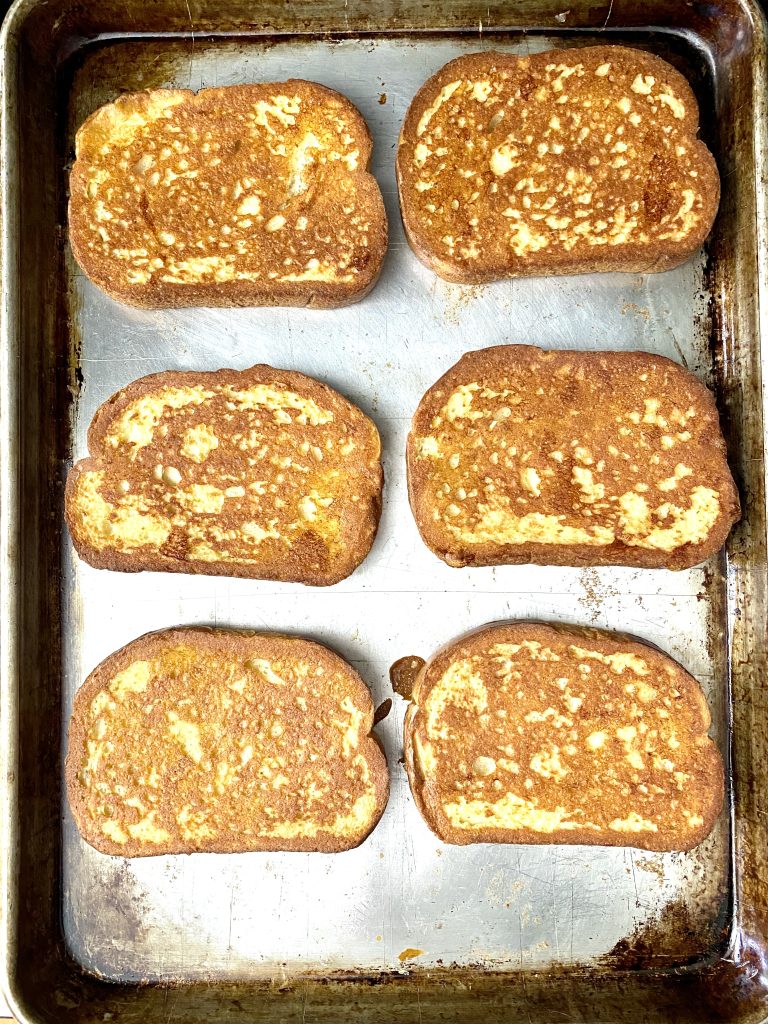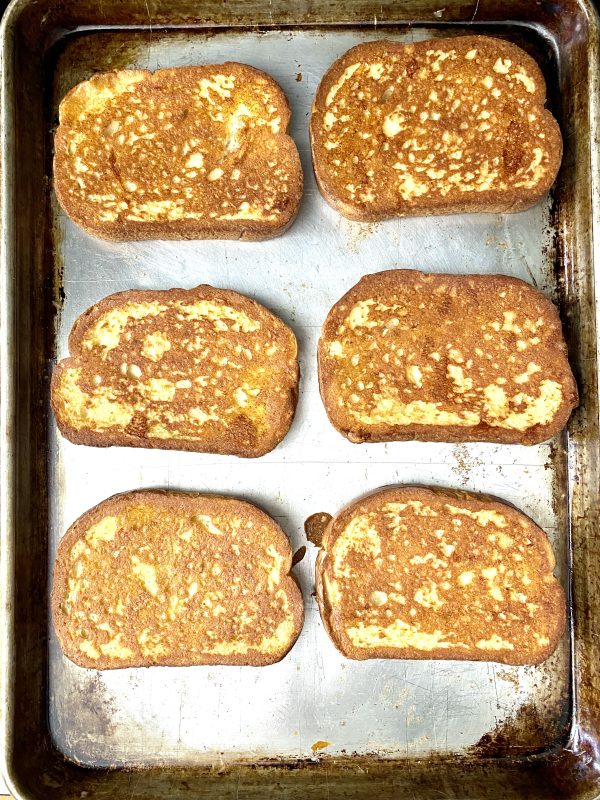 What equipment do I need to make Double Dip French Toast?
This method requires a few more dishes than you would need if you were making regular French Toast, but the extra dishes are completely worth it, I promise! Here are some of the things I recommend to use when making this recipe.
Large mixing bowl
Whisk
Separate bowl for Rice Krispies (a small bowl or shallow dish like a pie plate or large plate works great)
Large baking sheet lined with parchment paper
Large frying pan (a cast iron pan works GREAT) OR
an electric griddle (this is my favorite griddle)
Spatula for flipping

What ingredients do I need to make this Double Dip French Toast recipe?
Although the steps to take in making this recipe are more involved, the ingredients are actually really simple. You will need (see the full ingredients list and instructions in the recipe card below):
Bread – the best bread for French Toast is a thick-sliced Texas-style bread, brioche, sourdough bread or you can use challah bread as well. For the best results, the right bread is most important. Whatever you choose needs to be thick enough to soak bread slices in the milk batter custard mixture without turning into soggy French toast. (Day old stale bread of the above varieties is the foolproof way to have great results every time!).
Large eggs
Kahlua coffee liqueur
Vanilla extract
Rice Krispies cereal
Whole milk
Vegetable Oil
Butter

What should I top French Toast with before serving?
There are so many different ways you can serve French Toast. Here are a couple of ideas:
Melted butter and powdered sugar (this will always be my favorite, hands down)
Traditional syrup (I grew up having only pure maple syrup on French Toast, but there are so many new flavors of syrup – experiment!)
Peanut butter
Cinnamon Sugar (my second favorite topping for French Toast)
Fresh Fruit
Whipped cream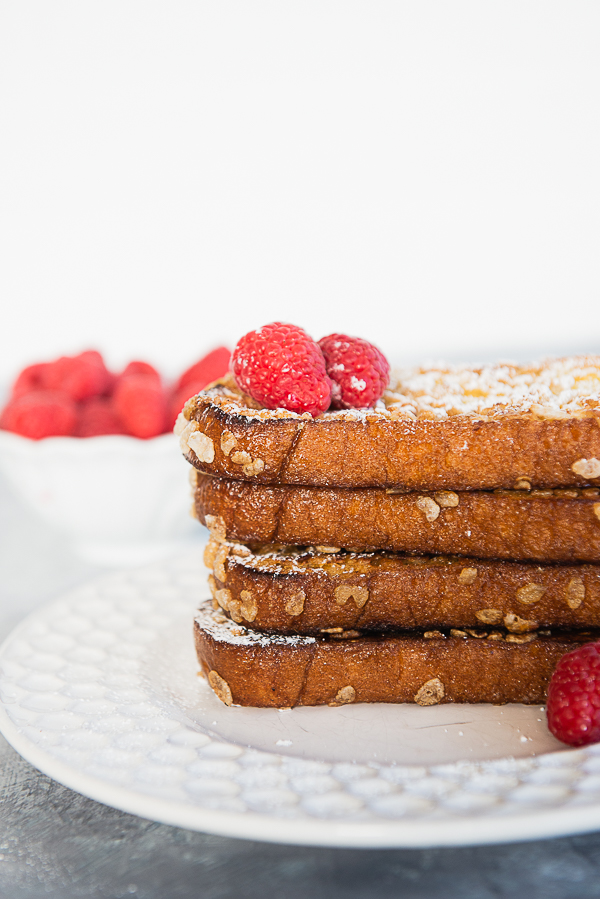 As you'll see in the recipe card below, this is a little bit different than your classic French Toast recipe, but I definitely encourage you to give it a try! Don't worry…if you are in the mood for an easy French Toast recipe, you can try my Fluffy French Toast or Overnight Baked French Toast recipe too. Enjoy!
Double Dip French Toast Recipe
Give your French Toast the Double Dip treatment and find out how good French Toast really can be!
Equipment
baking sheet

large skillet

large mixing bowl

shallow plate / bowl / pie plate

whisk

spatula
Ingredients
4

large eggs

3/4

cup

whole milk

1/4

cup

Kahlua coffee liqueur

(Use heavy cream in place of liqueur if desired)

1

Tablespoon

sugar

1/2

teaspoon

kosher salt

8

slices

thick cut bread

Challah, brioche, Texas Toast, etc

3

cups

Rice Krispies cereal

2

Tablespoons

vegetable oil

2

Tablespoons

salted butter
Instructions
Preheat oven to 350°F. Line a cookie sheet with parchment paper or spray with non-stick cooking spray.

Add the eggs, milk, Kahlua, vanilla, sugar and salt to a blender and pulse until combined. You can also accomplish this by whisking ingredients together in a large bowl. Transfer the mixture to a shallow dish, such as a pie plate.

Add the Rice Krispies cereal to a separate shallow dish.

Dip each piece of bread into the egg mixture, flipping to soak both sides. Place dipped bread slices onto the lined cookie sheet. Bake for 15 minutes, flipping bread over at the half way mark.

Remove from oven and allow to cool. Once cooled, melt butter and oil in a large skillet or electric griddle over medium heat (350°F).

Re-dip baked bread into the egg mixture, flipping to coat both sides. Then, dredge dipped bread through Rice Krispies, pressing to coat both sides. Add the bread slices to the skillet and cook for 2-3 minutes on each side, adjusting the heat so the cereal doesn't burn. Serve immediately with toppings of your choice.
Notes
Recipe adapted from the cookbook Apres All Day by Kelley Epstein.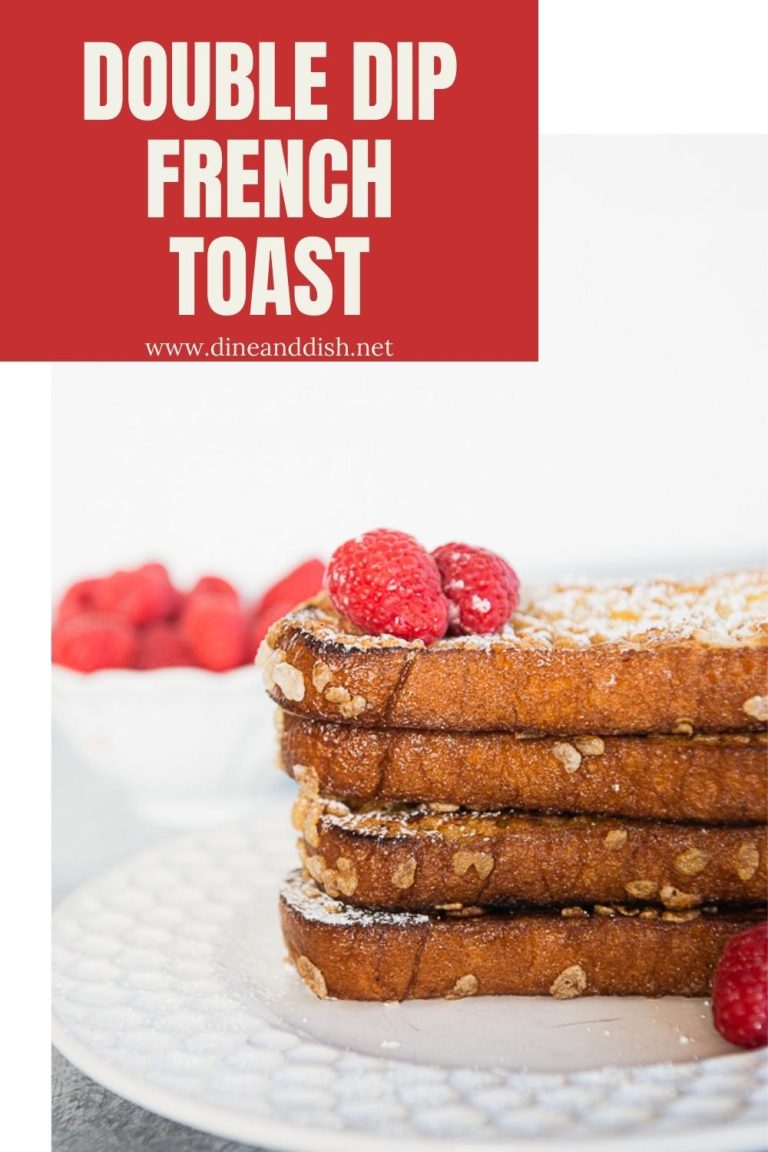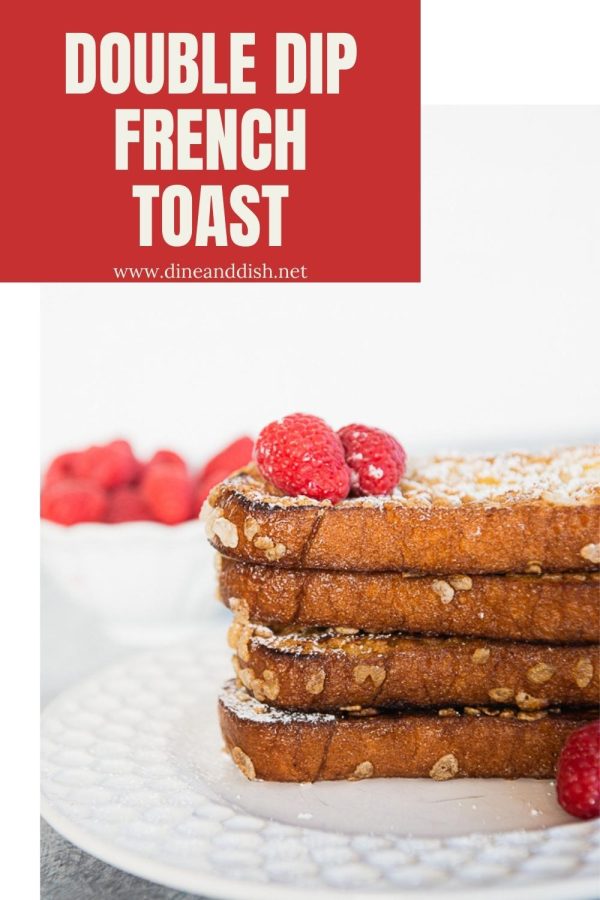 Disclosure: This blog post contains affiliate links. As an Amazon Associate, I earn from qualifying purchases.