This Black Pepper Parmesan Linguine recipe is the perfect lunch or dinner for two, made even better with the perfect Drink and Cheese pairing, thanks to the Cheese Cupid App.
I tend to over complicate things. Surely I'm not the only one that sometimes forgets simple can sometimes be best.
Take this Black Pepper Parmesan Linguine recipe. It's about as simple of a recipe as you can get, yet I rarely think to make things like this. The funny thing is, when I make simple recipes like this one, I am quickly reminded about how delicious simple can be!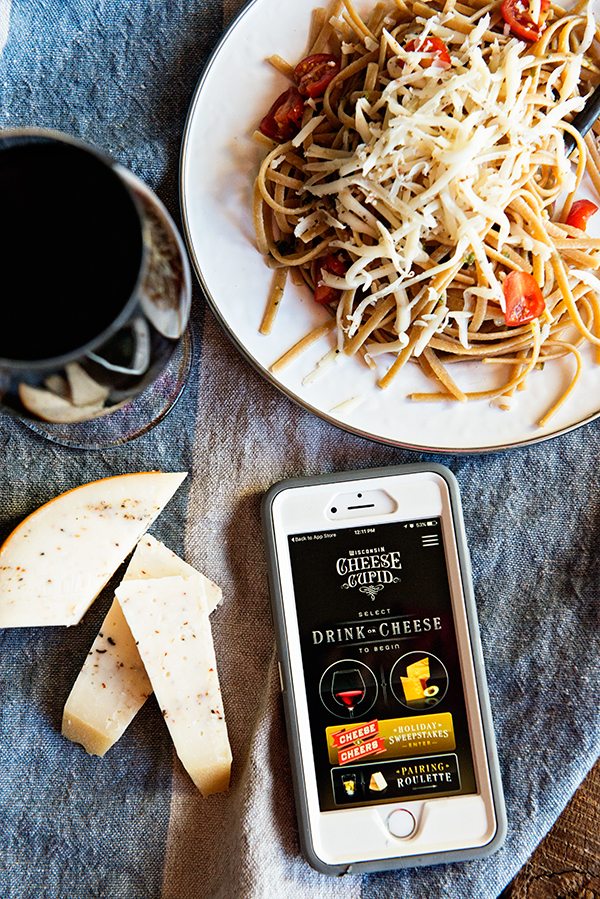 This entire meal was inspired by the folks over at Wisconsin Cheese. They've created a "simplifying" app called Cheese Cupid. With the Cheese Cupid app you can simply find the perfect beverage pairing to go with a specific type of cheese. Or vice versa (the perfect cheese pairing to go with a certain drink). And talk about simple… all you have to do when using the app is choose either your beverage or your cheese type, and it gives you a multitude of suggestions to pair it with.
For example, I had a block of Black Pepper Bellavitano (Parmesan) by Sartori and I wanted the perfect beverage to go with it. The Cheese Cupid App told me that my favorite wine, Malbec, would be a perfect pairing. It also mentioned that some beverages like Bourbon, Brandy and Rum would be great pairing options as well. In addition, the handy little voice suggested pasta with parmesan, and I was sold. Before I knew it I had my Malbec poured, my linguine cooking, and my parmesan cheese ready to be the star of the recipe.
Head over to the Wisconsin Cheese Cheese Cupid Website to download the free app today and start rocking your cheese and beverage pairings. Also, head over to the Wisconsin Cheese Cupid Facebook page, where they are giving away a bourbon decanter, Glencairn whiskey glasses and $50 of cheese. One fan will be chosen as the winner after 12/20.
And now, on to this simple, yet perfect Black Pepper Parmesan Linguine Recipe! (Great for lunch or a special date night!) Enjoy!
Black Pepper Parmesan Linguine Recipe
A simple yet wonderful linguine pasta recipe with black pepper parmesan and tomatoes.
Ingredients
2

servings Whole Wheat Linguine Pasta

cooked and kept warm

1

Tablespoon

olive oil

1

teaspoon

oregano

1/4

cup

cherry tomatoes

cut into halves

1/2

cup

Black Pepper Bellavitano

Parmesan by Sartori, freshly shredded

Kosher Salt and Fresh Black Pepper to taste
Instructions
Toss cooked linguini with olive oil, oregano and cherry tomatoes.

Top with shredded Black Pepper Parmesan Cheese.

Sprinkle with Kosher Salt and freshly cracked black pepper, if desired.
 Disclosure: Thank you to Wisconsin Cheese for being a sponsor of Dine & Dish. All opinions expressed are my own.