Thank you all so much for sharing your favorite mushroom recipes over the past 2 weeks. With your help, we were able to bring awareness to The Mushroom Industry's initiative to "Go Pink" for breast cancer awareness! As you know from my earlier post featuring my Creamy Mushroom and 3 Bean Soup, this is a cause close to my heart. We've been swapping out meat for mushrooms in some of our favorite recipes to give our meals a healthy boost with the wonderful benefits of mushrooms.
Below, you'll find links to some wonderful recipes featuring fresh mushrooms. But first, congratulations to Donna from Cooistry for winning the random drawing for a gift card and mushroom apron from The Mushroom Channel. Donna shared a wonderful recipe for Mushroom Stroganoff, which is a perfect example of swapping out meat for mushrooms in a classic recipe! Now, on to the wonderful collection of Mushroom Recipes!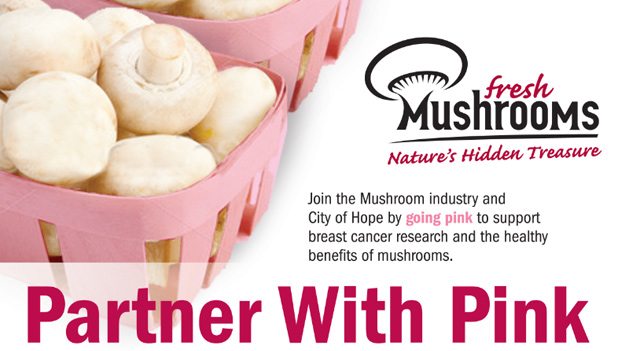 Mushroom Recipe Roundup
Quinoa Fried Rice with Mushrooms from Vega Recipe Center
Tater Tot Bake from AllRecipes
Mushroom Stroganoff from Cookistry
Morel Stock from Muscoda
Chanterelle Popcorn from Chow
Mushrooms that Taste Like Bacon from Chef Elliott
Easy Chicken Stroganoff from Lauren
Goat Cheese Stuffed Mushrooms from What Micky Eats
Bacon Mushroom Quiche from What Micky Eats
Mushroom and Wild Rice Bisque from Corks & Cake
Sautéed Veggie Relish from Kleinworth & Co
Spinach Mushroom Lasagna from Mary
Mushroom Rice Pilaf from Kraft Foods
Shitake Miso Soup from Omeletta
Raw Asparagus and Mushroom Salad from Gourmande in the Kitchen
Mushroom Stroganoff from Chez Us
Mushroom Toast Provencale Style from Tracy
Steakhouse Sautéed Mushrooms from Plain Chicken
Cream of Mushroom Soup from Simply Scratch
Balsamic-Dijon Roasted Green Beans and Mushrooms from The Little Yellow Kitchen
Homemade Gnocchi and Mushroom Sauce from The Little Yellow Kitchen
Mushroom Kale and Parmesan Bread Pudding from The Little Yellow Kitchen
Thank you again to all who submitted recipes. As always, for additional mushroom ideas and recipes, visit The Mushroom Channel Blog.
Disclosure: This is a sponsored post on behalf of The Mushroom Council. As always, all opinions expressed are my own.