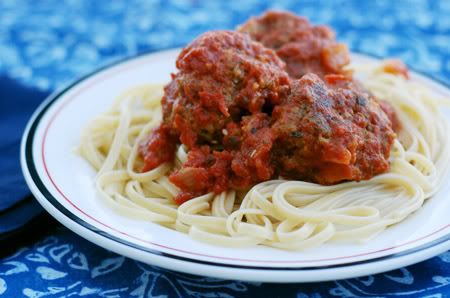 Carol's cookbook, Table Talk, continues to be extremely popular in my house. My love for this book has only increased with each recipe I try! I have decided that it would only be fair to give one of you the chance to win a copy of this fantastic cookbook. For dinner tonight, we had Tried and True Meatballs with Zingy Red Sauce. My husband's comments, "These were the best meatballs with sauce and pasta you have ever made!". Want the recipe? Get the book 😉
Gathering together at least once a day for a family meal is very important. Because of that, I am also going to include in this giveaway Food for Talk by my friend Julienne Smith. Food for Talk is a box of conversation starters for families and friends to use at meal time to get the conversation flowing.
Entering to win is simple. First, head over to Carol's website and check out Table Talk. After you have done that, come back and leave one comment on this post. Please fill out the form with your name, email address and blog address. If you don't have a blog, that is fine. Just make sure you let me know how I can get a hold of you.
All entries must be received by Midnight CST on Wednesday, July 23rd.