Food and Wine magazine always seems to come at the perfect time of the month for me. We were all loading into the car to make the 6 hour trek to the in-laws house in Iowa when I decided to run and get the mail first. When I opened up the mailbox and saw the copy of one of my favorite magazines, I knew my itty bitty booklight and I would be busy on the dark drive. Thank God we had the portable DVD player to entertain the children. I would finally have some precious reading time, and a great magazine to share that time with.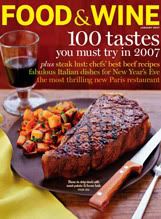 For the past few weeks, I've been considering what I want some of my 2007 goals to be. I've committed to the TBR challenge, I've set a goal to have one dinner party a month in the year 2007, and I'm in the process of revising my 43 Things to include some goals to complete in the coming year. As I was reading January 2007 issue of Food and Wine, I was intrigued by the main article of the magazine entitled "100 Tastes to Try in 2007". As I was browsing through the suggestions, a thought crossed my mind. "I should take the editors of Food and Wine up on their challenge and really taste the 100 things they suggest to try in 2007." So, that's what I'm going to do. There are some things I won't be able to do. I won't be able to go to some of the restaurants they recommend because they aren't in places I plan on visiting this year. If possible, I might try to find some people in different regions to report back on the things that I will not be able to try.
What am I looking forward to tasting the most? There are so many things, especially some really great recipes from professional chefs, but I can't wait to give their recipe for Brûléed Key Lime Tarts a try. What am I going to try, but may have to choke it down? There are a few cheeses that hopefully surprise me.
This month's issue of Food and Wine magazine is a great one and it has definitely inspired me to challenge myself to stretch my horizons some. Hopefully you'll pick up the issue and be inspired as well.