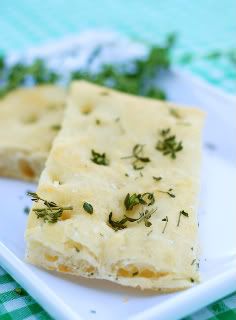 I was traveling in the car last week on the way to South Padre for vacation when when a message popped up on my Twitter account about the loss of wonderful food blogger. Sher, of the blog What Did You Eat? passed away suddenly from a heart attack last week and has since left huge void among her blogging friends.
I did not know Sher very well on a personal level, but at one point early on in my blogging life, she helped me immensely with answering some questions about growing an herb garden… how to do it, what herbs to include, etc. She was selfless with her time and I appreicated it greatly.
Upon returning from vacation, I discovered that my husband had forgotten to water my herb garden. My poor herbs were brown, crispy, and no longer viable. As I was digging them out, preparing the soil for some new plants, I couldn't help but think of Sher and her lovely blog.
One thing that hit me as I read through some of Sher's past posts, is that she has certainly left a wonderful gift to her family and friends through her blog posts. Through blogging, we have all been able to get a glimpse into Sher's life that we would not have had otherwise. Through our blogs, we are all giving this gift to the current and future generations. A permanent place in the world where our "legacy", of sorts, will live on.
My heart goes out to Sher's family and friends. I am thankful to have known Sher through her blog and appreciate the opportunity to be inspired by such a kind, funny and remarkable woman.
The recipe I made tonight for Sher's tribute (go to Glenna's blog for more details) was not from Sher's blog, but because of the herbs involved, it reminded me of Sher and her contribution to my herb garden.
Garlic-Thyme Foccaccia (from Cooking Light)
1 teaspoon sugar
1 package dry yeast (about 2 1/4 teaspoons)
1 cup warm water (100° to 110°)
1/2 teaspoon fine sea salt
2 1/3 cups plus 2 tablespoons all-purpose flour, divided (about 11 1/4 ounces)
Cooking spray
1 tablespoon olive oil
2 garlic cloves, thinly sliced
1 tablespoon chopped fresh thyme
3/4 teaspoon coarse sea salt
Dissolve sugar and yeast in 1 cup warm water in a large bowl; let stand 5 minutes. Stir in fine sea salt. Lightly spoon flour into dry measuring cups and spoons; level with a knife. Add 2 cups plus 2 tablespoons flour, stirring to form a soft dough. Turn dough out onto a floured surface. Knead dough until smooth and elastic (about 8 minutes); add enough of remaining 1/3 cup flour, 1 tablespoon at a time, to prevent dough from sticking to hands.Place dough in a large bowl coated with cooking spray, turning to coat top. Cover and let rise in a warm place (85°), free from drafts, 45 minutes or until doubled in size. (Gently press two fingers into dough. If indentation remains, dough has risen enough.)
Heat oil in a small skillet over medium-low heat. Add garlic; cook 5 minutes or until fragrant. Remove garlic from oil with a slotted spoon; discard garlic, and remove pan from heat.
Place dough on a baking sheet coated with cooking spray; pat into a 12 x 8-inch rectangle. Brush garlic oil over dough; sprinkle with thyme. Cover and let rise 25 minutes or until doubled in size.
Preheat oven to 425°.
Make indentations in top of dough using the handle of a wooden spoon or your fingertips; sprinkle dough evenly with coarse sea salt. Bake at 425° for 14 minutes or until lightly browned. Remove from pan; cool on a wire rack.
Yield: 10 servings (serving size: 1 piece)