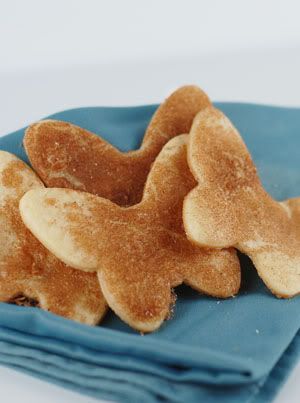 Would you believe that I have been a mom for 7 years and until recently I have never read a parenting book. The last book I picked up that had anything to do with parenting was What to Expect When Your Expecting. Trust me… it is not that I think I have all the answers. I know I don't. I know I am not a perfect parent and that reading up on some parenting books would probably do me some good. My problem is, I know so many people who read parenting books and then that book becomes bible to them. "This author says you should let infants cry it out… don't feed that baby until four hours have passed or you will spoil him." "If you don't give your child choices, they will have poor self esteem. You should really practice Love & Logic with him."
I guess I would say I parent mostly based on my instincts. I rely a lot on advice from other moms, blogs and my own family. I know a lot of people who do read the parenting books and they waste no time at all in passing on the information to me 🙂 One of the biggest reasons I have avoided parenting books is because I always had the feeling that I would question my own parenting instincts after reading one. I did not want to feel extra guilty about the job I was doing as a parent simply because someone else did not agree with how I did something.
Recently, Naomi of Rock-n-Tot, Tracing Handprints and Being Savvy Cleveland stopped by my blog and commented on my post about Jacob, Parenting With a Heavy Heart. That day, I took a look at her blog and was intrigued by a parenting book she had reviewed on her site titled "Even June Cleaver Would Forget the Juice Box."  You may remember back to the beginning of the school year when I realized the day of that I forgot my daughters 1st day of preschool. How about when we had the lovely situation where Kelly completely undid her car seat while driving down the interstate and my day ended in being puked on. Another gem.. the day I locked both girls in the car at the grocery store parking lot? Those were all days where I lost the Mother of the Year award (and the reason I started investing in a therapy fund for them for their adult years). Those parenting moments where you feel so guilty and so inept to be a parent and just know in your heart of hearts that you are the only mom in the world who would have this experience with their kids.
Parenting these days seems to be done in extreme measures. If your child hasn't already had 3 years of soccer under their belt by the time they are 7, good luck finding a team that will take them. Mom's are shuttling kids each and every day after school to this extra curricular activity or that. Birthday parties… oh don't get me started on the birthday parties. Gone are the days of a simple cake and ice cream party, here are the days of traveling petting zoos, tot makeovers and live bands. It has all gotten to be a bit rediculous to see the pressure moms have on them to keep up with each other and to be "perfect".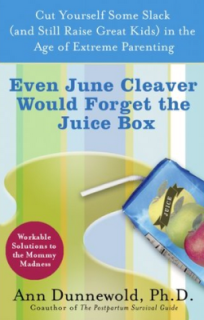 Enter Even June Cleaver Would Forget the Juice Box by Ann Dunnewold, Ph.D. This book needs to be in the hands of every mother on planet earth. Give it away at baby showers. Have a neighborhood book club featuring this book. Do something, please, so that mom's all over the world can realize that there is no need to be a perfect parent. From the back cover, "Follow your gut, not your guilt. Connect with instead of compete with other mothers. Curb your need to overprotect, overperfect, or overproduce."
Parenting books aren't my thing, but if they were all as real as this one, I think I'd be singing a different tune. Namoi graciously sent me an extra copy to give to one of my readers. If you don't win a copy, be certain to pick up a copy at your local library or head to your neighborhood bookstore and pick one up. It is an attitude shifting book that every mom needs to read! To win, please leave a comment on this post telling me what the best piece of parenting/marriage/life advice was you have ever received. All comments must have a valid email address. Deadline to enter is Tuesday, December 9th midnight CST.
And, since this is a cooking blog, I am adding a "recipe" if you can call it that for one of my kids favorite and simple treats. If I don't have enough left over pie crust when making a pie to make them these cookies, I'm in big trouble with them!
Pie Crust Cookies
Use this pie crust recipe or your favorite pie crust recipe… it works either way!
2 cups all-purpose flour
3 tablespoons sugar
1/2 teaspoon salt
1/2 cup cold vegetable shortening
1/4 cup (1/2 stick) cold unsalted butter, cut into bits
1 teaspoon lemon juice or cider vinegar
5 to 6 tablespoons ice water
3 tablespoons sugar mixed with 2 teaspoons cinnamon
Place flour, sugar, and salt in a mixing bowl or a food processor bowl. Mix thoroughly. Cut in shortening and butter until mixture resembles coarse crumbs. Add lemon juice or vinegar and enough ice water to make a dough that just clings together. Cover dough with plastic wrap or foil and refrigerate for 30 minutes.
Preheat oven to 400 degrees F.
Roll dough our on a lightly floured board or pastry cloth to 1/8-inch thick. Cut into desired shapes. Transfer to ungreased cookie sheets. Sprinkle with cinnamon sugar.
Bake in the center of the oven for 9-11 minutes, until golden. Remove to wire racks to cool.
Updated 12/10/2008 – And the winner is…. Stephanie from Fun Foods on a Budget. Congratulations, Stephanie!