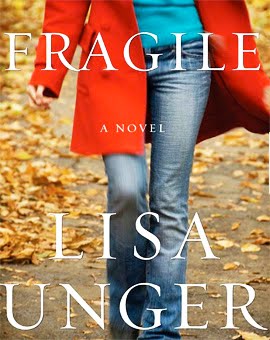 I'm not sure what first drew me to the book Fragile, by Lisa Unger. Knowing me it was probably the cover image… I tend to be one who totally judges a book by the cover.
After checking out some of the great reviews of Fragile by my friends on Goodreads, I decided to give this book a go.
Fragile would best be described as suspenseful. The setting is a small town… the plot of a teenage girl gone missing brings back memories from years before when the same town had been shaken when a high school girl disappeared and was later found murdered. The characters weave in and out of the past and the present, bringing the them to face and finally talk frankly about the events that were hidden and not talked about from years before.
Did I love Fragile? Not as much as I thought I would based on the Goodreads reviews. I liked it enough.. gave it a 3 stars out of 5 rating on Goodreads. I'm not disappointed that I read this book at all, but I wouldn't rate it up there with my favorite books.
Next up for me is Prayers and Lies by Sherri Woods Emmons. I picked this up while on spring break this week and hope to get some reading in while I'm off at the beach. I'll let you know how I like it!
What have you read lately?
Disclosure: This blog post contains affiliate links. As an Amazon Associate, I earn from qualifying purchases.