When we first discovered Ella was struggling in school, one of her teachers suggested giving her a healthy, protein packed start to her day. We had heard that foods such as milk, cheese, yogurt and other protein packed breakfast items, versus a carb laden breakfast, could help kids remain focused and stay fueled until lunchtime. I didn't really give much thought as to how breakfast nutrition played a part in learning at school with my other kids, but that was before we had a child who wasn't achieving as well as she could in school. If there was something as simple as changing her breakfast routine that could jumpstart her day and keep her rearing to go until lunch time, you can bet I was going to try it. 
Lucky for me, Ella loves breakfast and has taken well to dairy rich breakfasts packed with protein. Even if she does have cereal, we always make sure it is complimented by a big glass of milk or a side of Greek yogurt. Has it helped her in school? I personally think that getting a healthy start to her day has helped to curb her hunger until lunch, which has to mean she's more focused on school work versus her growling tummy. We've seen improvements in her behavior as well as her school work, so I have to believe this simple change in diet is helping!
According to The Midwest Dairy Association…
To me, that just makes sense… why not give our kids a head start each day with a healthy breakfast full of high quality protein? I know for us, if it can make even the slightest difference, we want to do it. For a child that starts each day a little behind the rest, whatever we can do to help her get ahead before she heads off to school, we will do.
For more information on how a healthy start to the morning can effect kids focus and attention at school, head over to The Midwest Dairy Association website. It's packed with great recipe ideas, inspiring stories and solid nutrition facts.
One of the breakfast recipes we've become quite fond of over the past couple of years is a quiche, packed with broccoli slaw, of all things as well as cheesy goodness. This is one breakfast I feel great about making for Ella, and my other kids, to give them a great start to their day. Enjoy!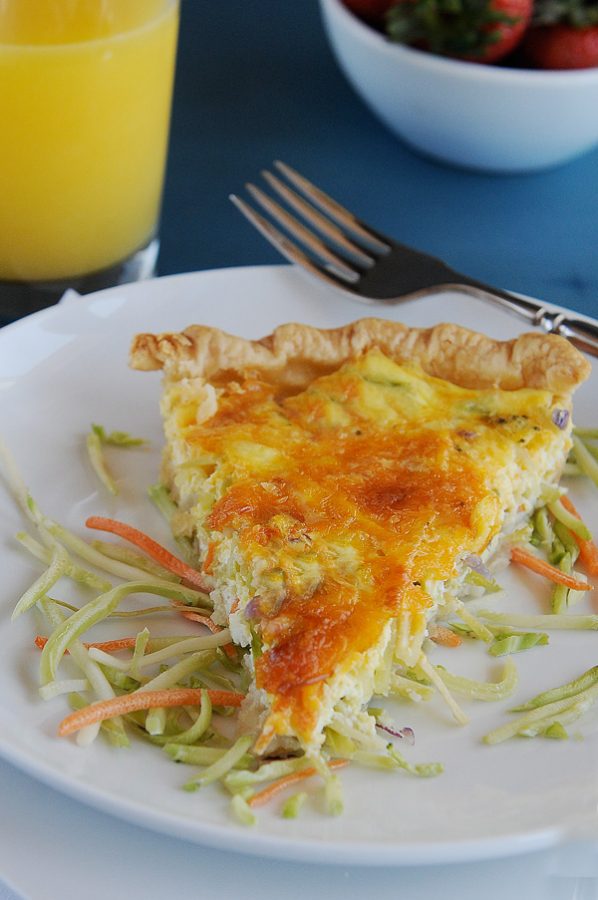 Cheesy Slaw Quiche
A cheesy, protein packed breakfast quiche for a healthy jumpstart to your day!
Ingredients
4

large eggs

1

cup

whole milk

2

large garlic cloves

finely chopped

1/4

teaspoon

Kosher salt

1/4

teaspoon

cracked black pepper

1

9-inch unbaked pie crust

1-1/2

cups

DOLE® Broccoli Slaw

1-1/2

cups

mild cheddar cheese

shredded

1/4

cup

Parmigiano-Reggiano cheese

grated
Instructions
Preheat oven to 375°F

Whisk together, eggs, milk, garlic, salt and pepper in a large bowl until smooth.

Pour filling into 9-inch pie crust. Distribute broccoli slaw evenly over egg mixture.

Sprinkle with cheeses and place on a cookie sheet and into the oven.

Bake 30 to 35 minutes or until custard is just set.

Cool at least 20 minutes.
Disclosure: I am honored to be partnering in a compensated capacity with Midwest Dairy Association to create recipes and share information about the importance of a healthy lifestyle. As always, all opinions expressed are my own!