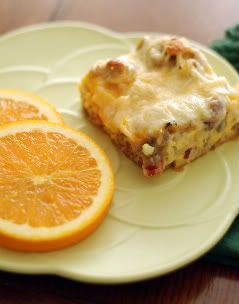 It is a fact of life that little things happening in the morning can really impact your mood and how the rest of your day goes. Waking up to a puking kid at 5am usually will start the day in a downward spiral. Having your hair turn out just right equates to a good day. Realizing that your car's gas tank is on empty and you are already running late for where you need to be? Not a great day. Hearing your favorite song on the radio when you wake up in the morning can make a great start to a day. Losing your contact down the bathroom sink? A bad day is on the horizon.
If your day has started off with a "looks like someone woke up on the wrong side of the bed" frame of mind , don't fret. There is still a way to turn your day around easily without losing it to the bad karma monsters. Start your morning off with a delicious breakfast. Fruit, yogurt, cereal, toast, bagels… take a few minutes out to sit with your family to eat and your day will most certainly start to turn around the right way. (Well, that is if no one spills their milk, or empties a whole box of cereal onto the floors while pulling it down off of the pantry shelf.)
For an extra special start to the day, I like to make breakfast pizza. If you are pressed for time, preparing it the night before and then baking it in the morning works out well.  Guaranteed to turn any down in the dumps outlook into an optimistic frame of mind, this pizza is filling, flavorful and very easy to put together.  Fend off a bad day the right way with the right start. What a difference the right breakfast can make!
Breakfast Pizza
This pizza is filling, flavorful and very easy to put together.
Ingredients
1

lb

ground pork

1 8

oz

package Pillsbury crescent rolls

1

cup

shredded hash browns - thawed

1 4

ounce

can mushrooms

drained

5

slices

bacon

1

cup

shredded Cheddar cheese

1

cup

shredded Mozzarella cheese

5

eggs

1/4

cup

milk

2

Tablespoons

Parmesan cheese
Instructions
Brown pork and drain fat. Cook bacon and blot off grease. Cut bacon into small, bite size pieces. Lightly spray with cooking spray a 9x13 glass cake pan. Press crescent rolls on bottom and up sides of pan. Layer pork, hash browns, mushrooms, bacon, Cheddar and Mozarella cheeses on top of crescent roll dough. In a separate bowl, beat the eggs and milk together. Pour egg and milk mixture over the top of other ingredients in the 9x13 pan. Sprinkle Parmesan cheese over the top. Bake in 350 degree oven for 30-35 minutes.