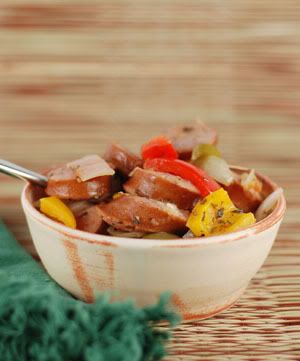 Let's get the big stuff out of the way here real quick. The winner of the wonderful is…. Jenifer from the very funny blog, Nutcase101. Out of 79 comments, the Random Number Generator came up with comment number 18, which belonged to Jenifer. I hope you enjoy the basket, Jenifer, and thanks to Pillsbury for the generous giveaway!
I've been thinking about how life is going to be with four kids. It seems as if the people I know who have more than three kids either live in complete chaos, but really make it work for them or they are totally organized. I'd be dreaming to think that I am going to turn into Martha Stewart by the time May rolls around, but I do think I have a few months to get some good systems back into place. I want to get on top of my menu planning, scheduling, cleaning, freelance writing, hobbying, etc. I think the best way to live, especially with kids, is as simply as possible. No – this doesn't mean we are giving up toilet paper and completely clearing our house out, but I do want to do some major de-cluttering, restructuring and planning.  If I am going to be the best "Mom-in-Chief" of my household, as Michelle Obama likes to call it, then I need to simplify and stick to it.
One way I like to simplify my menus every week is to throw in a few meals that I know I can whip up quickly. There are some nights where eating out just seems easier than cooking, but if you have a few "quick" meals scheduled for your week, you will be less likely to be tempted by the thought of eating out. Two food items that I know I can always turn to for a dinner time quick fix are shrimp and Italian sausage. Shrimp and Italian sausage thaw super quick (which to me is important because I am constantly forgetting to take the meat out of the freezer to thaw out) and cook quickly, don't require a lot of extra ingredients to make a meal out of them, and it shakes up your weekly menu a bit with something besides the typical beef or chicken.
As I begin my goal planning for the next year (which is something I am getting my kiddos involved in too and encourage you to do the same) you'll hopefully be seeing a lot more planned out meals on a weekly basis from me. You can bet that in that rotation you will begin seeing a great deal of things that can be put on the table fairly quickly. I'm going back to basics in order to begin my journey to simplicity.
I adapted this Italian Sausage and Peppers recipe from the Taste of Home website. Talk about simple and delicious… the recipe fits my new plan perfectly!
Italian Sausage and Peppers (adapted from Taste of Home)
Delicious italian sausage and peppers.
Ingredients
1 

lb

Italian sausage

cut into 3/4-inch slices (substitute Italian Turkey Sausage for a healthier meal)

1 

cup

corsely chopped fresh bell pepper

combo of red, green, yellow or all one color

1 

small onion

thinly sliced and quartered

1 

tablespoon

butter

1 

tablespoon

olive oil

2 

tablespoons

chicken broth or beef broth

2

plum tomatoes

coarsely chopped

1 

tablespoon

minced parsley

1/4 

teaspoon

salt

1/4 

teaspoon

pepper

1/2 

teaspoon

lemon juice
Instructions
In a large skillet, cook the sausage over medium heat until no longer pink; drain. Add the remaining ingredients.

Cover and cook for 30 minutes or until vegetables are tender, stirring, occasionally. Serve with a slotted spoon.
Hungry for more simple meals featuring Italian Sausage? Check out what these food bloggers are cooking up:
Rustic Pasta Sauce with Italian Sausage, Onions and Sage from Kalyn's Kitchen

Italian Sausage Tortellini Soup from My Wooden Spoon

Tomatoes Stuffed with Italian Sausage from French Kitchen in America

Italian Sausage Cacciatore from Big Red Kitchen