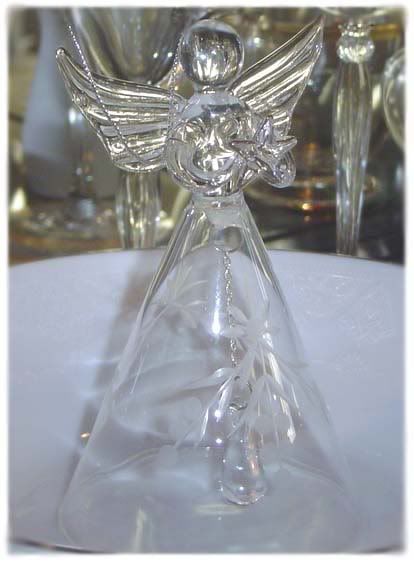 I went to my first official Christmas Party last night. It was  a party with the other members of the M.O.M.S board (Ministry of Mother's Sharing). It was a really nice night with some of my best girlfriends. We had great food, really good wine, and funny and enlightening conversations. Half way through the party we did our Dirty Santa ornament exchange. Those are always fun… you can often tell a lot about a person when we play this kind of game. Sometimes the people that you wouldn't think would play dirty, do, and the people that you think you need to watch out for end up being the open it and keep it type of folks. It was a fun round, with ornament stealing abound.
I ended up with the most beautiful glass Angel ornament, which was brought by Sara. I stole it from my friend Debbie, with optimism that if it ended up being mine, it would survive the season being hung on a Christmas tree with three kids under the age of 5 in the household. I must have had too much to drink, because today I'm not feeling nearly as optimistic. I love this ornament and really don't want it to be broken. I've decided that the safest route will be to display it prominently in our China Cabinet, with our other "fragiles" as Kelly likes to say.
Our hostess, Charlene, gave us each a gift that I thought I'd share with you. It is especially meaningful this time of year when life gets hectic and things tend to spin out of control. I'll leave you with this:
Let Your God Love You
by Edwina Gately
Let your God love you
Be silent.
Be still.
Alone.
Empty Before your God
Say nothing.
Be still.
Let your God look upon you.
That is all.
He knows.
He understands.
He loves you with an enormous love.
He only wants to look upon you with His love.
Quiet.
Still.
Be.
Let your God–Love you.