The perfect green dish – Pesto Shrimp California Avocado Salad – healthy and oh so good!
Have you all heard of "Dinner en Blanc"? I hadn't either, but it's a pretty cool thing where a bunch of guests dressed in white meet for a secret dinner, in an all white decorated location. You can read about this coveted dinner on the Forbes Magazine website. I can guarantee you I will never be a recipient of a "Dinner en Blanc" invitation because me eating while wearing all white and surrounded in all white sounds a bit like a nightmare for this klutz. I'd be the first to spill and stain everything around me.
My friends at California Avocados decided it'd be fun to take an avocado inspired spin on the whole "Dinner en Blanc" idea with "Dinner en Green". Do you see where they are going with this? Dinner, with green accessories and green food. Green, just like the beautiful California Avocado.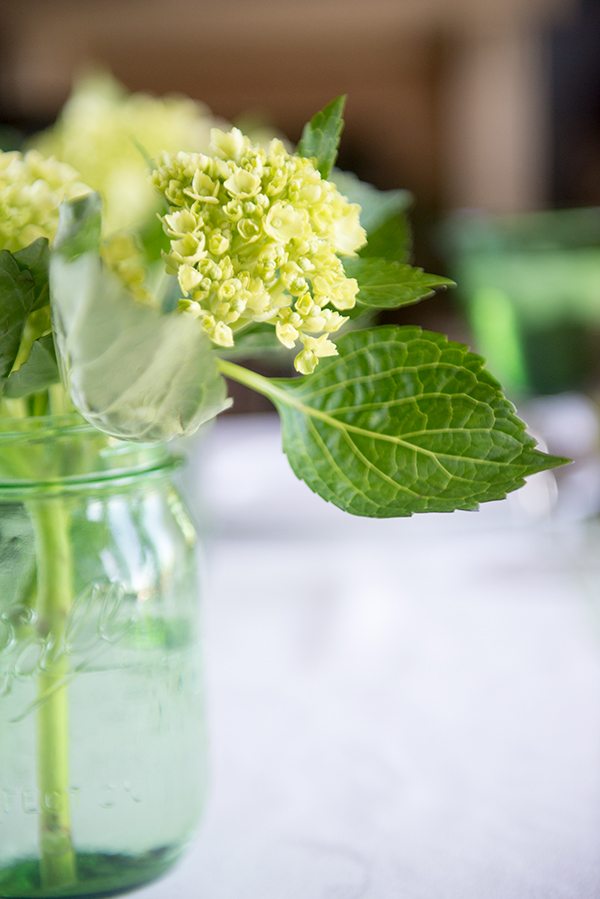 For my contribution to the "Dinner en Green" I decided to make a high protein shrimp salad. I find that the hardest part of eating well is heading into social situations without a plan. So, if I'm in charge of bringing a dish, it's best if I stick to bringing something I know will fit inside the parameters of my high protein, low carb lifestyle. This Pesto Shrimp Avocado Salad definitely fits the bill for that and it's full of all kinds of green goodness to fit the "Dinner en Green" theme!
Give up on the pressure of a pristine "Dinner en Blanco" and give the much more laid back "Dinner en Green" a try, featuring fresh California Avocados. I'd love to see how creative you can get with your green food! Enjoy!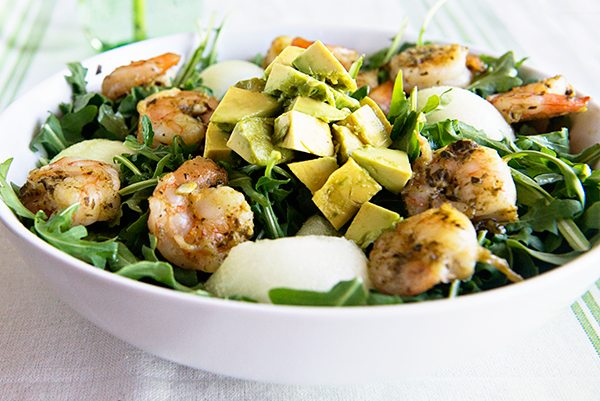 Pesto Shrimp Avocado Salad Recipe
A perfectly protein packed dinner salad with pesto shrimp, fresh California Avocados, and more!
Ingredients
1

tablespoon

Coconut Oil

1

Tablespoon

minced garlic

1

pound

medium shrimp

peeled, deveined and tail removed

1/4

cup

prepared basil pesto

4

cups

arugula

1

small honeydew melon

formed into small melon balls (or 1 inch cubes)

2

California Avocados

peeled and seed removed, cubed

Juice of one small lime

drizzle of white balsamic vinegar

Kosher salt and freshly cracked black pepper

to taste
Instructions
In a medium skillet, heat the coconut oil.

Add the garlic and cook for 2 minutes, until fragrant.

Add the shrimp, and cook over medium heat for 5 minutes, until a light pink.

Stir in the pesto and cook for an additional 2-3 minutes. Set aside.

In a large bowl, assemble the salad starting with the arugula and melon. Top with prepared shrimp, then California Avocado. Drizzle with lime juice, white balsamic vinegar and sprinkle with Kosher Salt and freshly cracked black pepper, to taste.
 Disclosure: This is a sponsored post on behalf of California Avocados. For additional recipes and cooking tips featuring California Avocados, please visit their website.