Slow Cooker Roast Beef Sandwiches are a monthly dinner staple for busy nights.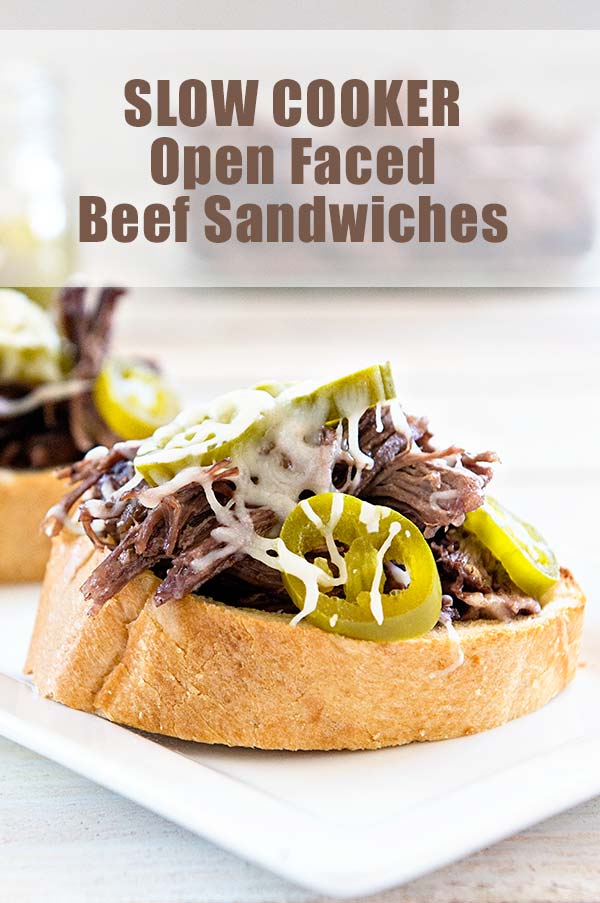 Sometimes there are recipes that I make for my family so often, I am shocked when I realize I've never shared them here on Dine & Dish. These Slow Cooker Roast Beef Sandwiches are one such recipe. You guys, we eat this open faced sandwiches all the time. Truly, we have them at least once a month, and in the 11 years I've been blogging I've never shared the recipe with you. I'm not sure why that is, but today is the day you'll find out all about our favorite slow cooker roast beef sandwiches!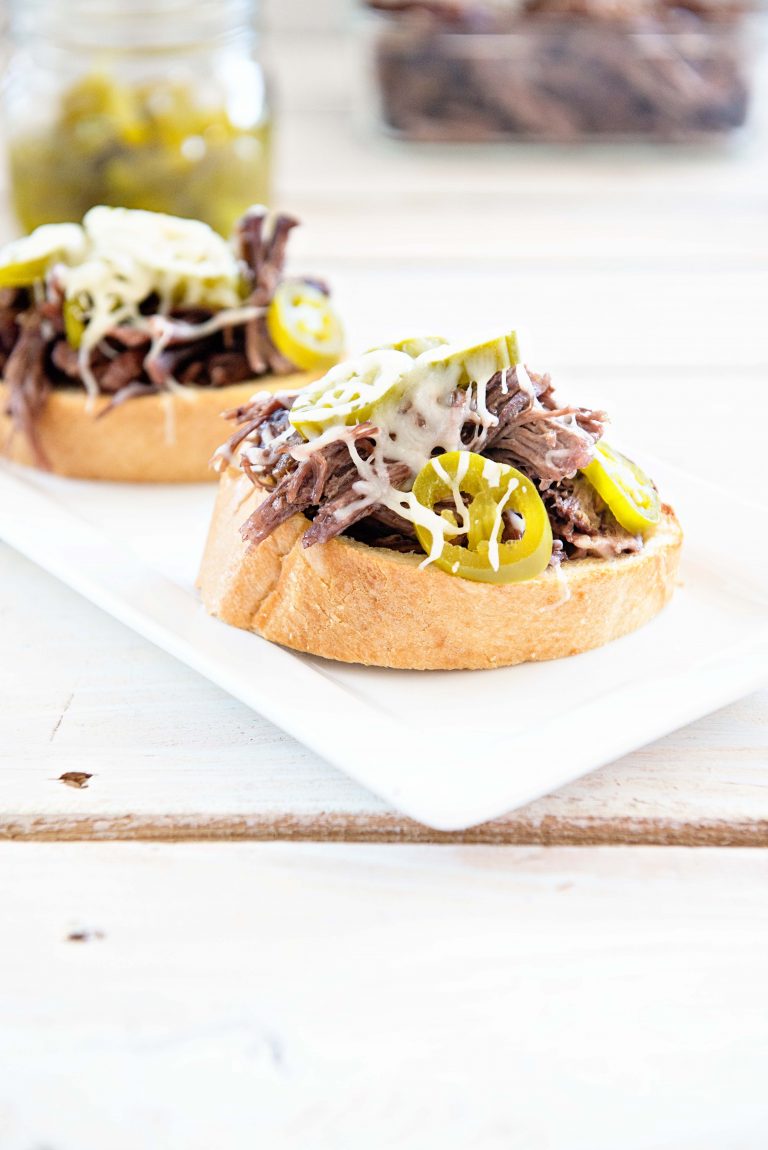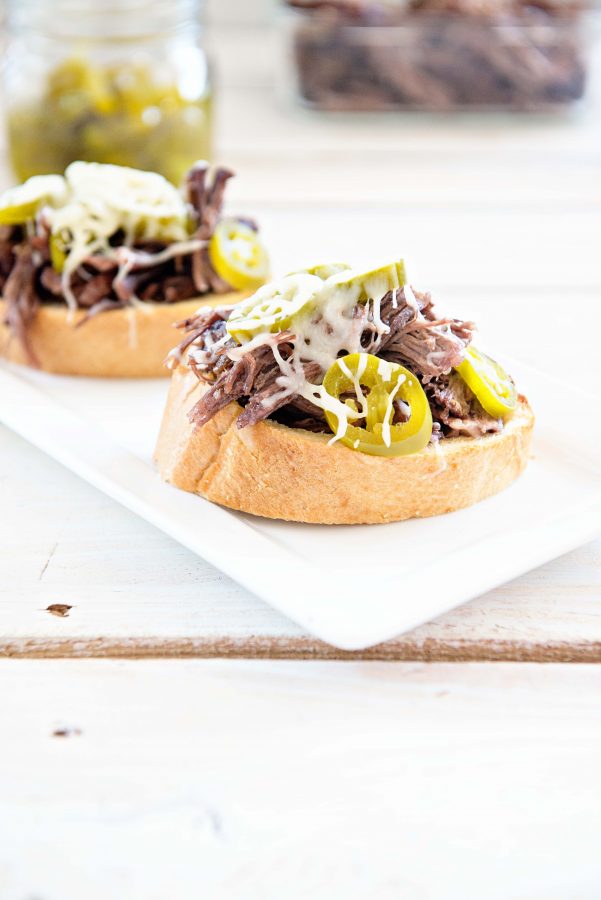 We are big lovers of making chuck roast in the slow cooker. Chuck roast is always something we have on hand in the freezer, mostly because our kids love it, it's easy to cook, and the price is always right. I used to only do roast beef in the slow cooker with potatoes and carrots, but then I started getting more creative.
These slow cooker roast beef sandwiches are the result of wanting something new and fresh to do with a roast beef. As soon as I made them the very first time years and years ago, my kids started requesting them more and more. These open faced sandwiches have quickly become a favorite staple at meal time.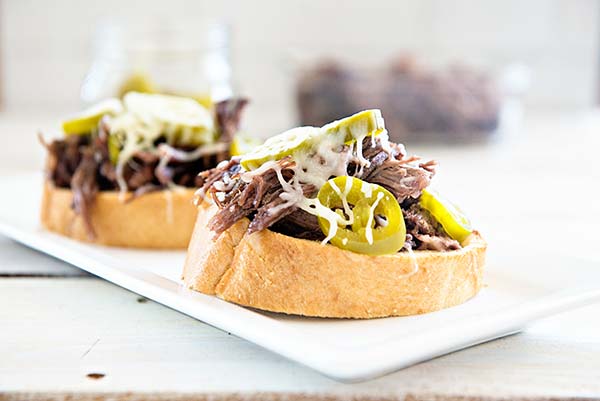 If you have a family of chuck roast lovers but are bored with the way you've been serving it, definitely give these slow cooker roast beef sandwiches a try. They very well may become a favorite dinner in your house as well! Enjoy!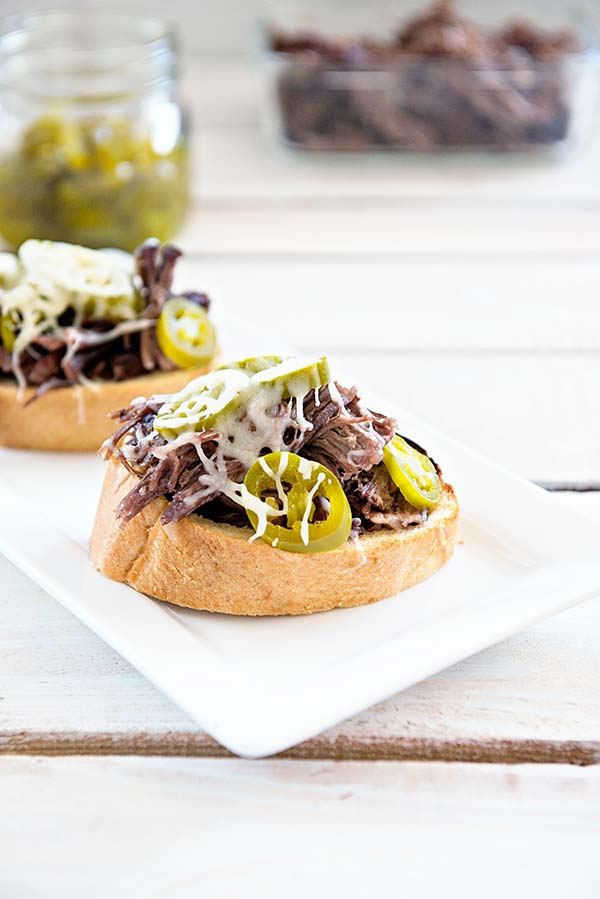 If you are looking for a new slow cooker, I can't say enough great things about this one that we own. We absolutely love it!
Looking for more Dine & Dish slow cooker recipes? You can find them by clicking here.
Tips for making the best slow cooker roast beef sandwiches
Start with a quality cut of meat. You'll want to make sure whatever roast you use isn't very fatty. The last thing you want when shredding the roast is to have to dig through the fat. In addition, boneless chuck roast is the best option for this recipe, however a bone-in cut of beef can also be used. Just make sure to remove the bone before shredding the meat.
Cooking this slow cooker roast beef on low to medium for a longer time makes it so fall apart tender. Avoid the temptation to cook your beef on high heat for a shorter amount of cooking time. Low and slow really does provide the best end result.
We like to top our roast beef sandwiches with jalapeño peppers, but you can go without or add toppings more suited to your taste buds. Some delicious options for topping your beef sandwiches would be grilled onions, roasted bell peppers, diced tomatoes or even chunky salsa. The best step in this recipe is the part where you place the sandwiches on a baking sheet under the broiler. No matter what you top your roast beef sandwiches with, make sure to put them under the broiler for just a couple quick minutes to really give your sandwich great flavor.
Now, on to this awesome slow cooker recipe! I hope you enjoy this family favorite as much as we do.
Slow Cooker Roast Beef Sandwiches
Slow cooker roast beef sandwiches are a simple once a month menu staple in our house. Our entire family loves these open faced sandwiches.
Ingredients
1 3-4

pound

boneless Certified Angus Beef chuck roast

1 10.5

oz

can French Onion Soup

10.5

oz

water

1 soup can

1

teaspoon

garlic powder

1

teaspoon

red pepper flakes

1/2

teaspoon

Kosher salt

1

French Loaf

sliced into 1-inch thick pieces

2

Tablespoons

butter

softened

1

cup

jarred sliced jalapenos

1/4

cup

shredded mozzarella cheese
Instructions
Place beef chuck roast into your crockpot. Add French Onion Soup, water, garlic powder, red pepper flakes and Kosher salt. Cook on medium-high for 8 hours, or until roast is cooked completely through.

Carefully remove roast from the crockpot and place in a large casserole dish. Remove 1 cup of au juice from the crock pot and add to the casserole dish. Taking 2 forks, begin shredding the chuck roast. Continue until chuck roast is in small, bite sized pieces.

Turn your oven on to "broil".

Butter each bread slice and place on a large cookie sheet. Place under the broiler for 2 minutes, or until bread starts to look toasted. Watch carefully as to not burn the bread.

Remove toasted bread from oven and top evenly with shredded roast beef, jalapeños, and mozzarella cheese. Return to the oven and broil until cheese is melted, approximately 1-2 minutes. Remove from oven and serve while warm. If desired, drizzle au juice over the sandwiches before serving.
For more great slow cooker roast beef recipes, check out the following blogs: