A return to the Dine & Dish "Connect Through Reading" posts as I share reviews of my favorite books I read this summer!

Last year I read a ton… more than I probably have in any other year. I read so many great books in 2013, I knew my streak was likely to not continue for much longer!
This year reading has been more of a struggle. I started out the year reading some not so great books – most of which I didn't finish. I had a really hard time finding books as great as my favorites from last year. I persevered though, and after a little bit of a reading break, I've finally read some really great books I'm excited to share with you!
I love connecting with you all through the books we've read, so make sure to share what books you've read lately that you've loved (or didn't love) in the comments section below. Also, let's connect on Goodreads so we can continue to share our book recommendations!
What Alice Forgot by Liane Moriarty
What Alice Forgot was about a woman (Alice) who fell off an exercise bike at the gym and woke up forgetting the past 10 years of her life. She becomes shocked and confused as she discovers how much her life has changed over the course of 10 years…and boy has her life changed. I could relate to this book on many levels and I think most moms and women can – how can life and the expectations to be perfect that we put on ourselves change who we are to the core? I highly recommend this one, especially if you have a book club to discuss it in! It's a book that could lead to some really interesting discussions among your friends, I'm sure. This was almost a 5 star for me, but I ended up giving it 4 stars on Goodreads (4 1/2 if Goodreads allowed half stars!)
Download What Alice Forgot to your kindle here, buy the paper copy from Amazon or add it to your library on Goodreads.
The Good House by Ann Leary
I actually listened to The Good House through audible.com and loved the voice of the narrator. The story is the whole package… riveting, mysterious, sad, hilarious, sexy and more. Hildy is a 60 year old real estate agent in a small New England town. She is also a raging alcoholic who thinks that, even though she drinks only when she is lonely, she has her alcoholism under control. The story intertwines with interesting characters… her own daughter, her ex-husband, a past fling, her grandbaby and a new found friend. Each little corner of the book takes you on unexpected turns, but all comes together in an ending very fitting to the story. I gave The Good House 4 stars on Goodreads (and if you like audio books, highly recommend listening to it that way.)
Download The Good House to your kindle here, buy the paper copy from Amazon or add it to your library on Goodreads.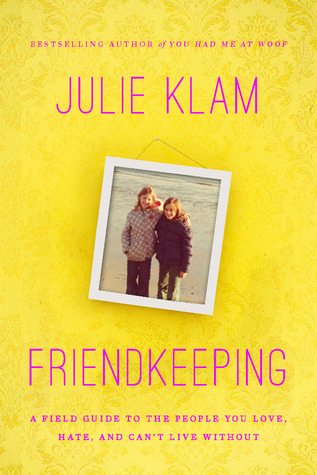 Friendkeeping by Julie Klam
As many of you know, The Happiness Project, is one of my favorite books. Friendkeeping follows suit in that it examines a subject very near and dear to me…adult female friendships. In this book, Julie takes readers through the different types of friendships, makes for suggestions on what friendships to keep as an adult and what friendships to say goodbye to, talks about the evolution of friendships through life changes and more. I read Friendkeeping in one day. It's an easy read but full of a lot of great info. Keep your highlighter handy as there are a lot of various passages and snippets you'll want to remember! I gave Friendkeeping 5 Stars on Goodreads.
Download Friendkeeping to your kindle here, buy the paper copy from Amazon or add it to your library on Goodreads.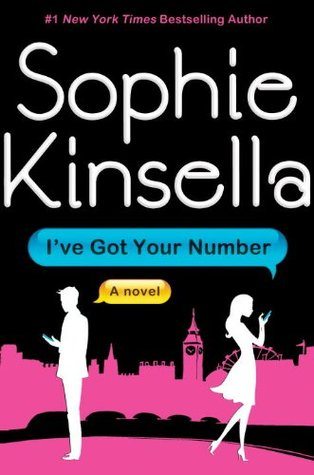 I've Got Your Number by Sophie Kinsella
I was a big Sophie Kinsella fan during her Shopaholic days, but felt like her books started to all become the same, so I stopped reading her. That was until my friend Deanna recommended I pick up I've Got Your Number, one of Sophie Kinsella's newest books. I'm so glad I did because this was the perfect, fun and interesting pool side read. Poppy Wyatt is sent into a panic when she loses her heirloom engagement ring, of course, right before meeting her soon to be new in-laws. I've Got Your Number is all about the lengths Poppy will go through to find her ring, and keep the fact that it's lost hidden from her fiance and his family. In typical Sophie Kinsella fashion, readers will be taken on a hilarious, over the top journey with a story that will win you over while making you laugh out loud! I gave this book 4 stars on Goodreads.
Download I've Got Your Number on your Kindle here, buy the paper copy from Amazon or add it to your library on Goodreads.
The Story of Beautiful Girl by Rachel Simon
This book truly touched my heart. In The Story of Beautiful Girl you will meet Lynnie and Homan, two soulmates who because of "special needs" were placed in "School for the Incurable and Feebleminded" to live out their lives. The journey these two are taken on throughout the pages of this book will make you fall in love with them, and root for them all along the way. This is a story being told over 40 years time…a story of odds being beat, promises being kept, and love being found and held onto. It took me a little while to get into, but in the end, I really loved this story. I gave it 4 stars on Goodreads.
Download The Story of Beautiful Girl on your Kindle here, buy the paper copy from Amazon or add it to your library on Goodreads.
I enjoy reading on my Kindle Paperwhite. Read all about why I love it on my Simplify Saturday post – The Kindle Paperwhite.
I'm currently reading The Interestings and Me Before You is next.
Disclosure: This blog post contains affiliate links. As an Amazon Associate, I earn from qualifying purchases.