Leah Meets Paula Deen BlogHer 2009 from Kristen Doyle on Vimeo.
The video above is of Paula Deen chatting with Leah during her appearance at BlogHer. Paula was hilarious, genuine and really an overall neat person! Seeing her was definitely one of the many highlights of BlogHer.
I returned from the BlogHer conference in Chicago yesterday and since that return, so many thoughts and ideas have been swimming around in my head. For those of you who are thinking about attending a BlogHer conference sometime in the future (next year is in NYC!) I highly recommend that you do so. Here are some of my random thoughts about the BlogHer 2009 conference.
My friend Sandie (from Inn Cuisine) and I were roomies. Sandie and I met through our blogs a couple of years ago and have been fast friends since. It was so nice to get to hang out with her and get to know her better. It has been a very long time since I have laughed as hard as I did (so hard that at one point I spewed water all over our bathroom mirror because she said something hilarious when I was trying to brush my teeth!) Thank you, Sandie, for being such a great friend!
As you know, I was so nervous about taking Leah with me to BlogHer. It ended up being great having her there. Granted, I was tired because of lugging her around for four days and we didn't really go to any of the parties (and there are a LOT of parties happening at BlogHer) but she was one extremely popular little chick! She had to have had her picture taken at least 100 times. I met a lot of really nice people simply because they came up and started talking to me about Leah. If you are thinking about bringing your baby to BlogHer in the future, I personally think it is fine to do. There is a crazy amount of controversy surrounding the topic, but I say to go with your gut… overall, BlogHer is very welcoming to babies. As Paula Deen says above, it is wonderful that BlogHer doesn't make moms of young babies make a choice.
I have to say, in all honesty, I didn't learn a ton from the sessions I attended, but I did pick up a few very valuable nuggets of info. By and far the best part about attending BlogHer was getting to connect with so many people with like minded interests (you know…those people who don't look at you like an alien when you say you blog) and meeting people who I have greatly admired for the past few years. I am now happy to say that some very good friends who I first met online are now friends "in real life". I also met some wonderful ladies who I did not know before the conference. I would pay for that experience time and time again.
BlogHer ladies like to party and BlogHer's love swag. BlogHer had some very generous sponsors this year and we came home with an enormous amount of quality swag. Thank you to all of the sponsors and individuals who provided all the loot. My kids were in heaven going through everything when I got home!
I could go on and on about how great BlogHer was and about how inspirational it was to chat and share ideas with such smart people, but I'm sure you get the drift. As much as I enjoyed my trip to BlogHer, I'm even kind of tired of hearing about it everywhere.  I hope that any of you who haven't attended a BlogHer conference in the past get to do so in the future!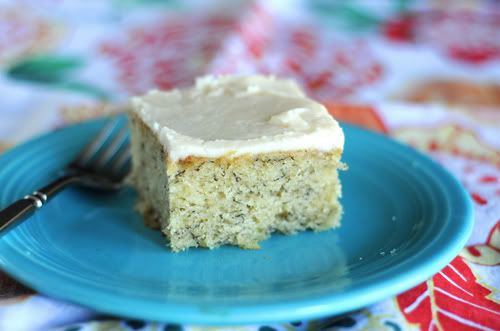 Now, for those of you who want a great recipe, my Mother-in-Law made these yummy banana bars for the kids while I was gone. I love that this recipe uses only 2 ripe bananas because that seems to be the most common amount of bananas I have when they ripen. Either we gobble them all up, or I'm stuck with two that no one wants to eat.
Frosted Banana Bars
The very best frosted banana bar recipe around!
Ingredients
1/2 cup butter
2 cups sugar
3 eggs
1 1/2 cups mashed ripe bananas (about 2 large)
1 teaspoon vanilla extract
2 cups flour
1 teaspoon baking soda
1 pinch salt
Frosting:
1/2 cup butter
1 8 ounce package cream cheese
4 cups confectioners' sugar
2 teaspoons vanilla extract
Instructions
In a mixing bowl, cream butter and sugar.

Beat in eggs, bananas, and vanilla.

Combine the flour, baking soda, and salt.

Add to creamed mixture and mix well.

Pour into a greased 15x10x1 pan.

Bake at 350 degrees for 25 minutes.

For frosting cream butter and cream cheese in a mixing bowl.

Gradually add confectioners' sugar and vanilla.

Beat well.

Spread over bars.
Love bananas? Dine & Dish has these other recipes you might love!
Inspired by Peabody…or Not starring Banana Pudding with Pie Crust Cookie Garnish
What Kind of Fool starring Banana Layer Cake with Cream Cheese Frosting